Here's Why These 8 Oʻahu Hotels are Great for Business and Leisure
Discover your new favorite hotel in Oʻahu to work and play.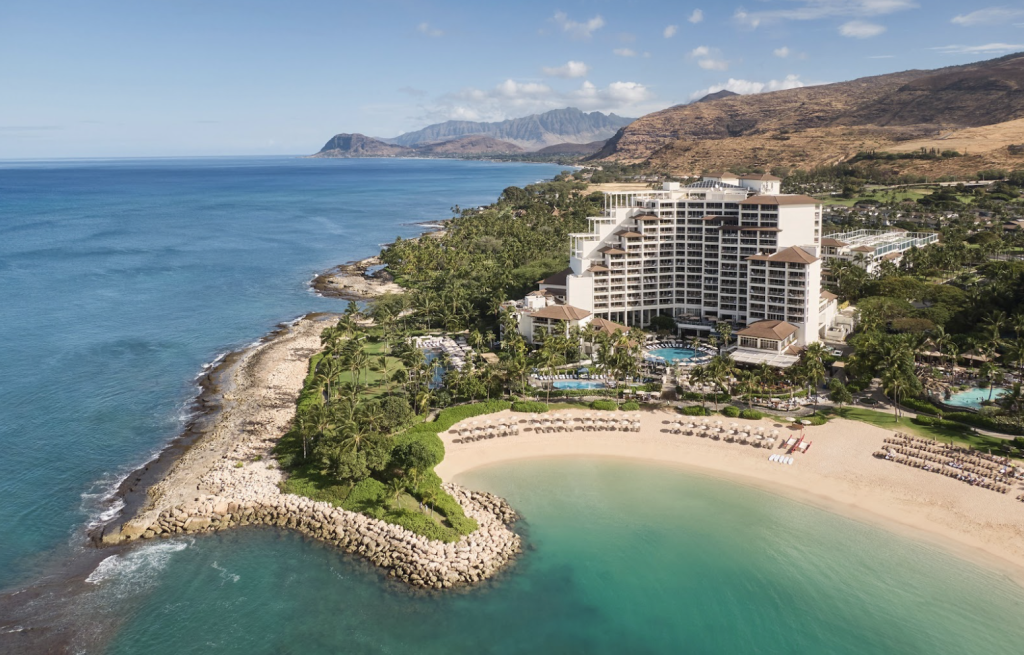 "Bleisure," a resurfacing trend, is the balance of partaking in business where you leisure—especially for those who are eager to travel. This top-eight roundup features accommodations that go above and beyond in their exceptional service, business amenities and overall value for the cost. All accommodations featured have received stellar ratings from guests for being providers of world-class care, comfort, safety standards and delightful surprises suitable for welcoming ʻohana home.
The Ritz-Carlton Residences, Waikīkī Beach
Adjacent to Luxury Row, the Residences is a Chantilly lace and gold-trimmed paradise where guests can easily spend an entire day at their bleisure. Receive a passionate welcome with lei on arrival, stellar valet and bellman services, and cleanliness standards that meet the expectations of mothers. The Ritz-Carlton Waikīkī is a place to pamper yourself while benefiting from upscale business services and amenities that are hard to beat. Group business-goers are completely covered with over 3,000 square feet of indoor event space. Options include the elegant executive theater or boardroom and the casual lounges of its two business centers.
One of the best perks of staying at this hotel is that the complimentary high-speed Wi-Fi is available across the entire property; the garden, the picnic area, the terrace, the 24-hour pools, cabanas and premier fitness center. Take your Zoom meeting anywhere you please. Or just stay in your room and enjoy its luxuries from deep soaking tubs and bidets with heated seats, to the ocean views out of its floor-to-ceiling windows. Surprisingly, there's no resort fee at this destination; therefore no guilt if you treat this residence as a private escape.
Vive Hotel Waikīkī
If you're a solo traveler wanting to meet project deadlines while being a mere 5-minute walk away from the beach, then you might want to check out Vive. This economy-priced boutique hotel is nestled just three blocks away from Waikīkī Beach and provides ideal work-from-home amenities: Free high-speed Wi-Fi, two desktop computers, a lobby printer and an affordable gym arrangement at $20 per day with Fit Waikīkī.
For next-day free continental breakfast, venture out into the lobby where you'll find a number of laptop-friendly spots to get through your emails. Sitting in one of many wingback chairs, you'll be energized by the plumage of color in your surroundings. Take breaks to admire the tropical plants; vases of vividly bright Anthurium or Bird of Paradise flowers perched on lightwood tables.
One of the best perks of this stay is that beach amenities like umbrellas, towels, boogie boards, beach chairs, beach mats and children's toys are available in the lobby to grab and go.
Four Seasons Resort Oʻahu at Ko ʻOlina
If you're traveling for an upscale business event, you'll be able to turn it into the vacation of a lifetime at this serene Ko ʻOlina resort. Here, the staff excels at personalized service. You might be surprised if they send up fruit or chocolate-covered strawberries to your room "just because."
With over 72,000 square feet of event space, onsite AV and banquet teams are ready to help conduct your most important events. With premium and complimentary Wi-Fi available throughout the entire resort, you can catch up on your work from the poolside bar, garden, or the warm amber allure of Hokulea Café.
Though this resort is great for group and solo business travelers, it may be the best in this roundup for families. Here the resort has amenities for all ages and activity levels, from an arcade game room to a full-service spa. You can partake in 18 holes of golf (and lessons from a pro), tennis, or aerobic classes. For keiki (kids), a children's pool, club and supervised care are all available at no additional cost. Rooms also come pre-equipped with hypoallergenic bedding, a crib, diaper genie, bath products and even complimentary stuffed animals.
While you order seconds of truffle fries or crusted ʻahi at the Waterman bar and grill, your only regret in visiting Four Seasons Resort at Ko ʻOlina will be that you couldn't stay longer.
The Laylow, Autograph Collection
The Laylow, Autograph Collection, is a trendy and modern accommodation for any remote-work traveler in need of a staycation in the economy price range. This hotel features Wi-Fi-available work spaces like a gorgeous terrace, patio and bar seating that look just as enchanting as the photos of the Laylow you'll find online.
While the Laylow is recommended for solo travelers, it is still possible for budget group travel. Jamie Choi, its Director of Sales and Marketing, says conversions of 550-square-foot corner suites are available to hold group meetings with high-speed internet and 50-inch Smart TVs.
There are a number of other thoughtful perks about this hotel: Activities like lei making and ʻukulele lessons, affordable pick-me-up breakfasts (costing only $9-14 per person), its 24-hour fitness center, outdoor pool and convenient location in the heart of Waikīkī. The Laylow's recently renovated property truly offers excellent value for the cost.
Hyatt Regency Waikīkī Beach Resort and Spa
If you're looking to satisfy a wide diversity of your entire party's favorite accommodations, then look no further. At this resort, bleisure options seem endless. Its full-service spa alone holds a 16 different treatment rooms. In between your work hours, try yoga classes or catch romantic views from the picnic area, terrace or beachfront. Perhaps one of the most interesting features of this resort is its cultural activities. Kong Moua, Marketing Manager at the resort, says its Hawaiian Music & Dance Hall of Fame Historical Exhibit was "curated in partnership with the Hawaiian Music Perpetuation Society and is a must-see for any music enthusiast." He also mentions that the resort is home to a heritage and culture center that offers weekday classes in lei-making, ʻukulele and hula.
Guests love sitting down at Kai Coffee for casual business, as it's located next to the 3-story waterfall in the Pualeilani Atrium Shops. Another casual work spot Kong recommends is "at a quiet coffee table at Swim Restaurant and Bar overlooking the beautiful Pacific." For group meetings, the Hyatt Regency Waikīkī has plenty of boardrooms and a 10,000-square-foot conference center. The dramatic chandeliers make the largest function rooms glamorous and memorable, so you'll want to try and reserve your company's spot at least six months prior.
Embassy Suites by Hilton O'ahu Kapolei
The Embassy Suites in Kapolei is an accommodation where every staff member and housekeeper emanates natural aloha. This destination enjoys midscale affordability, no resort fees, no Waikīkī crowds and the safety guarantee of its Hilton CleanStay protection program.
One of the most unique bleisure options that this hotel offers is their Hilton WorkSpaces day-rooms (open 9 a.m. to 4 p. m.), where you can book a private room furnished with a desk, chair and 55-inch flat-screen TV. Of course, as a guest you can still take your work anywhere onsite like the bar or pool while enjoying high-speed and premium Wi-Fi connection. Additional work accommodations include their business center, a ballroom, ad hoc lounges, furnished mezzanine rooms and spaces with delightful natural light that are bound to keep your partners engaged and energized.
Some other top-notch perks worth noting at the suites are soundproof guest rooms, generous complimentary cooked-to-order breakfast (available every morning) and the hotel's next-door proximity to exciting leisure spots like Wet 'n' Wild Hawaiʻi, Coral Crater Adventure Park, Paradise Cove Lūʻau and ʻEwa Village Golf Course.
Halekūlani
While still located in Waikīkī, Halekūlani, meaning "House Befitting Heaven," feels serene and far from the bustle of the neighborhood's main attractions. Here, business professionals have a combination of meeting options from conference centers to smaller private rooms with earthy Hawaiian-style interiors. The business area, newly-renovated guest rooms, garden, pool, terrace and lobby are great places for remote workers to enjoy complimentary Wi-Fi while taking in the tropical plants, flowers, and wood that line the halls.
Should you or your business partners need translation assistance, the multilingual staff at Halekūlani accommodate an impressively long list of languages: English, Filipino, German, Italian, Japanese, Korean, Spanish, French, Vietnamese and Mandarin.
The hotel's corporate office "consistently consults with top health providers to ensure that (their) safety protocols are current." So you can confidently enjoy time at the pool, one of the award-winning dining venues, or treatments from SpaHalekulani."
The Kāhala Hotel & Resort
This stately island-styled hotel and resort is an all-around choice for active bleisure travelers. It boasts five onsite restaurants, two bars and lounges, 10 spa treatment rooms, and convenient sports rentals for bikes, watercraft and watersports. With its impeccable service, many guests choose to stay year over year.
For meetings and events, visit the business center or any of their five meeting rooms located within 13,000 square feet of multipurpose space. Wherever you choose to host your meeting, there are many options for assisted set-up including buffet style, plated style, classroom, theater or cocktail reception.
The Kāhala is also highly family-friendly, with hypoallergenic bedding, babysitting, a children's club, supervised childcare and a children's pool available onsite. Additionally, your 'ohana can feel secure with the hotel's Clean Promise standards, which have enabled it to achieve the Global Biorisk Advisory Council (GBAC)'s Star accreditation since 2021, for its stringent sanitation and disease prevention control.