O'ahu's Largest Farmers Market Reopens on Saturday
The KCC Farmers Market, put on by the Hawaiʻi Farm Bureau Federation, returns on Nov. 14 after being closed since March due to COVID-19.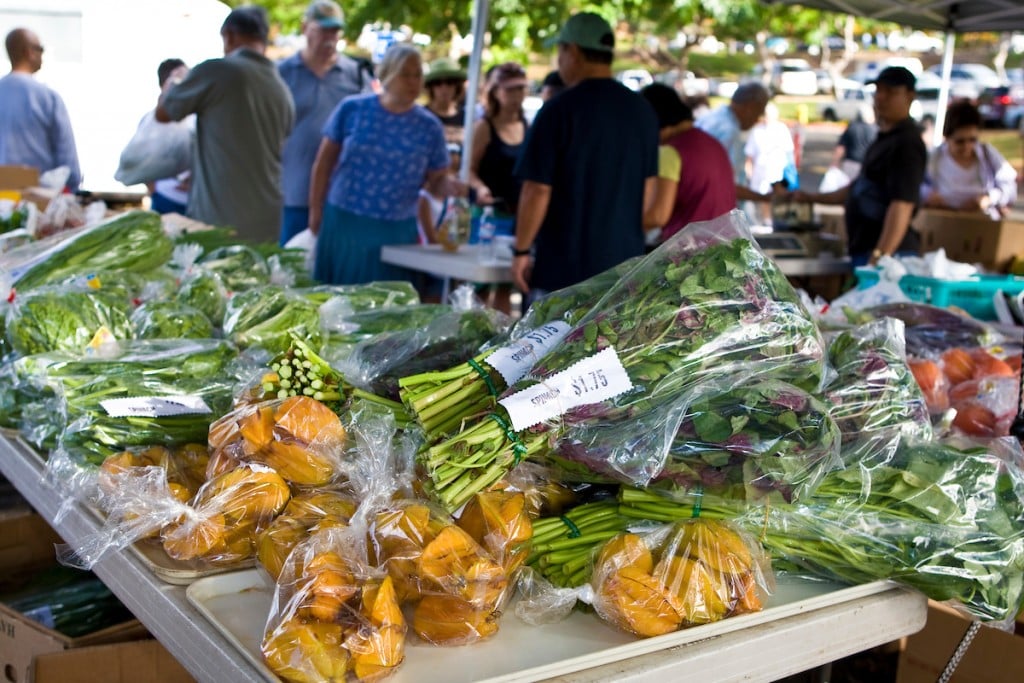 It's been more than seven months since the popular farmers market at Kapiʻolani Community College on Oʻahu shut down due to COVID-19.
In the meantime, other farmers markets—ones run by the Hawaiʻi Farm Bureau Federation and the handful operated by FarmLovers Markets on Oʻahu—remained open, since farmers markets are considered essential businesses.
But the KCC market, which averaged 10,000 attendees every Saturday morning and boasted more than 70 vendors from across the state, would lure too many people at once. Not exactly what you want in the middle of a health pandemic.
But the Hawaiʻi Farm Bureau, which started this market in 2003, decided to reopen it starting Nov. 14. The hours of operation will be 7:30 a.m. to 11 a.m., with fewer farmers and food vendors. And it will be held in a new location on the Diamond Head campus: Look for the tents in the upper campus parking lot, off Makapuʻu Avenue.
Vendors that will have booths this Saturday include Ho Farms and Otsuji Farms from Oʻahu, All Hawaiian Honey from Oʻahu, Green Point Nursery from Hawaiʻi Island, and ʻAkaka Falls Farm and Big Island Abalone from Hawaiʻi Island. There will be more than 30 food and drink vendors, too, serving everything from Vietnamese street food (The Pig & The Lady) to burgers with locally raised beef (Honolulu Bruger Co.) to hummus made from local breadfruit (ʻUlu Mana). Find farm-fresh eggs, jams made from local fruits, Hawaiʻi-grown coffee, fresh produce and cut flowers, taro chips, even sunscreen made with locally sourced ingredients.
These markets play an important role in keeping local farmers in business, especially right now.
"When the coronavirus first hit Hawaiʻi, our farmers were severely impacted because many of them relied on tourism, hotels, restaurants, cruise ships, school lunch programs and exports as their primary source of revenue," said Hawaiʻi Farm Bureau executive director Brian Miyamoto in a news release. "Farmers' markets are important to local farmers in allowing them to continue their operations during this pandemic. Farmers' markets provide direct access to healthy, nutritious foods, while also supporting the livelihoods of local farmers, food makers and chefs."
The market will employ new health and safety procedures in compliance with the Centers for Disease Control and Prevention guidelines. Everyone must wear masks while at the market and physical distancing should be maintained. Vendor booths will be spaced out and everything will be grab-and-go. (Meaning you can't eat your bowl of pho at the market anymore.)
Other tips:
Bring a shopping basket or bag and maybe a cooler, too. A cart on wheels is a good idea.
Bring cash in small denominations, especially if you're shopping early.
Buy seasonal items when you see them.
Wear comfortable flat shoes for walking.
Early shoppers usually wait in lines; there's usually plenty of product for shoppers who come later.
For more information, visit here.