Our Favorite Beach Eats on Every Island
It's not a beach day in Hawaiʻi without something to snack on.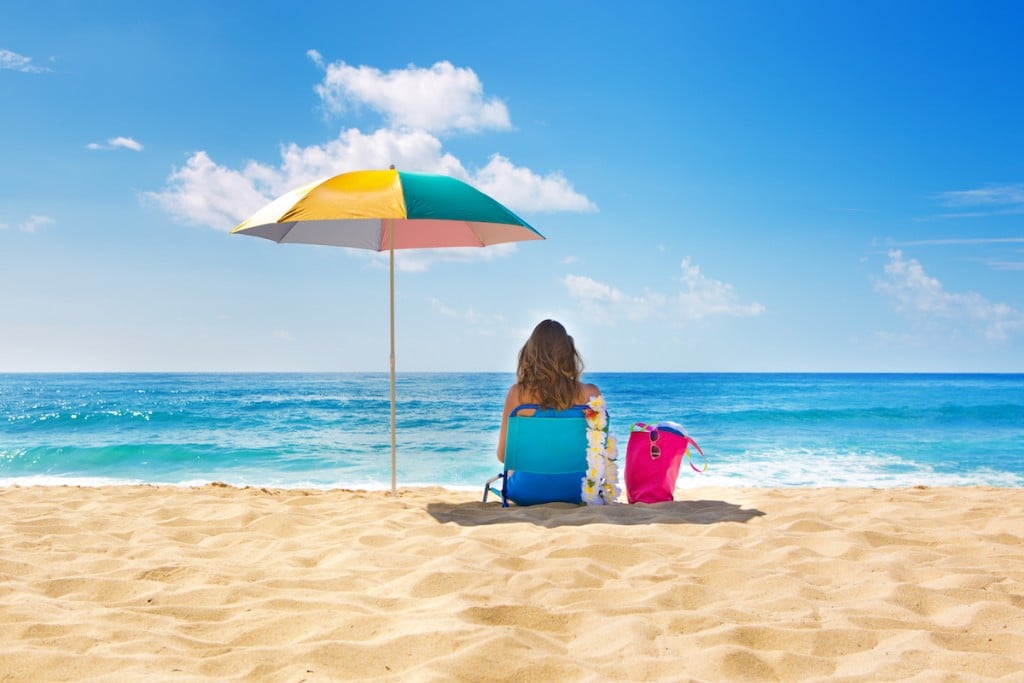 It's not a beach day without something to snack on. And you can't just bring any snack, either. Nothing that melts or spoils—so chocolate-covered mac nuts and poke bowls are out. Here are our picks for grab-and-go snacks that are sure to satisfy—and will last an entire day at the beach.
Coconut Chips, Foodland
View this post on Instagram
In 2019 Foodland, the state's largest locally owned grocery chain, launched its own brand of Hawai'i-inspired products called Maika'i—and its coconut chips are highly addictive. Every flavor—plain; chocolate; and with wasabi, that green Japanese horseradish paste you see at sushi restaurants—is delicious: crispy and coconut-y and perfect for noshing at the beach. Online and in-store on O'ahu only, foodland.com 
Rainbow Bites, Sticky Fingers Gummies
View this post on Instagram
Imagine this: Skittles that never get sticky. That's what this family-run business came up with. These freeze-dried Skittles are crunchy, airy and packed with flavor. Our favorite is the one dusted with sweet-salty li hing powder, though the sour version is addictive, too. Order through Instagram @sticky_fingers_gummies.
Buttered Popcorn with Furikake and Mochi Crunch, Carousel Candyland
View this post on Instagram

This family-owned candy shop in Kāhala Mall specializes in freshly popped popcorn with fun flavors, including salt-and-vinegar, ranch, pizza and barbecue. (You can combine flavors, too.) But the most "local" combo is furikake (a dried seaweed seasoning) with mochi crunch (bite-size Japanese rice crackers). It made sound weird, but trust us, you won't be able to stop eating it. The salty, buttery popcorn is a great beach snack. Bonus: You can get your fingers as messy as you want— you're at the beach! Kāhala Mall on Oʻahu only, carouselcandyland.com.
Hot Dog, Fukushima Store
Who doesn't crave hot dogs at the beach? Instead of grilling your own, consider stopping at this humble general store in Ha'ikū on Maui. At the counter you can order the store's famed hot dog: a red Redondo's dog topped with a mustard-relish-mayo sauce, chopped white onions and a pickle spear in a warm bun. At $1.25 each, you can buy a half-dozen and still have enough cash for whatever other snacks and drinks you want—which you can pick up here, too. 815 Ha'ikū Road, Maui.
Asian Rice Noodle Salad, Tucker & Bevvy
Want something light and refreshing? Tucker & Bevvy, which offers picnic food from its shop in Waikīkī, offers an Asian rice noodle bowl with chicken, fresh mint, shredded carrots, cucumbers, tomatoes and peanuts topped with a tangy Asian dressing. (And it's gluten-free!) O'ahu only, tuckerandbevvy.com.
The Hawaiian, Scorpacciata Neapolitan Pizza Food Truck
View this post on Instagram

You can't go wrong with any 10-inch pizza from this food truck in Kapa'a: They're all worth a try. But we recommend the Hawaiian pie. Yes, it has pineapple. But it pairs perfectly with the medley of smoked pork tenderloin, mozzarella and balsamic reduction. Plus, the pineapple is local. On Kaua'i only, scorpacciatakauai.com.
The Beach Bento, Pine Tree Café
Bento—a Japanese box lunch—could very well be the perfect beach meal. On Hawai'i Island, stop at Pine Tree Café—about 3 miles from the airport, and get the restaurant's beach bento. It comes with two Spam musubi, five chicken wings and pickled veggies. (There's also a mini version.) 73-4040 Hulikoa Drive, Kailua-Kona, pinetreecafehi.com.