Our readers' top 5 favorite things to do in Waikiki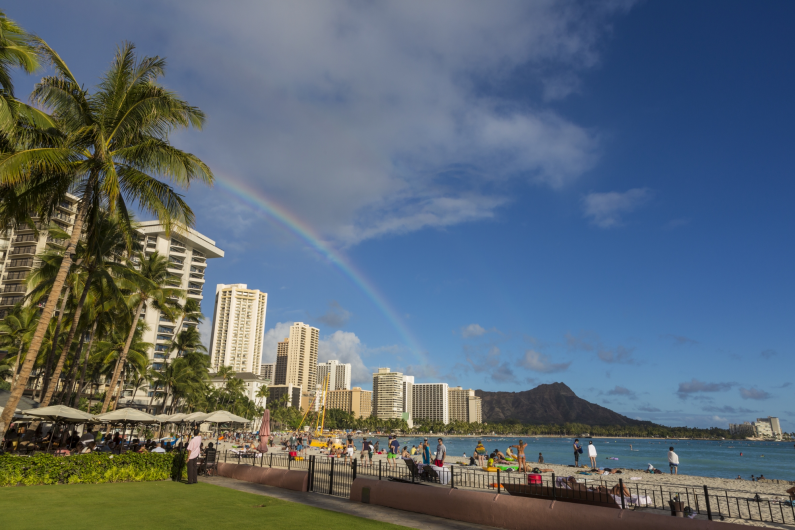 Waikiki is the first taste of Hawaii for many travelers. It's a place where visitors can toe dip into the local culture, enjoy mai tais with umbrellas and pineapple wedges at sunset, and take in the profile of monolithic Diamond Head lording over the eastern horizon from an undulating raft at sea. It's a place of floral-scented tropical breezes, swaying palms and golden sands flanked with golden bodies. But it has also become a crowded, touristic urban center, whose popularity has left more than one person yearning for the Waikiki of yore.
If you're looking for unspoiled Hawaii nature, today's Waikiki isn't it: Chain restaurants compete for space around tall, ultra-modern hotels, stylish high end retail outlets line a well defined "strip" along Kalakaua Avenue and notes of "Blue Hawaii" crooned by Elvis impersonators can be heard wafting into historic holdouts such as the pink Royal Hawaiian hotel. But the area's development has nurtured variety among businesses, activities and restaurants unparalleled elsewhere in the state, promising something for just about anyone. Surfing shacks, stand-up paddleboard and snorkel rentals, catamaran cruises, picnic take-out joints, high-end dining, boutique shopping, evening shows and entertainment, a lively bar scene, an aquarium and a zoo all compete for vacationers' attention.
And, through it all, Waikiki's legendary beauty remains, it's still a place unlike any other in the world. That's why we wanted to hear from you—our HAWAII Magazine readers and Facebook ohana—to learn exactly what you love about this iconic place.
The topic was a popular one! More than a thousand of you responded to the question: "What's your favorite thing to do in Waikiki?" sharing your personal tips, must-sees and must-dos. From walking along the beach, stocking up on souvenirs at a corner ABC store and downing shave ices, to waiting for the nightly lighting of Waikiki Beach Walk's row of tiki torches, we heard dozens of reasons why Waikiki has still got it. Surprisingly, swimming, surfing, eating, shopping and going out at night, were all popular vote-getters that didn't make our top five cut. You'll have to read on to learn what did!
If you'd like to join in on our next HAWAII Magazine Facebook Ohana Poll and vote along with our 154,000-reader-strong Facebook family, go to the HAWAII Magazine Facebook page and "like" us. In return, you'll be able to share your answers in all of our future "Hawaii favorite" poll questions as soon as we post them, know the results of the poll when all of the votes are counted, and get all of our daily HawaiiMagazine.com photos and features.


We'll be posting our next Ohana Poll question on HAWAII Magazine's Facebook page in the weeks ahead, so "like" us now if you haven't yet.
Until then, here's the top 5 countdown of our Facebook ohana's favorite things to do in Waikiki:
#5: Visit Duke's Waikiki
This institutional eatery opened in the Outrigger Waikiki hotel in 1993 and has operated with the motto "no shirt, no shoes, no problem," in honor of the lifestyle led by its namesake beachboy and beloved Waikiki waterman Duke Kahanamoku, ever since. Our readers can't get enough of the coconut-crusted island cuisine, all you can eat breakfast buffets, Kimo's Original chocolate hula pie and Duke's signature mai tais served oceanside from the Barefoot Bar. The parent company of Duke's Waikiki, TS Restaurants, operates seven other restaurants throughout the Islands. • 2335 Kalakaua Ave., Suite 116.
#4: Leave
Alas, spending a whole vacation in Waikiki is not for everyone. For many of our Facebook voters, Waikiki's greatest value is its many hotel options offering a springboard location to explore other areas on Oahu—in particular, the North Shore—and beyond. The airport beckoned others who dreamed of spending their Hawaii vacation on Kauai, Maui or Hawaii Island instead.
#3: People Watch
Waikiki's throng of visitors makes for some great people watching—something that did not go unnoticed by our Facebook ohana! From balconies, with drinks and on the beach, our readers liked watching other visitors—girls, guys, unfortunately sunburned vacationers—and residents going about their days. Many enjoy whiling away their Waikiki days watching novice and experienced surfers catch waves offshore. For others, the cultural menagerie makes it worth the visit: For more than one voter, just walking around and hearing the many languages spoken by visitors is a Waikiki vacation highlight.
#2: Lounge on the Beach
Soaking in the sun, zoning out with great tunes, savoring a good book… it's all so much better from the sands of a tropical beach where the day's hardest decision is when to flip over or cool off in the water. The two-mile stretch of sand, commonly called Waikiki Beach, delivers with its many sub-beaches (Kahanamoku Beach, Gray's Beach, Queen's Beach and Kapiolani Beach Park, to name a few) affording different vibes and vantages from which to lay your towel or prop your chair and stake your claim.
#1: Just Be
Waikiki is that quintessential vacation destination for many of our Facebook ohana poll voters: It offers an escape from busy lives. Waikiki's beaches, spas, warm ocean waters, restaurants and friendly locals offer a great setting to unwind, be present, relax, breathe and just soak it all in with aloha.