Our Tips for Travelers to Hilo to See Kīlauea
You probably don't want to stare at a volcano all day, so here's what else you can do around Hawaiʻi Volcanoes National Park.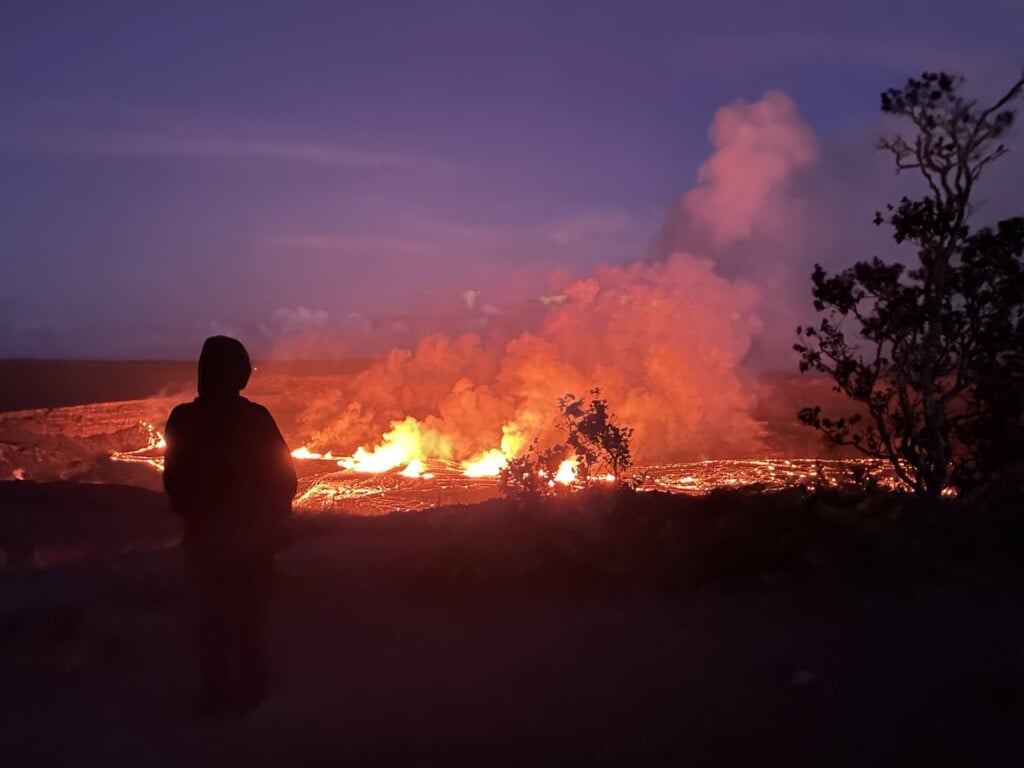 If you're like me, you're already looking for cheap flights and hotel rooms on Hawaiʻi Island.
News about the most recent eruption at Kīlauea—which started on Sept. 10 and continues to amaze with fountaining lava within Halemaʻumaʻu Crater—has sent visitors flocking to Hawaiʻi Volcanoes National Park this week.
Hilo is one of my favorite towns in Hawaiʻi—check out our latest issue, coming out next month, to read more about it!—and there's a lot more to do here than you may think. So if you're planning a trip to Hawaiʻi Volcanoes National Park, stop (or stay) in Hilo, at least for the day.
Where To Stay
Hotels near Hawaiʻi Volcanoes National Park are booking up fast—I know, I checked—so best to secure lodging as soon as possible.
Volcano House is a great option if you want to stay as close to the action as possible. The historic 33-room retreat—the original house was built in 1846—is located within the national park. The rooms aren't the most luxurious—hey, you're here to see the volcano!—but you can't beat the view: The hotel overlooks the Halemaʻumaʻu Crater at the summit of Kīlauea. (Get breakfast at the hotel restaurant, The Rim.)
The Grand Naniloa Hilo, a DoubleTree by Hilton is a local favorite—and one of the biggest hotels in Hilo. (It boasts 32o newly refreshed rooms and suites.) It's located right on Hilo Bay and rooms offer great views of the ocean and Mauna Kea in the distance. The drive to Hawaiʻi Volcanoes National Park takes about 45 minutes, but you're within walking distance from Hilo Town.
If you're into traveling green, check out SCP Hilo, a newly renovated eco-friendly hotel on Banyan Way—about a 45-minute drive to the volcano. Every guest who stays at the hotel supports the Hawaiʻi Wildlife Fund's efforts to preserve the Big Island's beaches and marine habitats. (One stay equals 2.2 pounds of trash removed from a local beach.)
Where To Eat
View this post on Instagram
There's a handful of restaurants in and around Volcano Village that are worth stopping by. ʻŌhelo Café is open for lunch and dinner, with some of the best wood-fired pizzas on the island. Some of the more popular dishes including a buratta appetizer with Roma tomatoes, pesto and a balsamic reduction; Kauaʻi shrimp risotto with lemon, butter and shallots; a hefty pork chop dropped with a gastrique made from the endemic ʻōhelo berries; and wood-fired baby back ribs with the restaurant's Fuji apple barbecue sauce and garlic smashed potatoes. It also serves hand-crafted cocktails, wine and local beers.
Thai Thai Bistro & Bar is a popular stop, serving both what it calls "Western" and Thai dishes. (We recommend getting the Thai options.) Its curries are classic, and the pineapple fried rice is a great side. Servings are shareable.
The Rim at Volcano House boasts the most unique setting—it's located right on the rim of Halemaʻumaʻu Crater with stunning views of the current eruption. Breakfast is simple but filling; dinner is more extensive with steaks, pastas and local fish options.
Foodies staying in Hilo will want to book a table at Moon and Turtle, a raved-about neighborhood eatery that's been touted as the best restaurant on the island. The menu is packed with farm-fresh, seasonal ingredients in dishes that rotate often. Right now it's serving a tako (octopus) carpaccio using local octopus and miso-marinated local beets; deviled eggs using local eggs and house pickles; and a panko-crusted, apple-braised pork belly that almost had me on a plane to Hilo. With only about 40 seats (including at the bar), reservations are highly recommended.
Want poke? Head to Suisan Market, which serves some of the freshest seafood on the island. (Suisan is a retailer for fish across Hawaiʻi Island.) Some of its most popular poke combos include sesame shoyu and spicy ʻahi.
A Hilo landmark, Ken's House of Pancakes—now open from 6 a.m. to 9 p.m. daily (it used to be 24 hours)—has more than a hundred dishes on its menu, from sumo-size loco mocos to banana mac nut chocolate chip pancakes. Whatever you're craving—turkey and gravy, taco salad, liver with bacon and onions, pineapple upside-down cake—Ken's probably has it.
What To Do
You mean besides gaze at lava?
There's lots to do in Hilo Town, from browsing the popular Hilo Farmers Market to hiking to the 442-foot ʻAkaka Falls. There are lots of small shops and eateries dotting Hilo, from the popular Kula Shave Ice to the throwback Café 100, which boasts more than 30 varieties of loco mocos.
If you're planning to spend your entire vacation at the national park, here are some tips from park staff to keep in mind:
Volcanic eruptions can be hazardous and change at any time. Stay on marked trails and overlooks. Do not enter closed areas. Avoid cliff edges and earth cracks, they are unstable.
Hazardous volcanic gases present a danger to everyone, especially people with heart or respiratory problems, infants, young children and pregnant women.
Observe the eruption quietly and respect Native Hawaiian cultural practitioners who honor the sacred legacy of this land and give them space to practice their customs.
Slow down and drive safely. Expect long waits for parking spaces at popular vantage points like Kīlauea Overlook.
Check the park website for eruption viewing information, hazard and closure updates, https://www.nps.gov/hawaiivolcanoes.