Outrigger Reef Waikīkī Beach Resort Reveals $80 Million Renovations
The flagship beachfront property will be transforming its pool and restaurant, while adding new rooms and suites.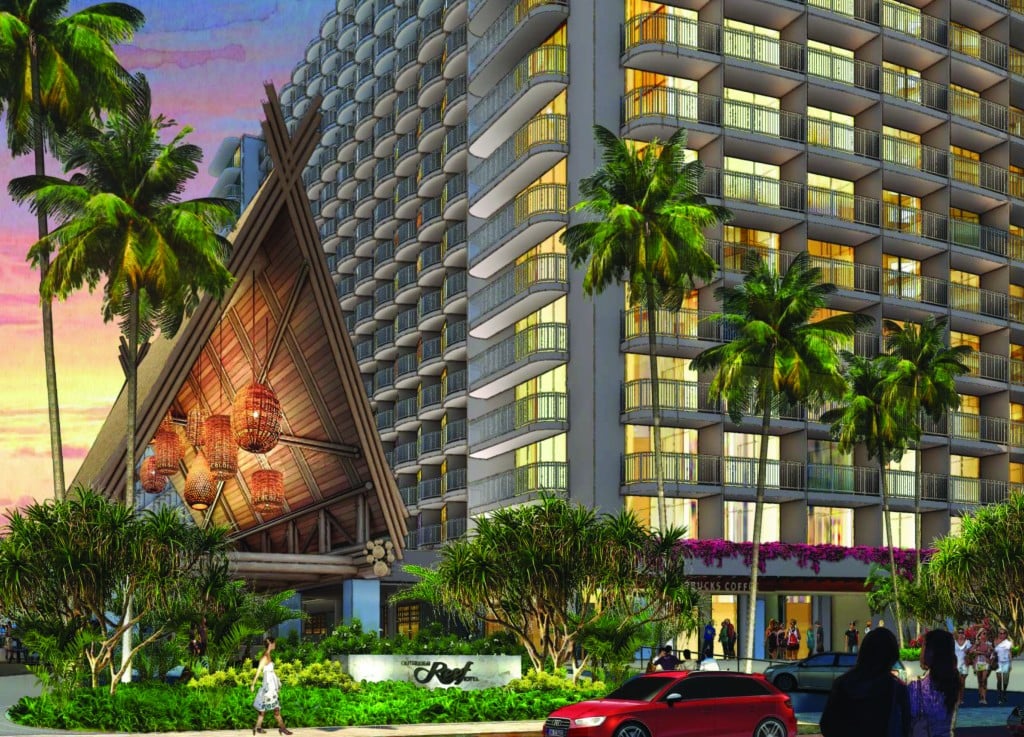 The Outrigger Reef Waikīkī Beach Resort is slated to reopen in late April 2021—after closing in early March 2020 due to COVID-19—with a slew of new amenities and renovations.
The resort, known for its idyllic location on the sands of Waikīkī Beach, has converted a five-story oceanfront building—now known as the Diamond Head Tower—into 23 brand-new rooms and suites, which are about as deluxe as is gets. For example, one of the newly added suites comes in at 1,400 square feet, and includes two bedrooms, two bathrooms, a living area and a large lānai (balcony) facing the ocean and Diamond Head.
While the Diamond Head Tower renovation is expected to be completed in August, guests can expect to see other key renovations right as the hotel reopens. The resort's lobby now features a 30-foot mural of a double-hulled canoe, painted by Herb Kāne, and a recently expanded cultural center with a focus on Nainoa Thompson, a esteemed Native Hawaiian Hōkūle'a navigator and president of the Polynesian Voyaging Society.
"The resort's rich tradition of celebrating the voyaging canoe and wayfinding, everlasting symbols of exploration and courage, permeate brilliantly throughout the physical spaces and come to life in family-friendly programming at the new cultural activities center – creating a uniquely authentic guest experience," said Markus Krebs, the resort's general manager in a news release.
Lovers of Hawaiian music will be pleased to learn that the Kani Ka Pila Grille—the resort's iconic full-service poolside dining venue where legendary Hawaiian musicians have played once-in-a-lifetime shows—will also be getting a share of the $80 million renovations. The restaurant's stage has been revamped and expanded for even better performances and additional open-air seating has also been included.
Speaking of the pool, all new furniture, fixtures and equipment has been added to the pool and spa deck. A new fitness center has also been built, which features best-in-class equipment, spa treatment rooms and a Coral Kids Club. Even the check-in area is receiving some loving, with basalt front-desks being added to the lobby as well as plush living room furniture for guests waiting to check-in.
For more information, or to make a reservation, visit Outrigger Waikīkī Beach Resort's website or call (808) 923-3111.