Passion fruit in fashion at the 2nd annual Big Island Lilikoi Festival in Hilo, Oct. 25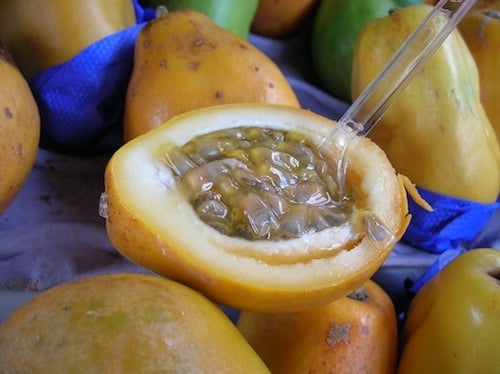 Lilikoi (passion fruit) may be Hawaii's favorite exotic tropical fruit. Its sweet and tangy orange pulp can be found in (and on) countless confections served throughout the Islands: stuffed into malasadas, poured over ice cream, baked into cakes, tossed into salads, shaken into cocktails or smeared on bread as butters and preserves.
This Saturday (Oct. 25) the popular fruit will take center stage at the 2nd annual Big Island Lilikoi Festival in the Nani Mau Gardens on the outskirts of Hilo. Music, activities, vendors, a silent auction, cooking demonstrations and a cooking contest will all draw upon the lilikoi theme. The festival happens from 10 a.m. until 2 p.m. and is open to the public.
The Lilikoilicious Cookbook, featuring 119 lilikoi recipes—many from last year's cooking contest entrants—will be for sale at the festival. You can also click here to learn how to make last year's contest-winning lilikoi dishes at home.

If you think your lilikoi entrée, dessert, sauce, salad dressing or preserves really takes the cake and are willing to share the recipe, you can still enter it in this year's cooking contest. Take your dish to the festival with a filled-in entry form between 8:30 and 10:30 a.m. on Saturday for judging.
Entrance to the festival is by a minimum suggested donation of $5 for adults and $2 for keiki (kids) ages 10 and under. Festival proceeds will benefit the Hawaii Island Center for Spiritual Living and the local Rainbow Friends Animal Sanctuary.
For more information about the Big Island Lilikoi Festival, visit their website or Facebook page.
Lilikoi Festival
10 a.m. to 2 p.m., Sat. Oct 25 • Nani Mau Gardens, Hilo, Hawaii Island
lilikoifestival.com