PHOTOS: Monster surf continues on Oahu's North Shore. Aikau contest crowns a winner.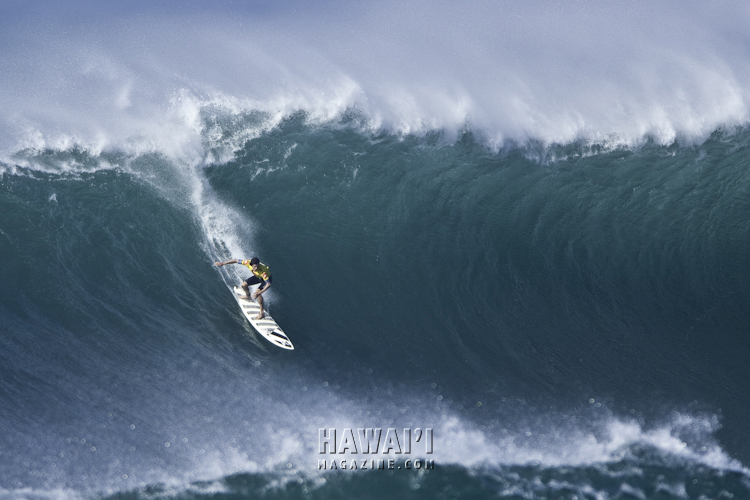 Surf fans around the world kept their eyes on Oahu's North Shore yesterday as the biggest waves in decades pounded Hawaii's most famous surf breaks, and a prestigious big wave competition got the green light for the first time in five years.
Wave faces of 35 to 45 feet yesterday morning finally proved ideal for The Quiksilver In Memory of Eddie Aikau Invitational to stage its first surf contest since 2004. The surf contest, named after famed North Shore surfer and lifeguard Eddie Aikau, requires Waimea Bay waves at least 40 feet tall along the face—or front side. They were. And then some.
Yesterday's Aikau event was only the eighth time the competition has been held since its inaugural contest in 1985. It was also the first time the contest had been streamed live in its entirety online for big wave fans around the world to watch.
By day's end, the Eddie Aikau contest even had a first-time-winner to add to its short list of champions: 26-year-old Californian Greg Long (pictured above).
Though peak wave heights on Oahu's North Shore yesterday ultimately fell a bit short of the 50-foot-plus surf the National Weather Service had predicted, big waves were in plentiful enough supply for the prestigious contest, also known as "The Eddie," to chalk up a great day. Organizers of the Aikau contest said that the 48 hours of big waves on Monday and Tuesday were the largest sustained surf episode to hit the Hawaiian Islands in 40 years.
Thousands of spectators stormed the beachfront and roadside overlooking Waimea Bay before daybreak to snag prime viewing spots, as a who's who of the world's most famous big-wave riders took to the monster surf through the afternoon.
The Eddie Aikau contest's invitation-only list of 28 big-name professional wave riders from Hawaii, the Mainland U.S. and around the world included Kelly Slater, Bruce Irons, Andy Irons and Sunny Garcia.
Slater, who resides in Hawaii and Florida, kept well ahead of the competition for much of the day. A 98 out of a 100 score for one ride during morning first-round competition sealed Slater's lead until the afternoon. But larger afternoon sets gave Greg Long just what he needed for a come-from-behind win—all four of his top scores, including a ride on an amazing 40- to 50-foot swell that won him a perfect 100 point score.
Long, who had only surfed Waimea Bay for the first time this week, won his first-ever Aikau contest with 323 total points, besting 2002 Aikau contest champion Slater's 313. Hawaii pro surfer Sunny Garcia took third place with 292 total points. (More winners and scores are listed at the Quiksilver In Memory of Eddie Aikau official Web site.)
The one-day Eddie Aikau contest may be over, but the big waves on Oahu's North Shore are not. The National Weather Service expects wave heights to reach 25 to 35 feet today, before gradually dropping to the 10 to15 foot range by the weekend.
Postponed yesterday due to the too-large wave conditions, the Billabong Pipeline Masters at Banzai Pipeline—the third jewel of the Vans Triple Crown of Surfing men's competition—is expected to begin today. The Triple Crown's final women's event, the Billabong Pro Maui, began as scheduled yesterday at Maui's Honolua Bay.
Want more photos of yesterday's Quiksilver In Memory of Eddie Aikau big wave contest?
Talented and ever-intrepid HAWAII Magazine photographer David Croxford shot the fantastic page one photo of Greg Long on the wave that gave the contest winner his perfect 100 ride. Below, we present a slideshow of even more photos David shot for us at yesterday's Eddie Aikau contest.
(Click on the frame for larger image.)
Update, 12/9/2009, 10:57 a.m.:
The Billabong Pipeline Masters has called a lay day until Thursday, Dec. 10.