POW! WOW! Celebrates 10 Years at the Bishop Museum
POW! WOW! The First Decade: From Hawaiʻi to the World Presented by Hawaiian Airlines brings Queen Street and Kakaʻako to Bishop Museum in a one-of-a-kind art exhibit.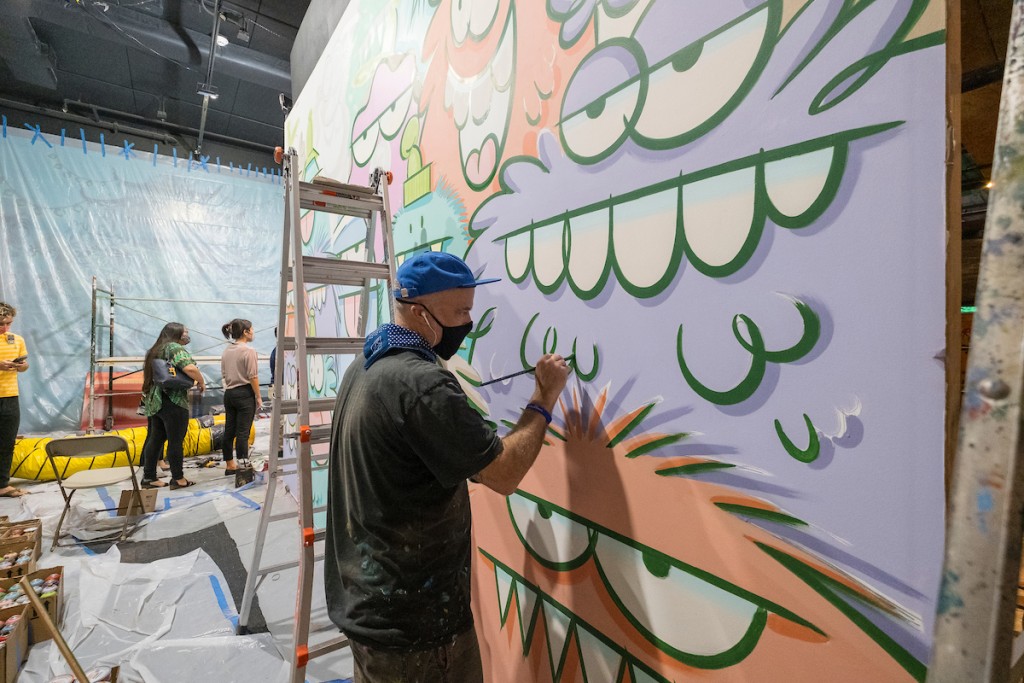 Putting a city street into a museum is about as hard as you think it would be, but the folks at Pow! Wow! and Bishop Museum have done it. All it took was months of preparation, roughly 800 cans of spray paint and a donated car. Oh, and also some of the most talented mural artists in the world.
To avoid creating massive crowds in public spaces, this year's POW! WOW! has been done indoors at the Bishop Museum, and will be open to visitors this coming weekend. Not only will there be dozens of massive, jaw-dropping murals from local artists, such as Shar Tuiasoa, Solomon Enos, Kamea Hadar and Cory Taum, there will also be pieces from international talents like Hiero Veiga and Matt Eaton.
Murals aside, the space that has been created by Bishop Museum, in collaboration with the artists of POW! WOW!, is truly dynamic. A fully gutted car, covered in spray paint from headlight to bumper, sits between a mock record store and a bodega, imitating a scene you could really see in Honolulu's Downtown district. A fake dim sum stand sits on the corner of Queen Street and The Alley—according to a freakishly real-looking street sign—and almost every surface not used for a mural has been scribed with spray paint, most of which was done by legendary spray paint artists like OG Slick, Mare139 and Crash.
The space is truly electric, and feels like some alley you could find yourself in on a walk through Chinatown. Better yet, it's not actually outside; meaning those who want to spend their time gazing at every immaculate detail can do so without having to contend with the hot Hawaiian sun. Sure, it's not as real or raw as an actual streetside art exhibit, but it is definitely more comfortable.
There's another layer to this story, and that is the fact that this event also celebrates POW! WOW!'s 10th anniversary. An entire section of the exhibit is dedicated to some of the odds and ends that have been collected from a decade of traveling the globe promoting street art. Long lost sketches, original flyers and even a key to the city of Massachusetts are out on display, just across from a gallery of over 120 2×2 paintings done by local and international artists.
But why the Bishop Museum?
"The conversation started two years ago, we really wanted to encourage interest to make those connections between Hawaiʻi's natural and cultural history with local contemporary art," says Brandon Bunag, acting vice president of public programs and director of education at Bishop Museum. "Art is a form of communication, art is a form of telling and transmitting stories, and that's what we do at Bishop Museum."
Bunag also mentions that, although the museum's exhibit team has been creating the fake street, and its fake stores, since late March, POW! WOW! and its collective of artists have only been painting since May 7. And while visitors and exhibit goers won't be able to watch the murals being completed—many of which are already done or in their finishing phases—the final products are still absolutely worth checking out.
The exhibit will be on display May 15 to Sept. 19, 2021. Adult tickets are $24.95, senior tickets are $21.95, youth (4 to 17) tickets are $16.95 and kids 3 and under get in free. Get your tickets here or call (808) 847-3511.