Punakea Palms in Lahaina Makes Visitors Nuts for Coconuts
Learn everything you could possibly want to know about coconuts at this family-run farm on the slopes of the West Maui Mountains.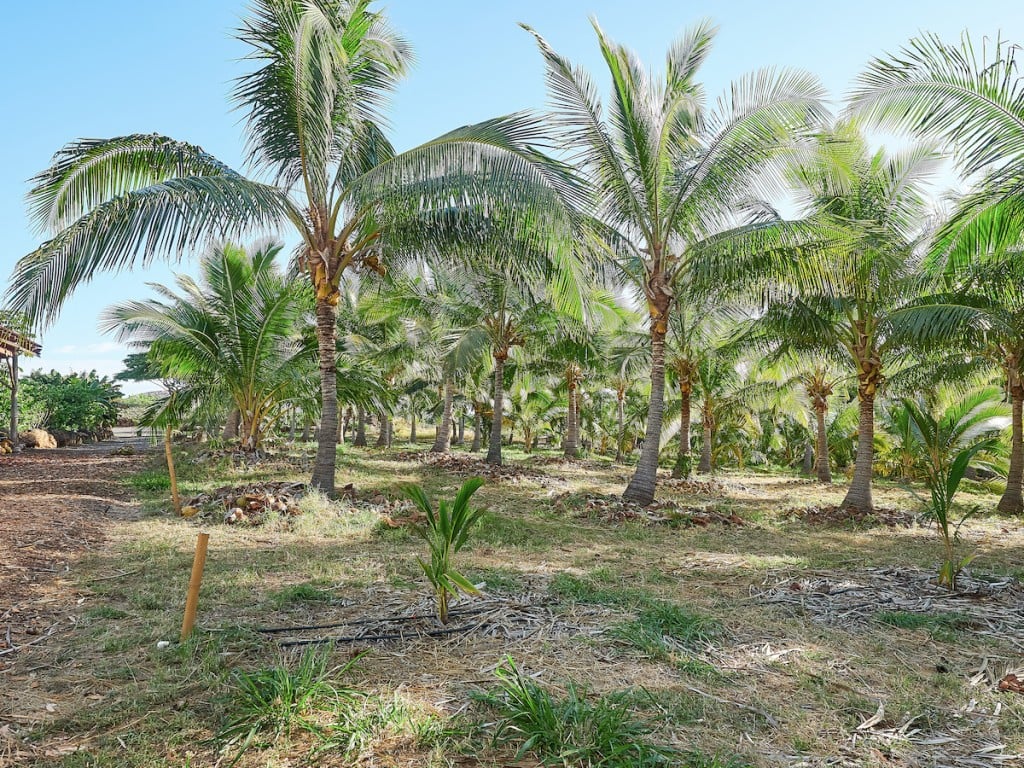 Everywhere you look in Hawaii, you'll see coconut trees.
But it's not always easy to find fresh coconuts. And it's even harder to find a coconut farm.
That was a surprise to our editorial team, all of us born and raised on O'ahu, when we visited Punakea Palms on Maui, the only coconut farm we could find in Hawaii.
Maui-born owner Kai McPhee, a self-trained farmer and coconut evangelist, took us on a tour of the 13-acre property his family owns on the slopes of the West Maui Mountains, with a mesmerizing panoramic view of Lahaina and the Pacific Ocean. From this family-run farm, we watched breaching humpback whales. Yeah, it was that incredible.
His father, in retirement, bought the property in this growing Launiupoko community—once home to commercial sugarcane farming—more than a decade ago and planted a grove of coconut trees. More than 250 of them, now fully mature, fruit-bearing trees, spread across 2 acres.
McPhee decided to use these trees to create a boutique farm that offered educational tours and promoted the coconut, an often misunderstood fruit. He uses what's refered to as "natural farming," a method of farming practiced in Asia for decades that has gained popularity recently in the Islands. It involves collecting and culturing indigenous microorganisms and reintroducing them into an agro ecosystem, minimizing the use of pesticides, recycling farm waste and promoting soil health.
He talks about this and, really, anything you want during the two-hour tour, the content of which he customizes based on the interests of visitors. And he loves to talk about coconuts, from Maui's perfect coconut-growing climate to the various uses of the fruit beyond cooking oil—from the coir (coconut fiber) to make floor mats to the shell as fuel.
"The coconut is probably the most valuable plant to human beings throughout history, even today," McPhee said. "Around the world, where these trees grow, the people and the culture have deep ties to the coconut. It's the tree of life."
The tour, which starts under the towering coconut trees, moved to a seating area, where McPhee demonstrated the different stages of the fruit—and how each stage is very different. "Every 28 days, a new coconut blossoms on the tree," he said. "It takes about 14 months for it to fully mature, and they change a lot during the process."
The coconut can be harvested at any stage, and the fruit will have different textures, flavors and uses. A green coconut, about 5 to 6 months old, will have hardly any meat. But the water inside will be mild and fresh tasting. An 8-month-old coconut will start to sweeten up, he said, and the flesh turns into what's called "rubber meat"—soft, tender, almost translucent—and can be shaved into thin strips. McPhee makes noodles out of the meat. "It tastes like chow funn," he said. "Seriously."
He handed us 6-month-old coconuts, sliced open enough to fit a bamboo straw. The water inside was refreshing and bland, hardly a trace of coconut flavor.
As the coconut gets older, he explained, the flesh becomes thicker and fattier. This is the coconut most of us know and love.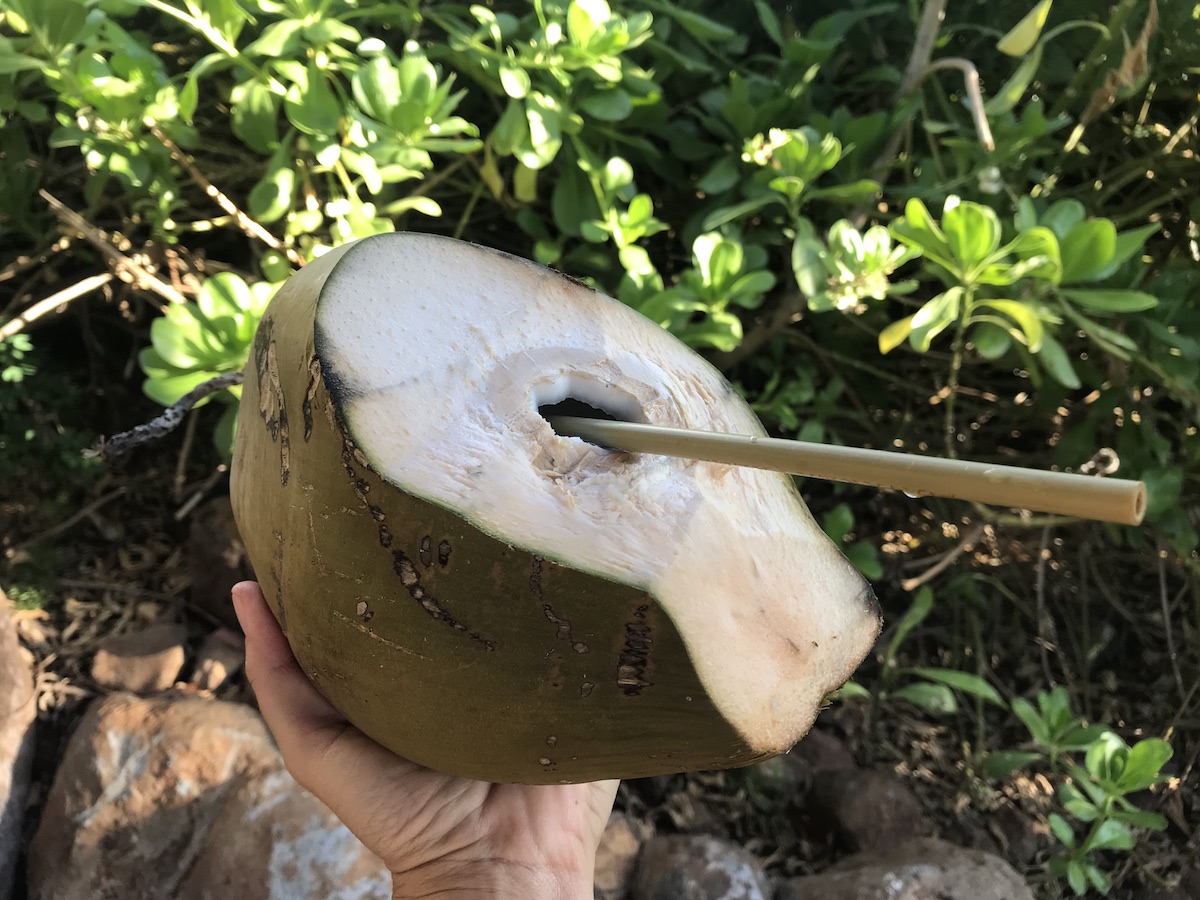 Other highlights of the tour are when McPhee shows you how to (safely) open your own coconut and how to make coconut milk, something he and his wife, Megan, have perfected. One coconut makes about a quart of milk. And the McPhees will have about 20,000 coconuts a year for the rest of their lives. That's a lot of coconut milk.
The tours are doing well—in fact, McPhee said they have to turn away people because the tours, limited to 10 guests, fill up so quickly—but there are bigger plans in the works.
On our visit in January, McPhee was already building a structure that will be used as a café and retail space. And soon he's adding a commercial kitchen.
"People are realizing there's more to coconuts than coconut oil," he said.
$49 ($39 for children) for two-hour tour, $499 for private tours. 225 Punakea Loop, Lahaina, (808) 269-4455, punakeapalms.com