Q&A: Haa Keaulana Wants to Change How People Think About Hawaii
The photography of Haa Keaulana, granddaughter of Oahu surf legend Buffalo Keaulana, has a worldwide audience.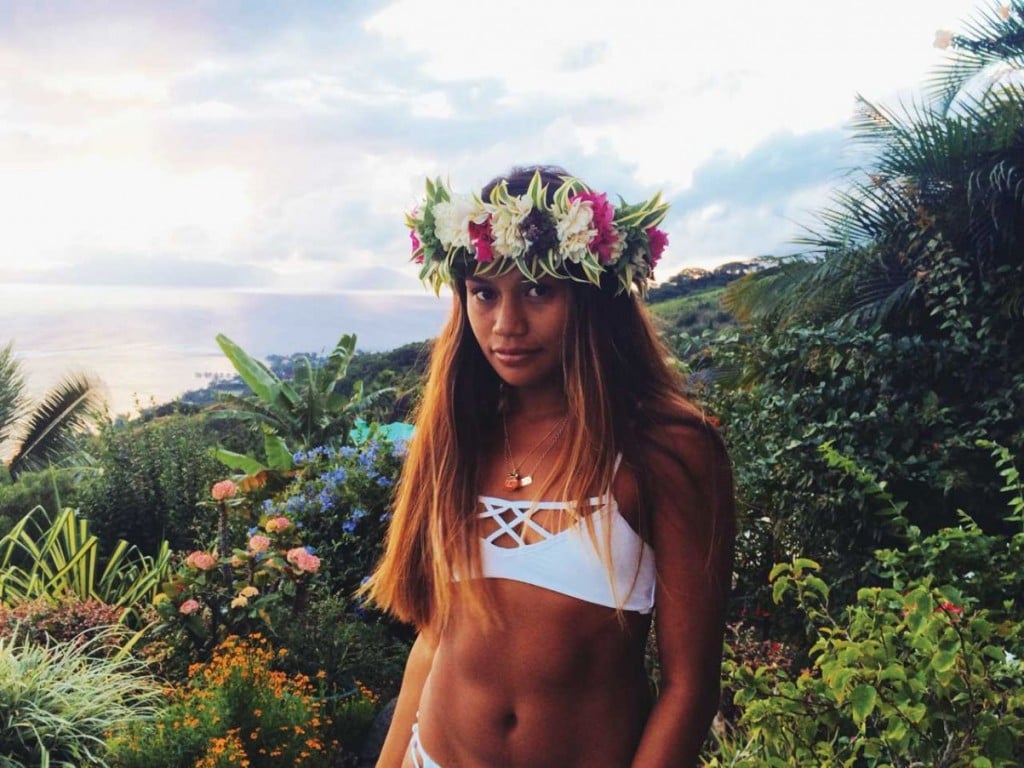 If you don't already know surfer-photographer-model Haa Keaulana, you will soon enough. With more than 140,000 Instagram followers, the 25-year-old Keaulana has been sharing colorful lifestyle surf photography of her hometown of Makaha with the world. It's led to partnerships with several companies, including the Four Seasons Resort Ko Olina, OluKai and Hawaiian Airlines. Our older, sunbaked readers may also recognize her family name: The patriarch of the family is her grandfather, Richard "Buffalo" Keaulana, who was a famous Waikiki beachboy, lifeguard, big-wave surfer and inaugural Hokulea voyage crewman. Haa continues the ocean-centered legacy her family has established, and she's sharing it with the world, pic by pic, like by like, follower by follower.
For readers who aren't familiar with you or your family, can you tell us a little bit about your background?
It all started with my grandfather. He was one of the original Waikiki beachboys, the first lifeguard at Makaha Beach, the first lifeguard on Leeward Oahu. Then, my father (Brian Keaulana) took on the same role and became a lifeguard, as well, and a big-wave surfer. Then he broke off from lifeguarding and went into the movie industry, using his experience and water safety skills for movie stunts. That's where I fell into all of it—just being raised in that environment, the surfing environment, the ocean, lifeguards. I was a water baby.
Tell me about how you've incorporated photography into your lifestyle.
That's my hardest battle. Do I want to shoot the surf or do I want to surf it? If it's really perfect, I prefer to surf it instead of shoot it. When I'm shooting, I like to shoot what I love, and that's surfing, or just anything in the ocean, the people that I love and what they're doing. My favorite thing to shoot is Makaha. That's what I love to do and that's where I do my best work.
When did you start working with photography?
I learned a lot of basics when I went to Waianae High School. My dad made me go to the Searider Productions media program, which is one of the best in the state. They win a lot of national awards. I was in the television program. That's where I got into working with cameras, and just blending it into my lifestyle.
What are you working on that our readers should look out for?
I'm getting into printmaking with Haa Keaulana Collective. I don't want to say it's apparel because all I have are clutches now, but in the future I want to have apparel with my photos on it. We're really at the beginning of the process, working on getting [the prints] into stores, but selectively. Right now, they're in Greenroom Hawaii and Town & Country. An interesting tidbit: My grandfather was originally sponsored by T&C, and then my father. So, it's three generations partnering with T&C.
What's it been like working with big Hawaii brands?
I've collaborated a lot on social media with hotels and other companies. If I work with hotels or in tourism, I like to portray Hawaii through a local's perspective, show people who are visiting the realness of Hawaii. I feel that [visitors] don't get to experience that, and it can be our fault sometimes. We can change that. I think visitors can change their perspective [of Hawaii] if we just showed them.
People who aren't from the west side of Oahu may have certain ideas about it. How do you talk about your home?
Waianae is very unfiltered and it's real. What my dad always says is the west side is full of very passionate people. It's very easy to gain respect, but it's very hard to get it back when you disrespect. But people there accept you for who you are, no more, no less—I really love that about my home.