Q&A with Award-Winning Chef Lee Anne Wong
"Top Chef" alum and O'ahu brunch master Lee Anne Wong brings modern local cuisine to the historic Pioneer Inn on Maui.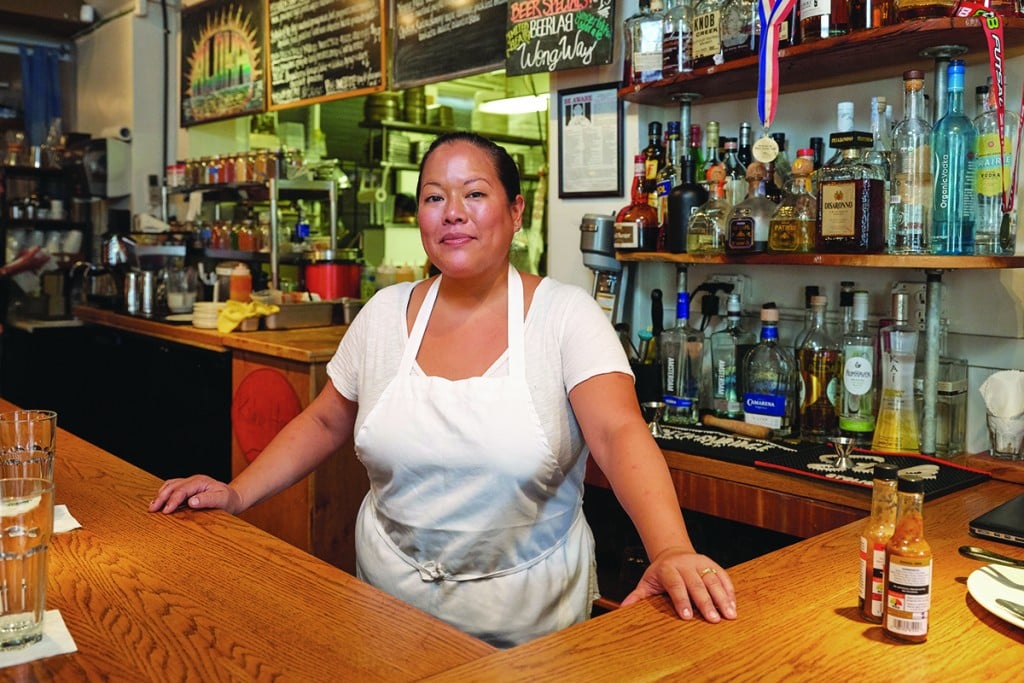 It seems there's nothing Lee Anne Wong can't do. After competing on Bravo's "Top Chef," the New York-born chef moved to O'ahu, opened award-winning brunch spot Koko Head Café in Kaimukī, moved to Maui with her new family to head up the restaurant at the historic Best Western Pioneer Inn in Lahaina and, during a pandemic, overhauled the concept entirely. Why? Why not.  
You took over the historic Pioneer Inn in Lahaina. What attracted you to the restaurant?
The Pioneer Inn is Maui's oldest hotel located at Lahaina Harbor in the historic district off Front Street. First of all, it has 120 years of history, which I found intriguing. Honestly, what really did it for me was its outdoor courtyard. I had been looking at several potential restaurant spaces on Maui for quite some time and I kept coming back to the Pioneer Inn; every time I walked into the courtyard, which at the time was not used by the restaurant … it just gave me a good feeling. 
It looks like you changed the concept recently.
We went for a full concept change once we shut the hotel down for COVID back in late March. The name, Pioneer Inn Grill and Bar, was changed to Papa'aina at the Pioneer Inn. (Papa'aina means "eating table.") We spruced up the actual restaurant space and set up a takeout/coffee/bakery area. In trying to modernize and revamp the space to match the food, we're keeping the details simple and fresh, with a nod to the history of the restaurant and hotel. 
How is the vibe/culinary scene on Maui different from 
O'
ahu
?
There's a close to a million people on O'ahu and only around 200,000 here. From a volume standpoint, there are simply [fewer] places to eat, and the food culture is not quite as diverse as O'ahu. But it is ever-changing and progressive, with an incredible hui (team) of chefs here, young and old, who man everything from hotel operations to small independent spots and food trucks.  
You've always been a big supporter of 
Hawai'
i's local agriculture. What farms and purveyors are you working with on Maui? What ingredients are you most excited about?
We are currently sourcing from various farms all over the island—'Oko'a Farms, Lōkahi Farm, Kūpa'a Farms, Hua Momona, Lopes Farm, Pa'uwela Farms and Pono Grown Farm Center, to name a few. The produce here is incredible. Long before I moved here, the Saturday Upcountry Farmers Market in Kula always made my jaw drop. Now I live in Pukalani with my family, so we are five minutes from [that market] and, during the COVID shutdown, we started our own garden at our home. The ingredients that get me most excited are the fruits! We have a stunning variety of fresh tropical fruit here, and our fruit plate at Papa'aina … today includes Kula strawberries, golden glow mangoes, strawberry papaya, apple bananas, purple star apple, rambutan, lychee, dragon fruit, star fruit, liliko'i (passion fruit), guava, black raspberries, calamansi, Kula apples and jaboticaba. That's 15 by my count, all grown here on Maui! 
You're also a mom. How are you juggling that with being a restaurateur?
I have the best partner on the planet. Lyle is literally a super dad and is able to do his graphic design work from home—though our son, Rye, is full time and then some! Rye loves to visit me at work and is always trying to help in the kitchen. The few months off we had back in the spring was amazing because it was the first time in a year that I had been able to spend all my time with Rye and Lyle. Now that I'm back to working six days a week, it's a little harder because I leave the house before the sun comes up and sometimes don't get home until Rye is already asleep.  
What is your guilty pleasure?
Somebody once asked me, "If you had a choice between just noodles or rice the rest of your life, which one would you choose?" Bad Chinese that I am, I said noodles. I love pasta and noodles of all shapes, sizes and cultures.  
Follow Lee Anne on Instagram @leeannewong