Q&A with Fishpond Educator and Caretaker Luka Mossman
Luka Mossman and his family have spent over two decades restoring and maintaining the Hale o Lono Fishpond, and it now serves as a center for culture and science.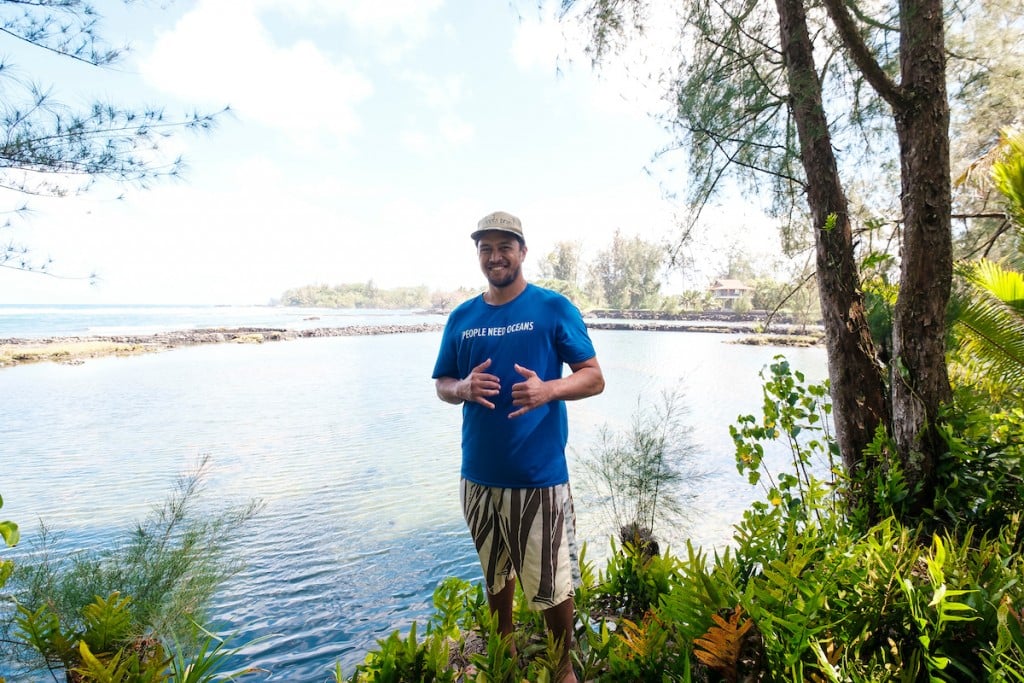 In ancient Hawaiʻi, loko iʻa (fishponds) served as vital resources for Hawaiian communities. By some accounts, there were an estimated 350 fishponds in operation in ancient Hawaiʻi, growing a variety of fresh and saltwater plants and fish, including ʻamaʻama (mullet) and ʻawa (milkfish). Loko kuapā, or walled shoreline ponds, were the most common. These had sluice gates, or mākāhā, to keep fish in and let fresh water circulate—a unique trait of fishponds in Polynesia. Over the decades, loko iʻa production declined for a variety of reasons—changing population centers, land development, pollution, invasive species, loss of knowledge. But recently there has been a resurgence in interest in this native practice, with efforts to repair and restore ancient fishponds across the state. Luka Mossman works as an educator and caretaker of Hale o Lono, a 3-acre traditional fishpond on the east side of Hawaiʻi Island, just 15 minutes from Hilo.
When did Hale o Lono Fishpond become your kuleana (responsibility)?  
My family's organization, the Edith Kanakaʻole Foundation, took over responsibility in 1996, when I was just 6 years old. They had noticed there were niho stones for rock walls littered all over. When they found that, they looked at older maps and older stories and realized it was a part of a larger system of fishponds. I worked on this fishpond pretty much my entire life. My first job was to pick up rubbish and bottles. And growing up doing this stuff, you come to realize how important these systems are.
What was the state of the fishpond when your family found it? Was there an extensive restoration process? 
When we took over this place, it was full of rubbish, all of it was overgrown and it had become a dumpsite over decades. So the restoration process was long, tedious and fun. To get back to being a functioning fishpond, from being a total wasteland, I think it took us about eight to 10 years, and it took the help of many, many community members. And getting it functioning again, where exchange happens and all of these living things can reside in here, that's just part of the mission. Now you have to maintain it, which takes less people but the same amount of effort and attention.
So how is Hale o Lono Fishpond being utilized now? 
It's a learning center, mostly. We work with Ka ʻUmeke Kāʻeo Charter School, grades first to eighth. There are also a lot of pilot projects here, to experiment and see what is possible with these brackish water environments. We also harvest fish once a year, and most of the harvest will go to [hula] Hālau Kekuhi, which is another part of our organization. They use the fish for ceremony; for example, every year they have a lā kuahu, which is an altar day where they get together and perform very ceremonial performances to the ahu (shrine, altar) that they dance for. And the fish we harvest is a part of that ceremony.
When maintaining the fishpond, have you embraced modern technologies or are you sticking to traditional methods?  
For the most part, the old science is the best science. For example, we could cement the wall so we wouldn't have to deal with falling rocks anymore, but that's going to disrupt the water exchange because the wall itself needs to breath. So that's why we kept to this dry stacking method, which is a lot of work. The walls are going to crumble every time there's a swell, but that's part of the practice. And now I'm really good at dry stacking. But for the sluice gates, we use metal, cement culverts and galvanized meshing because wood would always crumble. We also use instruments to measure the quality of water. Before, our kūpuna (ancestors) could sit here all day every day and name all of the changes to the water, but we're not here all day every day, as much as we'd love to be. So these instruments help us collect data and make sure that everything is stable.
And how can visitors and residents get involved with Hale o Lono Fishpond? 
Our monthly community workdays are the best days for visitors to come. First things first, we get to work rebuilding the wall or clearing debris, but after that we provide lunch and answer questions. And the feeling of getting work done in a place that's special to the natives of the area, I think that is really special. And for us, it's all about the intention of the visitors. If you bring good intentions, we are happy to have you.
You can find out when the monthly Hale o Lono Fishpond community workdays are being held by visiting the Edith Kanakaʻole Foundation's online calendar, edithkanakaolefoundation.org/calendar.php, or call (808) 961-5242.