Rainbow Drive-In Celebrates 60 Years of Dishing Out ʻOno Hawaiʻi Plate Lunches
After six decades, Rainbow Drive-In continues to dish out delectable plates of local cuisine for a price that's hard to beat.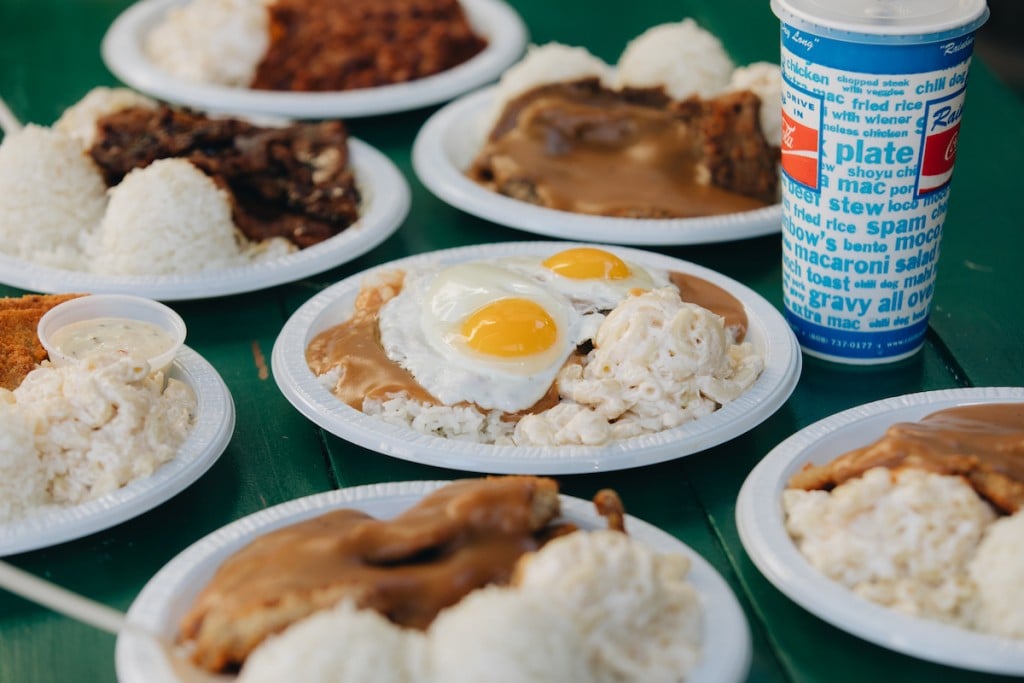 Sixty years. Three generations of owners. Countless happy customers.
Rainbow Drive-In, opened in 1961, has been the place to go for local comfort foods and affordable plate lunches on Oʻahu—and on Oct. 2, 2021, the iconic drive-in will be hitting the 60-year mark.
View this post on Instagram
So how has this local eatery grown from a humble Kapahulu-based takeout joint to the visitor and kamaʻāina favorite—with five locations across Oʻahu?
"I can't put my finger on one thing exactly," says Rainbow Drive-In owner Chris Iwamura, the grandson of Seiju Ifuku, who started the business. "We've always tried to take care of the community and our employees as much as possible. We've always wanted to be a family business, so I think that perpetuates through everything we do. And we've always stuck to our formula and just are grateful and thankful for everything that comes our way."
Also, the food at Rainbow Drive-In is seriously ʻono (delicious). With a menu that has only made a few additions since its inception—a loco moco plate and shoyu chicken being the notable newcomers—Rainbow Drive-In's cuisine dutifully stays true to its roots. Any of the drive-in's plate lunches, whether it's the barbecue pork plate with chili on the side or the iconic Mix Plate—with barbecue beef, boneless chicken and mahimahi—is seriously broke da mouth. (Meaning really, really good.)
And the fact that the menu has barely changed is something that makes Rainbow Drive-In so iconic.
"Generationally, you can talk about the same plate and everyone knows what you're talking about," says Iwamura, who moved back to Hawaiʻi in 2015—after spending time as a computer engineer in the Bay area—and began working in the restaurant in preparation to take it over. "Some things have to change because of our increase in scale or the closings of suppliers, like Love's [Bakery], but for the most part the recipes have stayed the same."
But it's not like Rainbow Drive-In hasn't changed at all. Sometimes change is necessary.
"My dad would tell me in the '70s we were serving 200 plates a day, and that isn't what it is like today," says Iwamura. "Now we can do up to 1,000 plates a day just at the Kapahulu location."
To keep the service quick—one of the original goals Seiju and Ayako Ifuku had set when opening Rainbow Drive-In, along with serving generous portions for a low cost—minor but vital steps have been made behind-the-scenes to make sure everyone gets their plate on time. "Even small stuff like where we put the rice cooker in our line has been refined to be the most efficient way," says Iwamura.
While Rainbow Drive-In is best known for its Kapahulu location, there are now four locations—Kalihi, ʻEwa Beach, Pearlridge, Waipahu—on Oʻahu.
"It's been quite a ride," says Iwamura, on the topic of expansion. "There was a lot of demand out there and we wanted to test the waters. It's doing pretty well but there are things we are still working on. It's a learning experience for us."
When your business has been running for as long as Rainbow Drive-In, there can be this paralysis when it comes to finding new ways to do business—especially when your customers are as loyal as Rainbow Drive-In's.
"There are people that come every day and if you change one thing they notice immediately. They bring exact change, so if we increase prices by 5 or 10 cents, it can be a shock to them. But change is a part of being a business—it's a part of being a human—and for us, it's balancing what makes us Rainbow's with the things that are best for the company and our employees," says Iwamura.
"The community and our employees are really the things that built us, and we want to give as much back to them as possible," Iwamura adds.
Making good on that statement, Rainbow Drive-In will be doing a special kind of celebration for its 60th birthday.
"We wanted to throw a huge party, but we can't right now due to COVID, so what we're doing is this," Iwamura says. "Each of our locations will be donating $1 per plate sold to local schools because they've been hit so hard by the pandemic."
So with 60 years in the bag, what's next for Rainbow Drive-In?
"For us, we're just focused on getting through this," says Iwamura, "but we're also looking into expansion past Oʻahu. Past the state. But we want to make sure we get it correct and do it properly, we want to take our time. And most importantly, for me and for the business, is that we don't want to touch what made us Rainbow's."
For more information on locations, hours and the menu, visit rainbowdrivein.com.