Recipe: Alan Wong's Minute Poke
A quick and easy Hawaii poke dish designed to be mixed at the table just before it's eaten.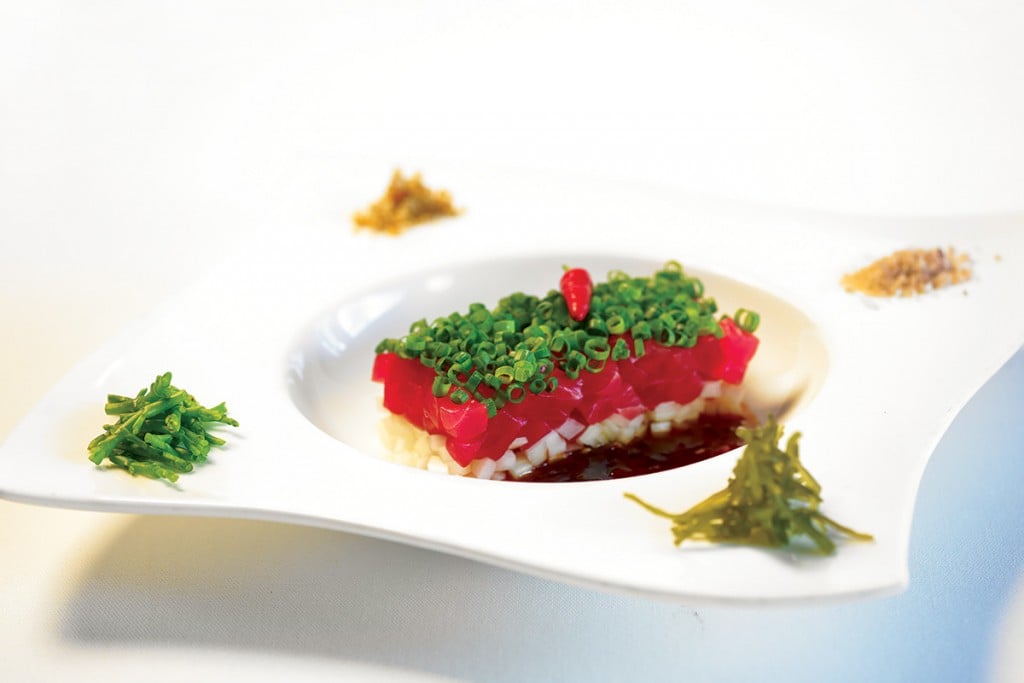 This quick and easy poke recipe from Hawaii Regional Cuisine pioneer and master chef Alan Wong includes two of our favorite things: Fresh fish and traditional Hawaiian garnishes of seaweed and kukui nuts that make the flavors pop. The recipe for this and many more of his dishes can be found in chef Alan Wong's book, The Blue Tomato. 
From the chef:
Minute Poke is a name I made up. It's a poke dish designed for the diner to mix at the table, so it marinates briefly just before it's eaten. Miko is the Hawaiian word for "to season or salt," but in casual usage it means "to let sit for a while." Poke can be eaten freshly made or prepared ahead of time.
Alan Wong's Minute Poke
Makes 3 tasting portions
The Ahi
5 ounces (142 grams) sashimi-grade ahi
The Chopped Ingredients
3 tablespoons (9 grams) thinly sliced green onion
⅛ cup (40 grams) small-diced round onion
The Poke Sauce
1½ teaspoons (11 grams) sambal oelek (Indonesian chili paste)
1 teaspoon (5 grams) oyster sauce
1 teaspoon (4 grams) soy sauce
1½ teaspoons (6 grams) sesame oil
¼ teaspoon (1½ grams) inamona (ground kukui nuts)
¼ teaspoon (2 grams) minced ginger
Garnish
Various seaweeds
Hawaiian salt
Prepare the Ahi
Cut the ahi into ¼-inch cubes. Place in a small mixing bowl. Cover and refrigerate until needed.
Prepare the Chopped Ingredients
Thinly slice the green onion, and small-dice the round onion. Each ingredient should be stored individually in small ramekins or mixing bowls. Cover and refrigerate until needed.
Prepare the Poke Sauce
In a small bowl, combine the sambal oelek, oyster sauce, soy sauce, sesame oil, inamona and minced ginger. Mix well and set aside.
To Plate
Place a 1¾" x 3½" x 2½" rectangular musubi mold in the middle of a shallow serving bowl.  Layer the poke ingredients in the mold in the following order: diced round onions, cubed ahi, green onions. Press down and unmold. Refrigerate until ready to serve.
Before serving, spoon the poke sauce around the poke, or serve the sauce on the side. Garnish with a small pile of Hawaiian salt and arrange the seaweeds around the rim of the bowl.
The diner mixes the sauce, salt and seaweed with the ahi to taste, creating an individual traditional poke in less than a minute, hence the name "Minute Poke."