Recipe: Alan Wong's Singapore-Style Coconut Kim Chee Curry Seafood Stew
A multicultural recipe that celebrates the many immigrant roots of Hawaii Regional Cuisine.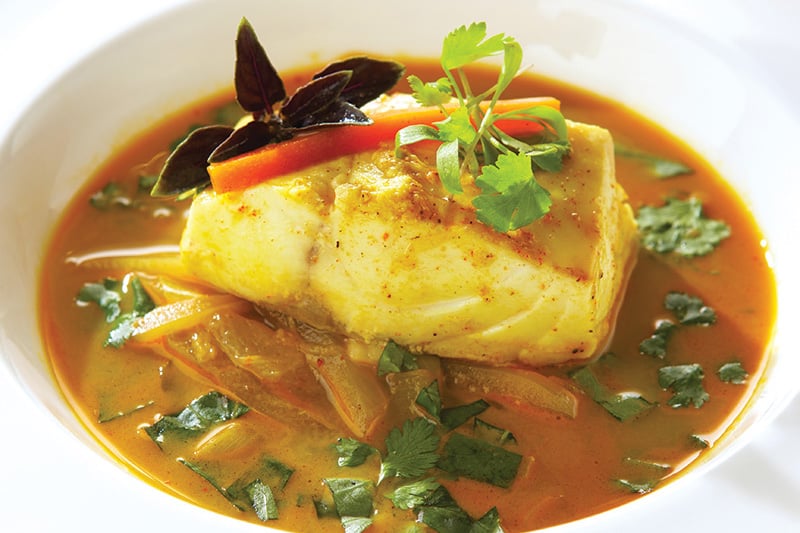 You can almost taste the rich history in this flavorful and multicultural recipe from Hawaii Regional Cuisine pioneer and master chef Alan Wong. This and many more of his recipes can be found in his book, The Blue Tomato.  
From the chef:
I'm intrigued by Singapore's history, which parallels Hawaii's in many ways. In Singapore, Chinese men arrived to work on the railroads and married Malay women. These men were hungry for Chinese food, but their new brides only knew how to cook Malay, so they learned to cook Chinese food Malay-style. This hybrid cuisine was known as Peranakan cuisine. In Hawaii, the Chinese were the first immigrants brought in to work the sugar cane plantations, and most of these were single men. They stayed and married Hawaiian girls, and the same story unfolded. What developed over the years was a cross-cultural cooking and eating style involving many different immigrant groups, which eventually inspired the birth of Hawaii Regional Cuisine.
Alan Wong's Singapore-Style Coconut Kim Chee Curry Seafood Stew
Makes 2½ quarts
The Broth
3 tablespoons (75 grams) canola oil
1 teaspoon (5 grams) minced ginger
1 teaspoon (6 grams) minced garlic
2½ cups (280 grams) ¼-inch slices white onion (sliced on the grain)
2  tablespoons (24 grams) Madras curry powder
1 cup (245 grams) extra-rich coconut milk
2 tablespoons (30 grams) fish sauce
6 cups (1,400 grams) chicken stock
1½  cups (142 grams)
1/8-inch x  1/8-inch x 2-inch carrot matchsticks
2 cups (142 grams) ¼-inch diagonal slices Tokyo negi (a type of Japanese onion, similar to green onions), white part only
1 12-ounce bottle (454 grams) Halm's kim chee
The Seafood
18 ounces (510 grams) lehi (short-tail pink snapper, or use any snapper, halibut or white fish that will stay moist in this cooking procedure)
2 pounds (907 grams) fresh clams
Garnish
½ cup (12 grams) roughly chopped cilantro
½ cup (20 grams) roughly chopped basil
Kosher salt
Rice for serving
Making the Broth
In a large saucepan, heat the canola oil over medium-high heat. Add the garlic and ginger. Stir for 10 seconds, then add the onions and cook for 30 more seconds. Stir in the Madras curry, then the coconut milk, chicken stock, fish sauce, carrots, Tokyo negi and kim chee.
Preparing the Seafood
Cut the fish into 6 equal portions. Place the fish in a sauté pan in a single layer with the clams on top. Add 3 cups of broth until fish fillets are just covered and cook over medium heat, about 3 to 5 minutes.
To Plate
When the fish and clams are cooked, transfer to a bowl and keep warm. Remove and discard any unopened clams. Add the cilantro and basil to the broth in the saucepan and adjust seasoning with salt.
Place a scoop of rice in individual serving bowls. Place a piece of fish on top of the rice. Ladle the broth and clams around the rice. Serve at once.