Recipe: Hawaii pineapple carpaccio
This juicy, refreshing treat is a simple, but oh-so-ono dessert.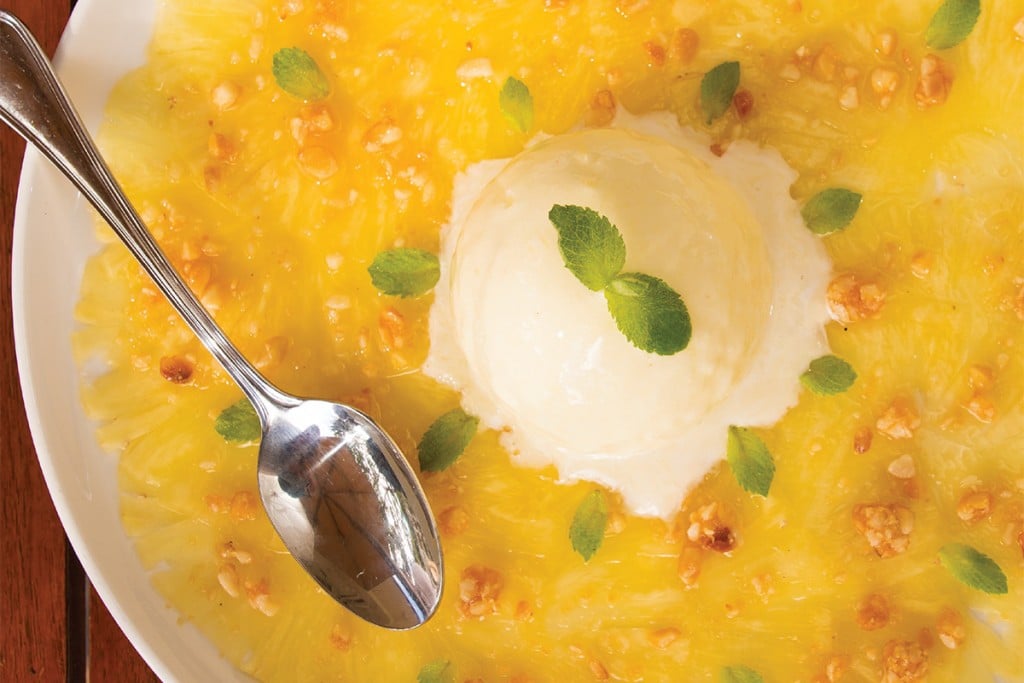 Christopher Columbus dubbed the pineapple a "pine" cone when he found it on Guadeloupe in 1493 and brought it to Europe. In colonial-era America and Europe, the pineapple became a status symbol at banquets, and it was carved in furniture and doors to represent lavish hospitality. Even George Washington grew pineapples in his Mount Vernon hothouse. The pineapple isn't a single fruit—it's actually the fruits of dozens of flowers, merging on the plant spike as they grow. If the pineapple you're eating tastes too acidic, sprinkle a little salt or lime juice on it to sweeten it.
"I like pineapple because it's juicy, refreshing, and has a nice balance of sweetness and tartness. When I was growing up in Hawaii, we would usually have some kind of fresh fruit for dessert. Pineapple was my favorite. Sometimes my mom would pack fresh pineapple slices sprinkled with li hing mui powder in my lunch bag. I was a popular boy in school whenever I brought li hing pineapple! Those memories inspired me to create this simple but ono (delicious) dessert."
Recipe: Hawaii pineapple carpaccio
Alvin Savella, chef de cuisine at The Banyan Tree at The Ritz-Carlton, Kapalua
Carpaccio
1 fresh pineapple
Peel, remove core, slice thinly and arrange on a plate.
Vanilla mint syrup
½ c. sugar
½ c. water
½ tsp. vanilla powder
½ tsp. vanilla extract
50 mint leaves
Combine ingredients and simmer on medium heat for 10 minutes. Strain, cool and reserve syrup.
Candied macadamia nuts
1 c. sugar
4 Tbsp. water
½ cup macadamia nuts, coarsely chopped
Combine sugar and water in a saucepan and cook it until it has a nice golden brown tint. Add macadamia nuts to the caramel and stir until well combined. Spread on a sheet pan and let cool. Once cool, break caramel nuts apart as needed and reserve for plating.
Assembly
Drizzle vanilla mint syrup over the pineapple on plate. Sprinkle with candied macadamias. Garnish with mint leaves and a scoop of your favorite tropical sorbet. Serves 4.