Recipe: Nakamura's Kabocha Pie
Try this flavorful local kabocha pie recipe from the Nakamuras of Hilo.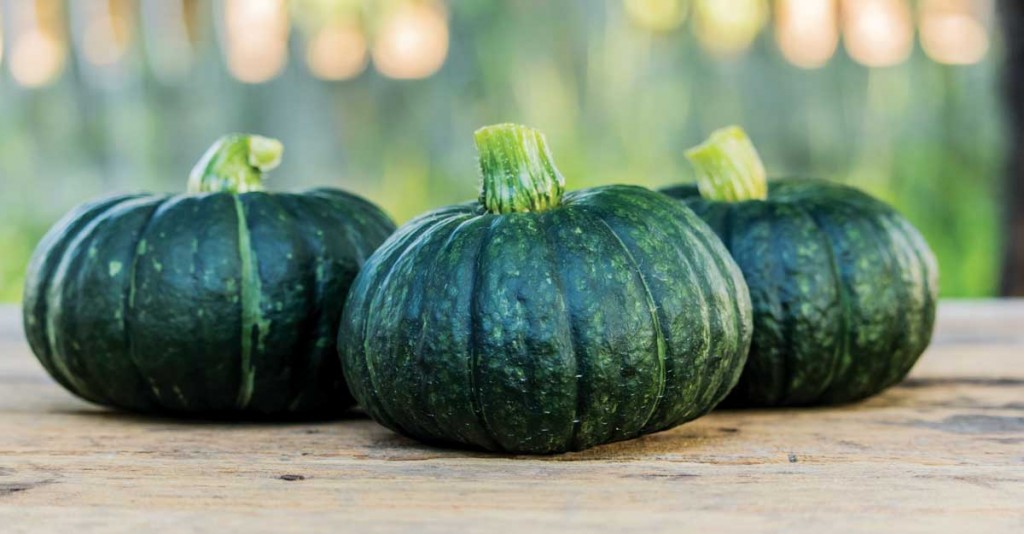 With the holidays just around the corner, consider baking a local kabocha pie like the Nakamuras of Hilo. Instead of the standard can of pumpkin puree, the Nakamura family has been making pumpkin pies using Japanese kabocha pumpkin for three generations. It takes a bit more prep time, but the end result is a delicious, creamy and flavorful pie. Use your favorite pie crust recipe or a simple bar crust recipe with macadamia nuts if you don't want to make a conventional pie. The following filling recipe is enough for two pies or a pumpkin bar recipe using a 9-inch by 12-inch pan.
Nakamura Kabocha Pie
Kabocha Puree
2 medium-sized kabocha (about 3 pounds each)
Filling
1 ¾ cups sugar
1 tablespoon cinnamon
½ tablespoon nutmeg
1 teaspoon ground ginger
1 ½ tablespoon salt
5 cups kabocha puree
5 large eggs
2 cans evaporated milk
To make the kabocha puree, place the whole kabocha onto a lightly greased baking sheet and bake at 350° F until thoroughly soft and collapsing upon itself, approximately an hour. Cut open, remove and discard seeds and scoop out softened flesh. Mash flesh into a puree until a smooth consistency is achieved.
Mix sugar, cinnamon, nutmeg, ginger, and salt. Add sugar mixture to kabocha puree and mix well. Beat eggs and add to kabocha sugar mixture. Mix in evaporated milk and blend well. Pour filling mixture into an unbaked pie shell or prebaked bar crust recipe of your choice.
Bake on the lower half of the oven at 425° F for 25 to 30 minutes, and then lower the temperature to 350° F. Bake for 35 to 40 minutes, until the filling is slightly puffy. Cool and serve.