Recipe: Pork Adobo Moco from The Pint & Cork
This spin on the classic Hawaii loco moco uses tender Filipino adobo instead of a hamburger patty.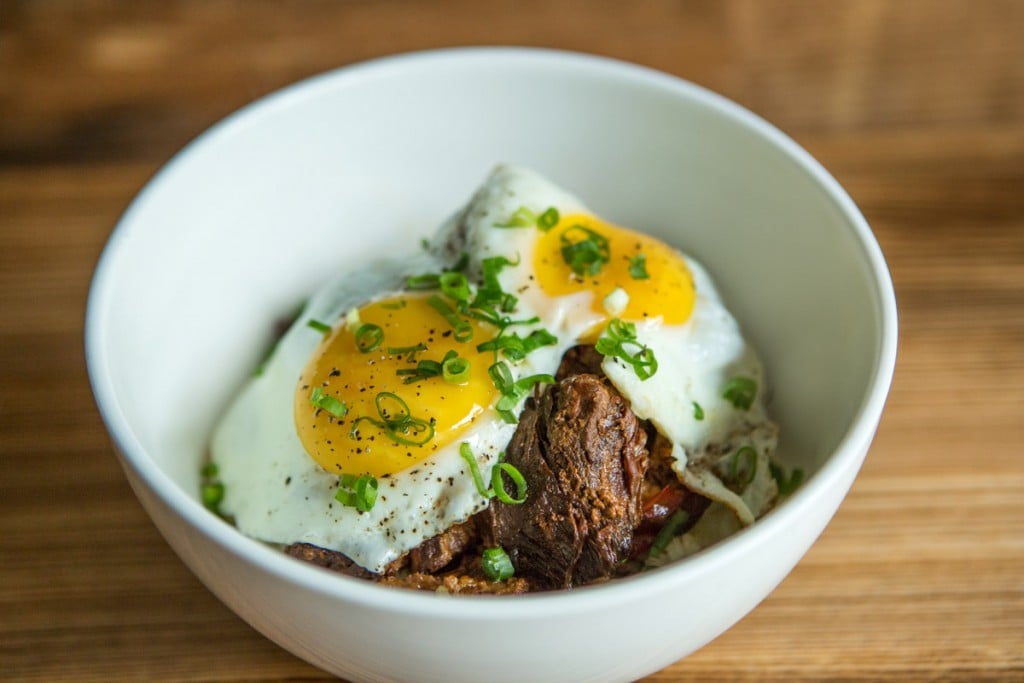 The secret ingredient in this delectable, hearty dish from The Pint & Cork, a brewpub located in the Shops at Wailea on Maui, is love. Be patient with the pork, because the end result is worth the time. This spin on the classic Hawaii loco moco combines tender Filipino adobo with farm fresh eggs, fragrant rice and crisp green onions. The Pork Adobo Moco is prepared every morning at The Pint and Cork by slow cooking the pork for more than two hours until tender. The aroma fills the restaurant well before 11 a.m., just in time to serve hungry lunchtime guests. The pork is served over jasmine rice, topped with two perfectly fried eggs and green onions. The eggs add an additional layer of richness to the pork. The recipe below will make enough adobo to feed an entire family plus the neighbors, so invite your friends and spread the aloha.
Pork Adobo Moco
Ingredients
1 pork shoulder/butt, 8-9 lb. Cube into 3×3 inch pieces
½ round onion, julienned
1/3 cup of garlic cloves, sliced thinly
1-inch slice of ginger
2-4 sprigs of fresh thyme, or to taste
1 bay leaf
½ quart soy sauce
1/3 quart red wine vinegar
2 cups water
3 green onion stalks, sliced
2 eggs
7 Hawaiian chili peppers; may substitute Thai chili peppers (optional)
Directions:
In a large pot or deep frying pan, sear the pork over high heat until brown. Add the onions and garlic and continue to cook with pork until softened, about 5 minutes.  Add remaining ingredients and water to make sure all of the pork is covered with liquid. Cover with aluminum foil and cook in a 350-degree oven for at least 2 hours.
To serve, place jasmine rice and top with adobo. Fry two eggs and slide onto the adobo, top with sliced green onions.
Your patience will be rewarded with the most tender adobo you've ever experienced.