Rediscovering Kahanu Garden on Maui's Hana Coast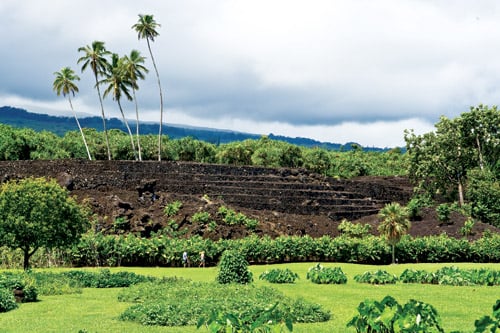 I remember feeling a bit underwhelmed the first time I visited Kahanu Garden. Underwhelmed, that is, with much else other than the triumph of early Hawaiian engineering and construction that is its monumental centerpiece, Piilanihale Heiau.
Compared to the nonprofit Tropical Botanical Garden organization's three other Hawaii gardens—all on Kauai, and all brimming with acres of native and ornamental tropic flora— Kahanu Garden's huge 464-acre expanse on the scenic Hana Coast seemed, well, empty.
Noni (Indian mulberry) in the park's canoe garden.
There was a "canoe garden" showcasing plants ocean voyagers from Polynesia carried on their migration to Hawaii, all necessary for daily life. On the garden's makai (ocean) end were sweeping sea level views of the coast, and on it's mauka (inland) end views of the massive 50-foot walls of Piilanihale against the backdrop of Haleakala's lush, cloud-covered northwest side. And between it all, a large great lawn I found perplexingly featureless.
A thatched structure—likely a canoe house—near the garden's canoe landing.
The thing is, in the the dozen years that followed, I couldn't get Kahanu Garden out of my mind. Slightly older and wiser, I wanted to return, wanted to linger. And so, I finally did. I wasn't disappointed.
A view of the Hana Coast from Kahanu Garden's rugged shoreline.
On a self-guided tour, provided guidebook in hand, I gained a richer understanding of each of the garden's canoe plants—kalo (taro), ulu (breadfruit), uala (sweet potato), ko (sugar cane), awa (kava), and more. I paused at the seaside graves of Kahanu family members, ancestors of Kahanu, a chief granted the land by King Kamehameha III in 1848. I again stood at the base of Piilanihale, a heiau (temple) believed to have been built over 3.5 centuries beginning in 1200 A.D. For years hidden by jungle, the heiau was restored by staff and volunteers over three decades, from the garden's 1974 opening.
Hawaiian red ginger flowers in bloom near the garden's entrance.
The lawn was still vast, still empty, but I appreciated the views that allowed.
Mostly, though, I reveled in the garden's wonderful quietude, leisurely taking in its cultural and natural treasures. I sat for an hour on its sea cliffs, listening to the pounding surf and watching the ocean. I contemplated life and hatched plans.
Kalo (taro) grows in the park's canoe garden.
And then I was gone again.

Plants in Kahanu Garden's canoe garden are marked with informational placards explaining their use in the everyday lives of early Hawaiians.
Kahanu Garden
650 Ulaino Road, Hana, Maui • (808) 248-8912 • Click here to visit the Kahanu Garden website.