Renew Yourself in an Ocean of Possibilities
The water awaits at Wailea Beach Resort.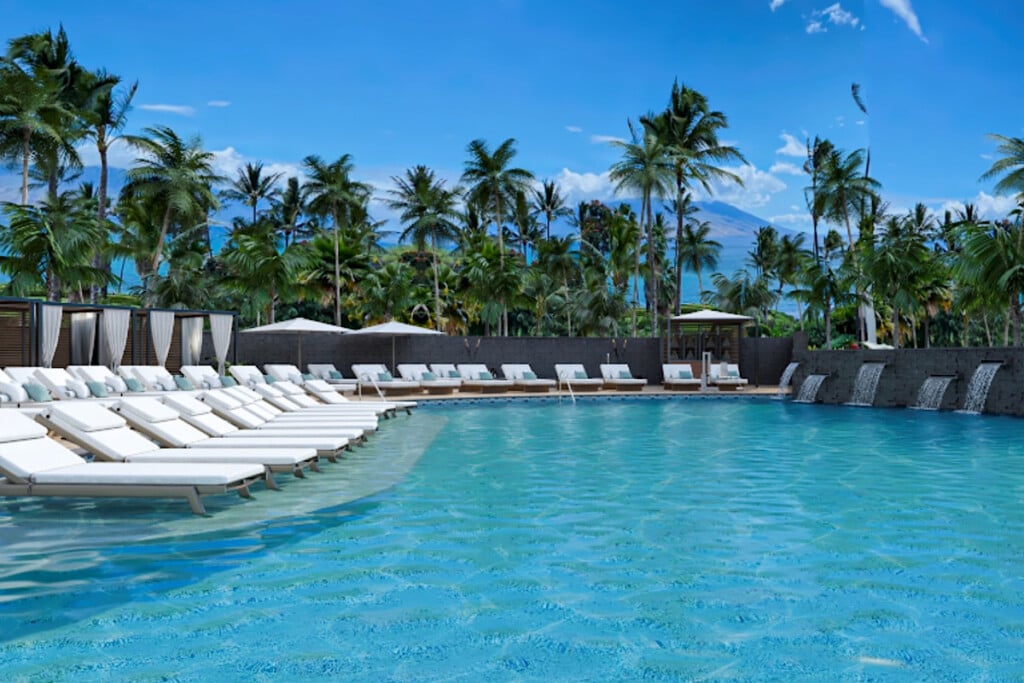 Opening this April, Wailea Beach Resort's newest pool destination, Olakino, is a first of its kind on Maui—a reservations-only waterside retreat designed to relax and rejuvenate mind, body and soul. Complementing the resort's elevated offerings, Olakino is an exclusive adults-only wellness oasis that includes culinary refreshments, guided wellness practices and mini spa treatments. The secluded poolside setting features in-water chaises, luxury cabanas, and an infinity edge saline pool that peers out onto the Pacific, framed by tropical greenery. 
The south coast of Wailea, Maui, has long attracted affluent residents and visitors. A handful of luxury hotels pepper the coastline, with Wailea Beach Resort located at the site of the first resort to grace the sunny shores of this master-planned resort community. Cradled between two golden crescent beaches, Wailea Beach Resort occupies an enviable location, with rooms situated closer to the ocean than any other resort—a mere 40 steps from door to shore. 
 Heralded in recent years as the "Best American Hotel," "Best Incentive Hotel in Hawaiʻi", and "Best Family Luxury Resort," Wailea Beach Resort offers laid–back luxury for travelers of all kinds. Set across 22 immaculate acres, the resort's 547 rooms and suites embrace the undulating terrain with seven low-density buildings and an eight-floor tower. Designed for Maui's idyllic weather and vistas, the residential-style accommodations are thoughtfully appointed with modern, ocean-inspired furnishings and décor. The coveted  Sundeck Collection  guest rooms feature the best of Island living with expansive 150–square–foot private lānai (verandas), perfect for morning meditations, gathering for family meals and catching the vibrant Maui sunsets (and the occasional humpback whale).
Guests need not venture far to enjoy the best of Maui. The resort's extensive amenities include a robust schedule of daily wellness and cultural activities, an on-site movie theater, a GameSpace recreation lounge, complimentary bikes and local shuttle rides, and more. With the ocean as a playground, the voyaging traditions of Hawaiʻi come to life for guests, who can enjoy a guided morning paddle on a Hawaiian outrigger canoe, as well as snorkeling and scuba diving; Paeahu Reef is located directly in front of the resort and teems with vibrant marine life.
Wailea Beach Resort is also home to inspired culinary offerings including the sought-after candlelit private dining experience featuring a five course chef's menu and wine pairing, with a personal attendant and front–row views of Maui's majestic sunset. The oceanfront Te Au Moana Luʻau, created specifically for the resort by Tihati Productions, transports guests on a journey through the island's history and its people with cultural demonstrations, song and dance performances, and authentic Hawaiian cuisine. The resort's signature restaurant, Humble Market Kitchin by celebrity chef Roy Yamaguchi honors his family's beginnings on a Maui plantation, capturing internationally influenced, Hawaiian-inspired flavors from his childhood.
The land division of Paeahu (translated as the "altar of embarking/disembarking"), where Wailea Beach Resort sits, has been a site of arrival and departure for voyagers and visitors since ancient times. Here at the ocean's edge, the possibilities for adventure are infinite. Explore more at waileabeachresort.com.