Royal Hawaiian Hotel is a Historic Classic That Never Fades
The iconic pink walls invite you to step back in time to a more opulent Hawaii.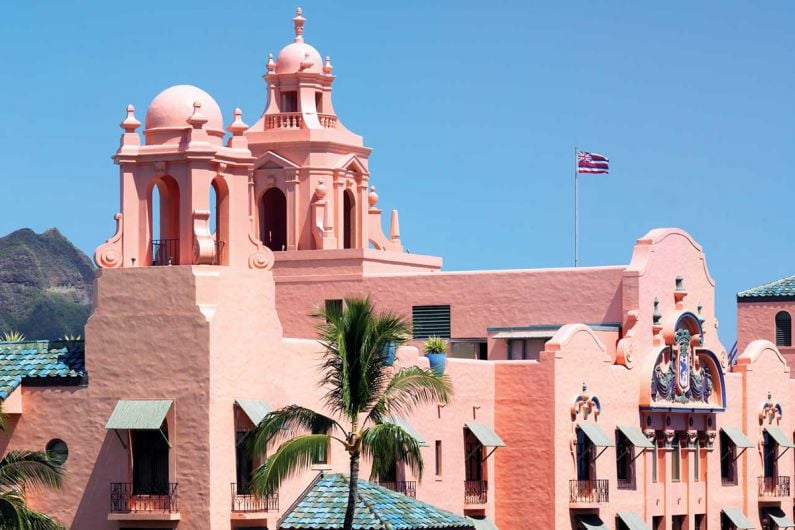 The iconic Pink Palace of the Pacific is as beautiful as I imagined it would be. Fashioned in a Spanish-Moorish style with a pink stucco finish, it stands out in the crowd of hotels that have taken up residence all around it in Waikiki. Ninety years have gone by since The Royal Hawaiian's grand opening on January 31, 1927, a formal affair attracting elites who could afford this era of opulent travel, and yet the hotel has been so well preserved that entering it feels like I'm stepping back in time.
I walk into the lower lobby and find the main dining room, where I gaze upon what was once the Persian Room, when it was filled to capacity for a $10-a-plate black-tie dinner on opening night. Walking east down the same corridor, there's the Regency Room, now a meeting space, but once the wood-floored ballroom where the Royal Hawaiian Band played to guests dancing in flapper dresses below its many chandeliers. The Coconut Grove lanai (balcony), overlooking the large lawn and garden, is where I imagine my favorite spot to lunch and drink tea would have been just as it is today. It's lined with seats and holds a lovely new bakery with sweet treats I've been stopping by for every day during my stay.
The resort's addition in the 1960s, a high-rise tower now called Mailani, may give guests a remarkable view of the Pacific Ocean and Diamond Head, along with other exclusive amenities, but I favor the six-storied historic wing instead and its rooms facing the garden. In the '20s when the hotel was built, guests arrived by ocean aboard Matson's luxury steamship and didn't want to see the Pacific when they arrived on land, so the rooms were designed around the garden. The red-wallpapered and high-ceilinged interior of my historic room feels like a tropical hideaway—a quiet, peaceful respite, where palm trees and bird songs greet me in the morning, in the same way it has greeted its long list of visitors (movie stars and wealthy businessmen included) throughout the hotel's many regal years.