Satisfy Your Sweet Tooth at these 3 Kapa'a Eateries
You might have a sugar rush by the time you leave Kauaʻi.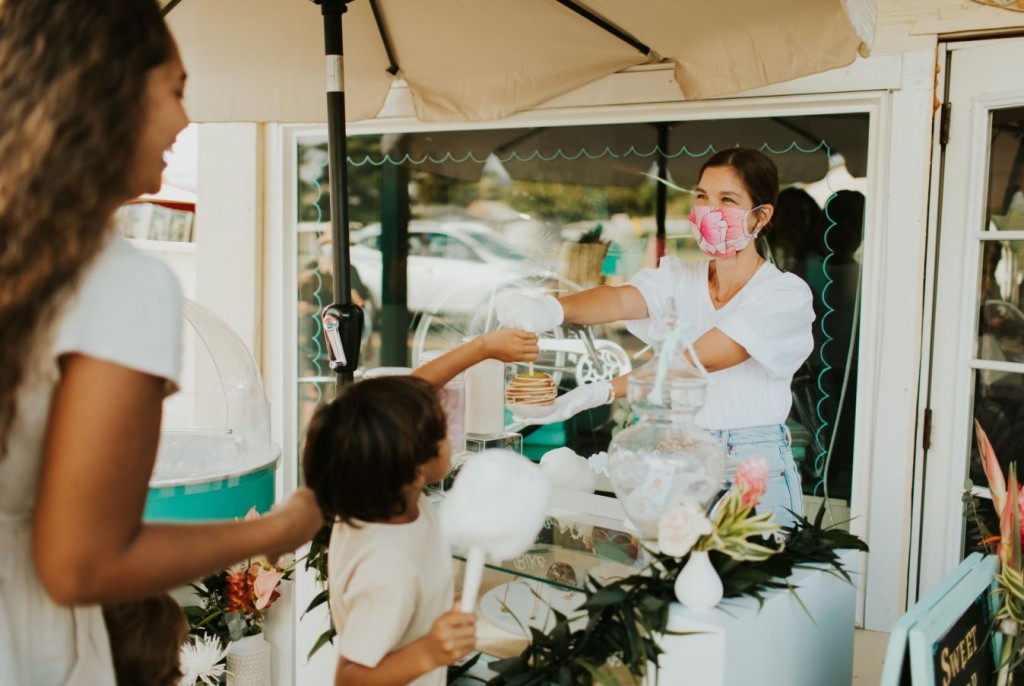 This cool, overcast and sometimes humid fall weather has me craving everything sweet. If you're feeling the same way, check out these three eateries for a fun adventure on Kaua'i's east side.
Sweet Shop By The Sea
Step into Sweet Shop By The Sea and you'll be met with walls filled with colorful gummies, rocky road fudge, handmade cotton candy, tubs of marshmallows and lots of artisan chocolate—exactly what you'd expect to find in a small town candy shop. Even more impressive: The shop is only 100 square feet. No wonder Sweet Shop By The Sea calls itself the world's smallest candy store!
Albert Lopez and his wife, Ashley Johnson, started the business in May 2019; the idea came from their now 4-year-old daughter, Amethyst-Rae, who loved visiting candy stores during a family vacation to the Mainland. She plays an active role in the business, helping her father select sweets.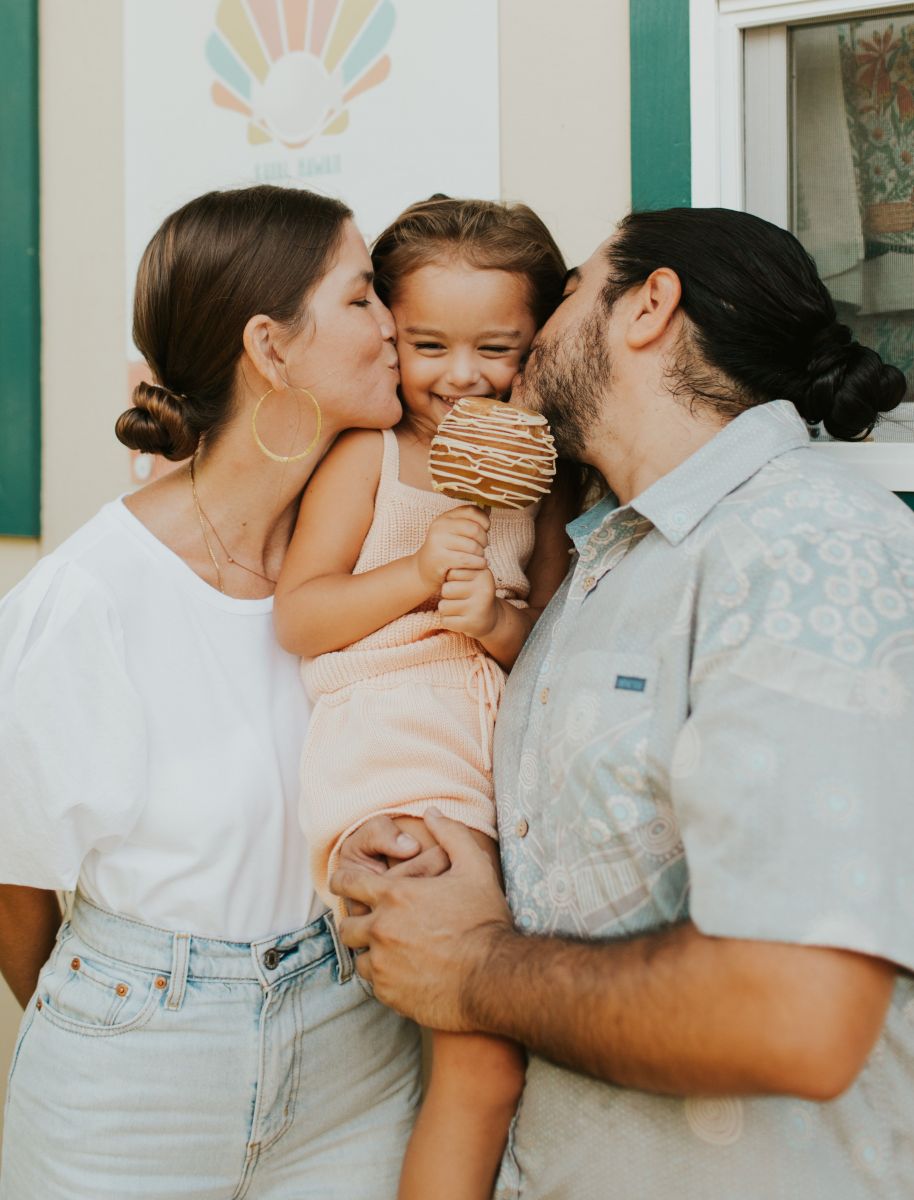 "What I'll do is I'll go and curate certain things, I'll find certain sweets and items, and I'll show them to her," he says. "I'll ask her for her opinion. Like, 'Sweetie, do you like this? Do you like this? Which color is your favorite?' I'll just kind of let her go through it. It's part of my process for deciding what we're going to carry in the shop for sure."
Lopez, who grew up in Kapa'a, tries to find interesting, unique, handmade items locally and from around the world. For example, some of the best gummies are from Europe, he says, and the shop stocks nuggets from France. Local products include Mānoa Chocolate bars and caramel apples made in collaboration with Kauaʻi Sweet Shoppe. He says these types of local collaborations are key to helping small businesses during the pandemic.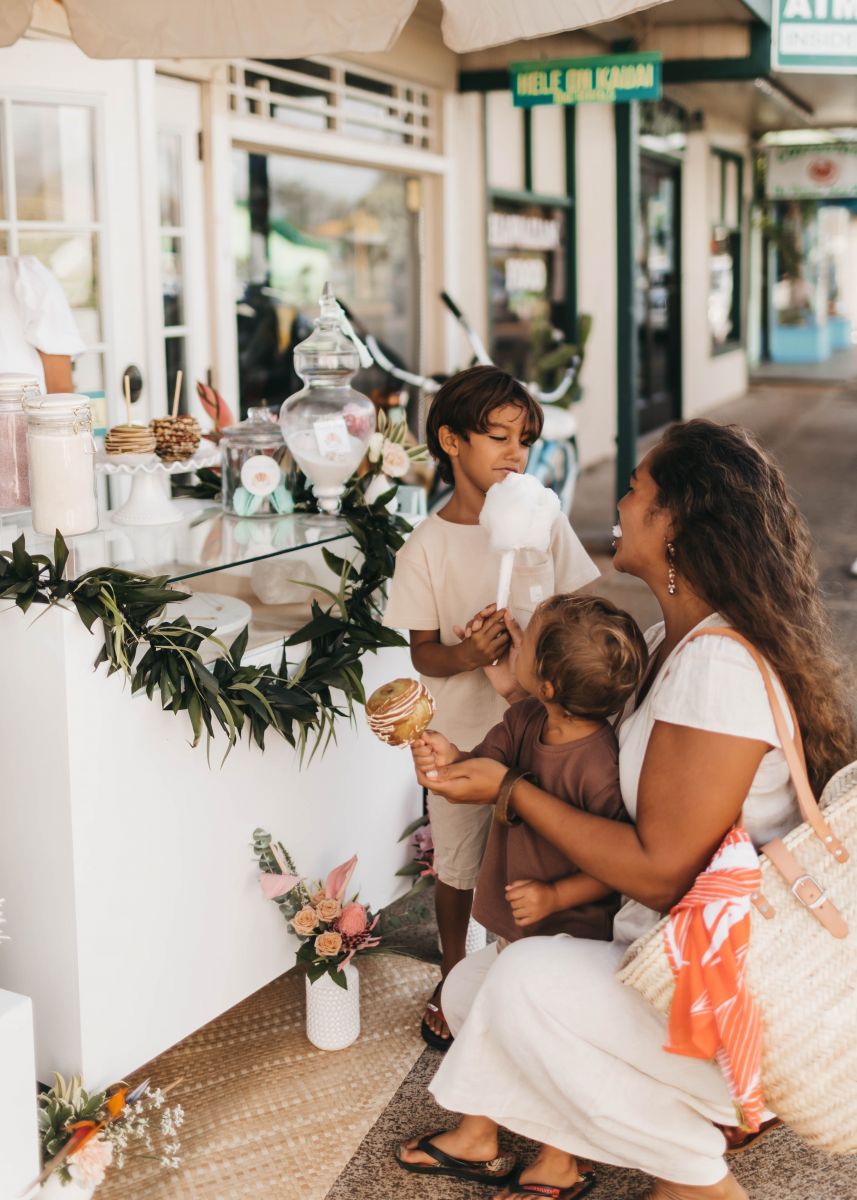 One of Lopez's specialties is handmade, organic cotton candy. The flavors are unique, ranging from "I Love You Like A Mango," which is mango cotton candy with li hing mui sprinkled on top, to salted caramel apple cotton candy garnished with Hawaiian sea salt and watermelon cotton candy with candied watermelon seeds. He even made a special candy corn cotton candy for Halloween using three flavors: vanilla, butterscotch and cake batter.
"That's really what's great about confectionery in general is that it's a science and an art," he says. "You get to be creative and then it becomes fun and not so much like work."
4-1302 Kūhiō Highway, Kapa'a (behind Hele On Kaua'i Bike Rentals), sweetshopkauai.com
Wailua Shave Ice
A visit to Wailua Shave Ice's new store in the Kauaʻi Village Shopping Center will leave you feeling refreshed—and it's not because of the air conditioning. Its shave ices are filled with cool, mouthwatering bites of local fruits like dragon fruit, mango, coconut and pineapple.
Surprisingly, co-owner Brandon Baptiste, who grew up in Kapa'a, says none of the flavors are inspired by his childhood. In fact, he used to only order one flavor—vanilla—from Hawaiian Blizzard, a shave ice shop by Big Save. The shop is owned by Aaron Furugen, who taught Baptiste to pay attention to the little details of making shave ice.
"There's a lot of things that go on, like you don't just like throw a big block of ice in and start going," he says. "It won't come out quite right. You have to have the ice at the right temperature, you have to have it at the right size, the right width, and your machine has to be, like, calibrated really well."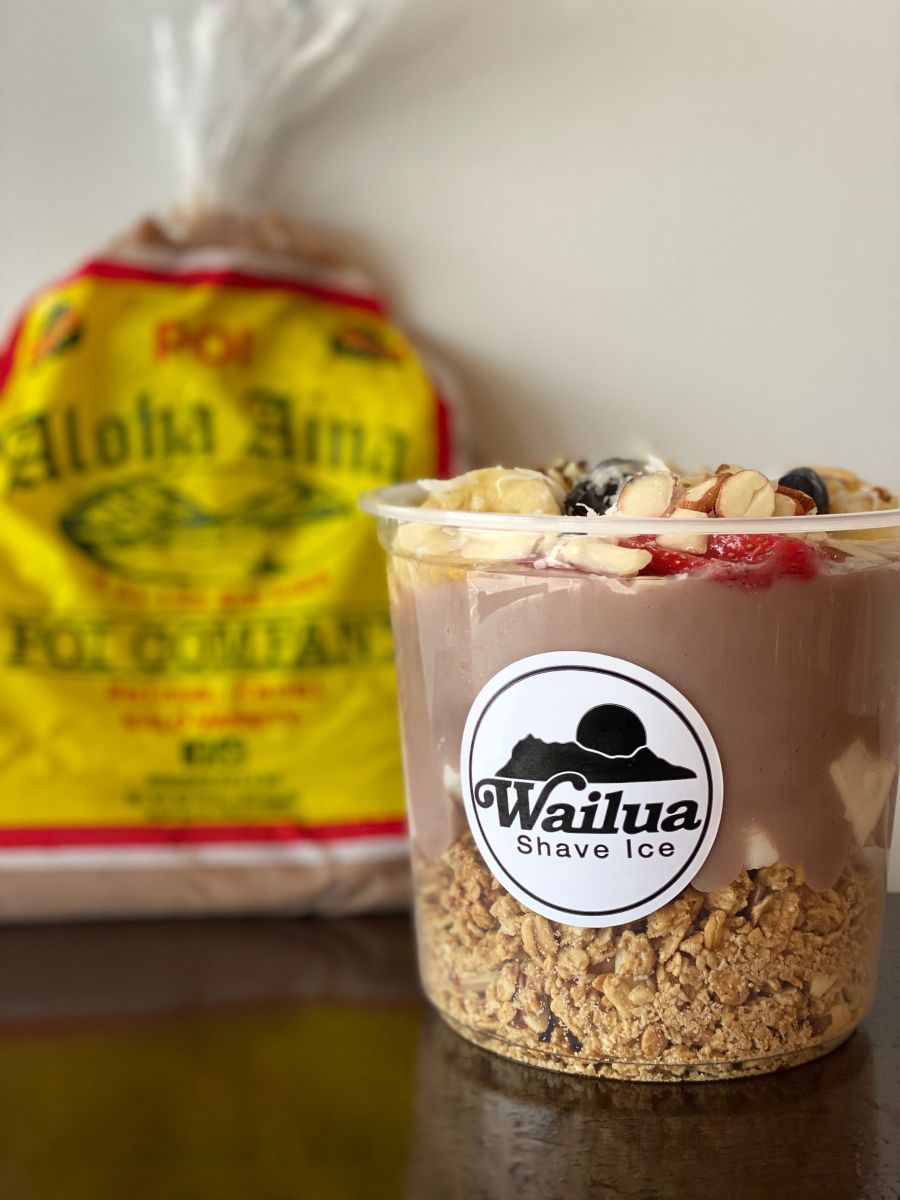 Baptiste, who was a chef in New York and California, started Wailua Shave Ice with Josh Tamaoka in 2014. The pair also opened Saimin Dojo in 2018 with another business partner. Baptiste says they're trying to put their own spin on food they grew up with.
He estimates Wailua Shave Ice has experimented with 50 or 60 flavor combinations since it was established. "It's  kind of like the sky's the limit, right?" he says. One of those experiments was a strawberry-balsamic flavor where they cooked balsamic vinegar to reduce its water content and turn it into a thick syrup. Honey was added to lighten the flavor. But people didn't know what balsamic was, so that flavor was retired. The ones on the menu today are essentially the greatest hits.
One of the more popular flavors is the Lava Flow, which is made with pineapple juice, coconut foam and strawberry purée, topped with cut pineapple and strawberry. My personal favorite is Dragons Blood, made with dragon fruit, pineapple juice and organic honey, and topped with cut pineapple.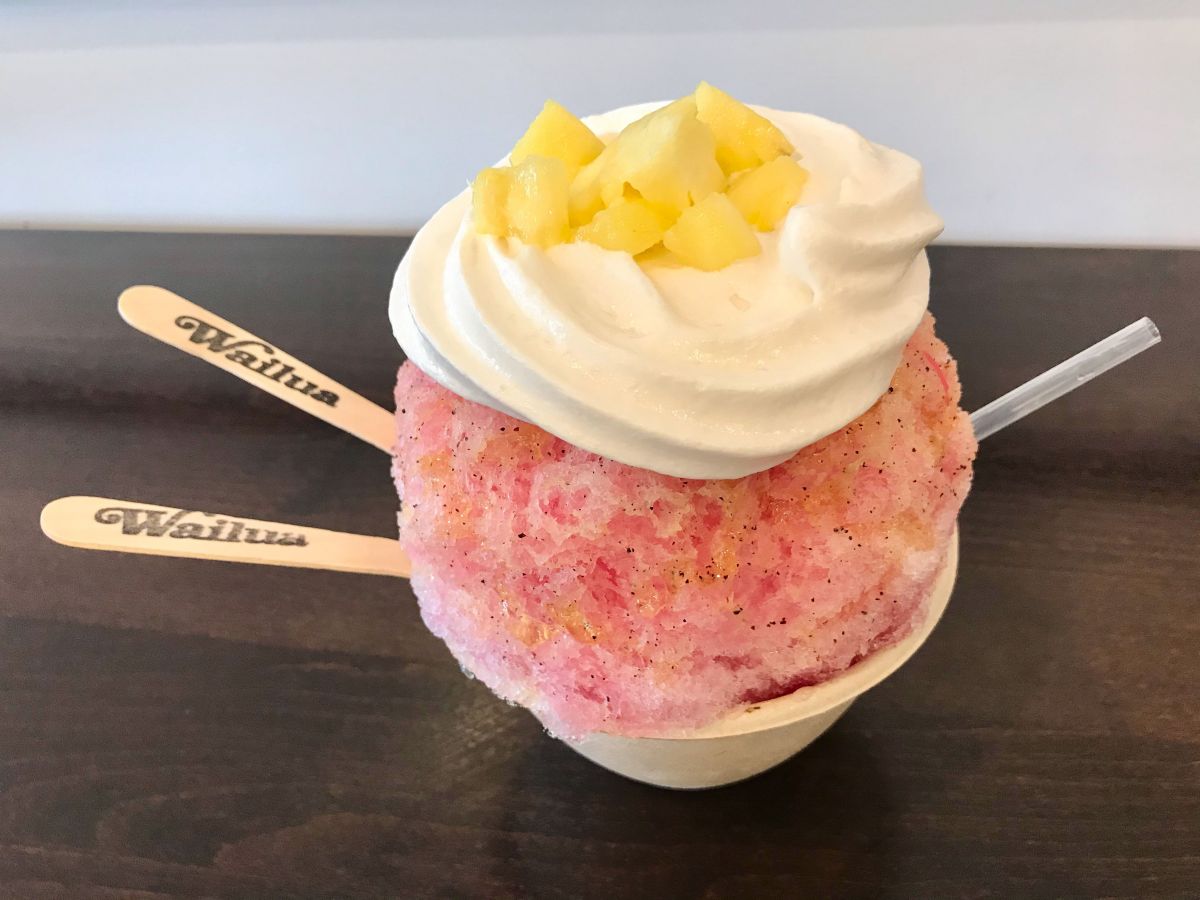 "Our stuff is almost like more old-school," Baptiste says, referring to Wailua Shave Ice's juices, which are made in house, and its fresh fruit toppings. The shop uses standard shave ice syrup only for the rainbow shave ice that's available for keiki. Shave ice came to be during Hawai'i's plantation-era, when workers would shave big blocks of ice with a razor and make and pour fresh fruit juice on top.
Up until September, Wailua Shave Ice had been operating out of a converted RV next to Hele On Kauaʻi Bike Rentals. Baptise says the move to a brick-and-mortar enabled the business to add smoothies and acai bowls to its menu and to open earlier, most days at 10 a.m.
4-831 Kūhiō Highway #206, Kapa'a, (808) 634-7183, wailuashaveice.com
Pono Coffee and Bakery
Pono Coffee and Bakery is what happens when a retired fireman who loves to bake goes into business with a coffee aficionado.
Ken Kubota is the latter half of that partnership; he earned his coffee credentials while working part-time at the café in the Borders bookstore in Līhu'e, where he learned about espresso and running a coffee business. In 2004, he opened Coffee Talk in Pono Market and ran it until 2019, when he decided to go into business with retired firefighter David Taboniar, who used to own Hanalima Bakery in Līhu'e.
The pair wanted to have a sit-down coffee shop with baked goods, not just coffee. They were still renovating their new space in the old Pono Cleaners location when the pandemic hit and, luckily, the place was large enough that they were able to adjust and spread out their seating. The business opened in September. Kubota says it's like coming back full circle because he started the Pono Cleaners dry-cleaning company in 1988.
He's been slowly decorating the shop, lining the walls with canvas prints of Kaua'i scenery and historic Kapa'a town. A couple of prints showcase the old Roxy Theater, which was damaged by Hurricane Iniki and later demolished.
"I want people to remember what Kapa'a was," Kubota says. "People our age have good memories of it. Hopefully the young ones can see that it was a town that survived a lot of things."
Pono Coffee and Bakery sells a variety of baked goods, including scones, almond danishes, apple turnovers, malasadas, pumpkin crunch cake and cream puffs, though Taboniar is well known for his savory flying saucers, hot dog rolls and krab rolls. And, of course, there's lots of coffee and a selection of locally made Roselani Ice Cream.
"One thing about Kaua'i is they remember if something is good," Kubota says. "And that's why (David) has a following, so people are starting to come."
He adds: "It's a good combination, you have the baked goods and people are buying coffee. … We picked the hard way. We built our own bakery kitchen and produce our own. Others buy from the wholesaler. But to me when you do that, you can't control your quality. By doing this, by baking on our own, we can control what we produce and the quality of it."
4-1298 Kūhiō Highway, Kapa'a, (808) 431-4707, @ponocoffeeandbakery