Say Mahalo for Beer
A new brewery featuring locally foraged ingredients and flavors has opened on Maui.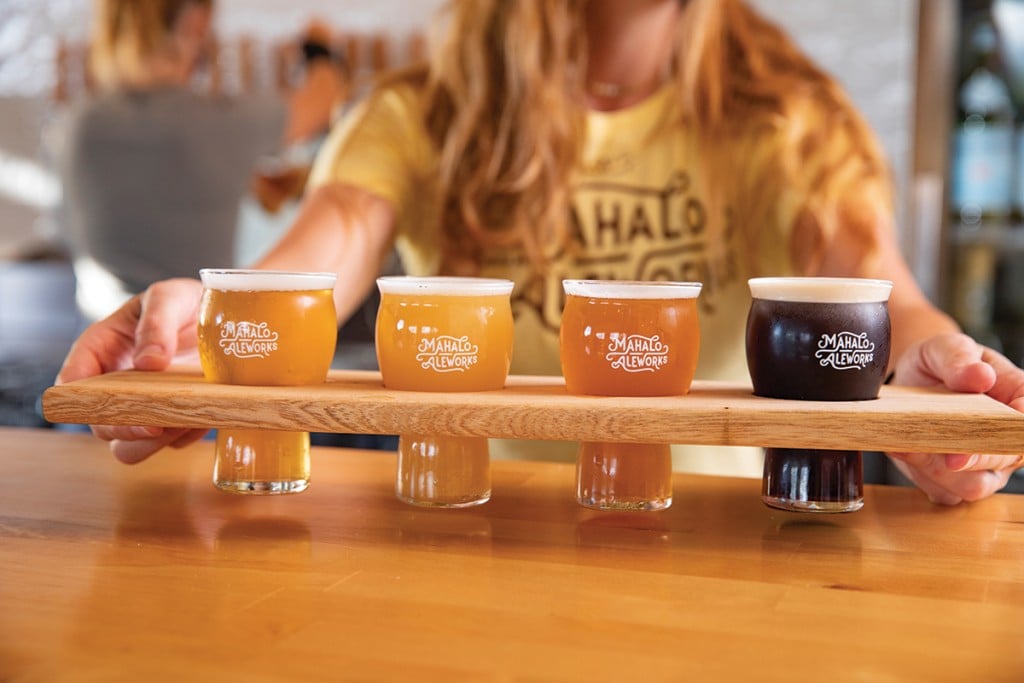 There are plenty of reasons to visit Maui's scenic Upcountry, from verdant hiking trails, to diverse agriculture tours, to the undisputed splendor of Haleakalā National Park. Now, Upcountry also offers a new opportunity to enjoy a cold, local beer.
Mahalo Aleworks, a brewery and taproom in Pukalani, opened its doors in September. The newest addition to Maui's burgeoning craft beer scene, Mahalo Aleworks has quickly earned a reputation as a convenient, family-friendly place to refresh along the way to your Upcountry adventure.
A key ingredient to Mahalo Aleworks' early success may be its unique approach to brewing. It doesn't produce lagers, the most popular beer style in the world; instead it focuses exclusively on what it calls "rustic, artisanal farmhouse ales" made from local, native and foraged ingredients.
While the two-story, 3,500-square-foot facility boasts more than a dozen taps pouring popular styles such as India pale ale, amber, wheat and stout, Mahalo Aleworks also has an extensive "sour beer" program.
"We built Mahalo Aleworks to focus on sour beers as one of our core styles, mainly due to the incredible selection of local fruit available year-round," says Ben Kopf, who founded Mahalo Aleworks with his wife, Jacquelyn. The taproom's bestselling beer is a Liliko'i Sour, each keg containing more than 4 pounds of local, organic liliko'i (passion fruit) juice, and the Starfruit Sour has received a similarly warm welcome.
Though "sour beer" is a relatively recent trend in America, Kopf points out that it's actually one of the oldest styles in brewing.
"Back in the day, all beer was essentially sour due to lots of naturally occurring yeast and bacteria that would have been present," says Kopf. "The resurgence of popularity in sour beers is pretty fun to see."
What you won't find on tap at Mahalo Aleworks are "flagship beers," a small handful of styles made the exact same way time and time again. Kopf says his team is constantly tweaking, tinkering with, or altogether changing its recipes in search of the next great flavor. In just its first four months of operation, the taproom debuted more than 40 original beers.
"We love brewing different beers all the time because it keeps things interesting, and lets us constantly experiment and explore the variety of local ingredients that happen to be available or in season at any given time," says Kopf. "Current beer consumers have really trended toward anticipating new beers coming out on a regular basis."
At street level, Mahalo Aleworks offers beer garden-style seating. Upstairs, patrons find comfy leather seats and stools along the lānai (veranda) with prime views of Mā'alaea Bay, Central Maui and Mauna Kahalawai, also known as the West Maui Mountains. For those who are lukewarm on cold beer, the taproom offers a curated selection of wine, as well as nonalcoholic options. While the modern industrial setting lacks a commercial kitchen, guests don't have to go hungry. Wood-fired, Neapolitan-style sourdough pizza can be ordered from the adjacent Restaurant Marlow, and Upcountry Sausage Co. sells gourmet sausages and smash burgers from a small cart on-site.
Mahalo Aleworks is among a small community of Maui craft brewers, joining Maui Brewing Company, Hawai'i's largest craft brewer and the island's undisputed beer patriarch, and Koholā Brewery, which has operated in Lahaina since 2016. Some people add O'ahu-based Waikīkī Brewing Co. to the list: It's operated a modest, on-site brewing operation at its Lahaina restaurant since 2020. Yet even with the growing number of brewers, the majority of the beer consumed on Maui is made out of state, according to the Hawaiian Craft Brewers Guild.
Though still in its first year of operation, Mahalo Aleworks is already bringing home the gold. The brewery earned three medals at the 2021 Hawai'i Craft Beer Awards, including a gold for its distinct English Brown, and was named Best New Brewery in Hawai'i.
Producing an authentically local product is a pillar of the Mahalo Aleworks ethos. Kopf explains that his team is in the process of analyzing yeasts that have been collected in the wild from the slopes of Haleakalā, a process known in the industry as "wrangling." That yeast, essential for the fermentation process, will form the base of future beers, making each a start-to-finish tribute to Maui's biodiversity. It's a plan put forth by renowned wild ale maker Eric Salazar, who serves as Mahalo Aleworks' "wild and sour" program curator.
"After lots of discussion on how to make our program exceptional, [Eric] was the one who actually suggested we try using local, wild yeast," says Kopf. "It's a much more time-consuming and difficult process, but should result in some unique flavors that nobody else will be able to make. Plus, it lends a true sense of terroir to the beer since the yeast will be from here, and only here."
Until the right wild yeast is cultivated, the brewing process begins in a more traditional manner. Two "mother beers" are brewed on-site in a pair of large American White Oak foeders, a type of fermentation vessel. From there, beers are blended, fruited and aged in fruiting tanks, typically with ingredients harvested from local farms or Mahalo Aleworks' own organic orchard. The taproom then rolls out a new brew every few days, delivering a steady flow of small-batch, made-on-Maui ale.
While Mahalo Aleworks is the fulfillment of a dream that began more than 15 years ago for the Kopfs, the couple will admit that the journey has, at times, been a nightmare. After the Kopfs relocated to Maui from the Bay Area in 2018, it took more than three years before Mahalo Aleworks poured its first pint, as the pair navigated a false start at a different location, permitting purgatory, supply chain challenges and, of course, a global health crisis.
Despite the challenging start, business is beginning to pick up. Visitors are discovering the taproom, which is tucked away toward the rear of Kulamalu Town Center. Brewery tours are set to begin later this year. Further on the horizon, Kopf would like to open a second tasting room elsewhere on the island. There are no immediate plans for canning and mass distribution of products, but visitors to the taproom can purchase "crowlers," 32-ounce cans of any beer on tap, filled and sealed on demand.
For the moment, Kopf says his primary focus is crafting creative, barrel-aged ales.
"There's a lot of room to make beer in Hawai'i to be consumed in Hawai'i."
Mahalo Aleworks, 30 Kūpaoa Street, Unit 101, Makawao, mahaloaleworks.com, @MahaloAleworks.
This story was originally published in our 2022 Spring issue. Buy a copy here.