See More Gardens in Honolulu with This New Project
The city's new urban garden program is helping people living in vulnerable communities on O'ahu grow their own food.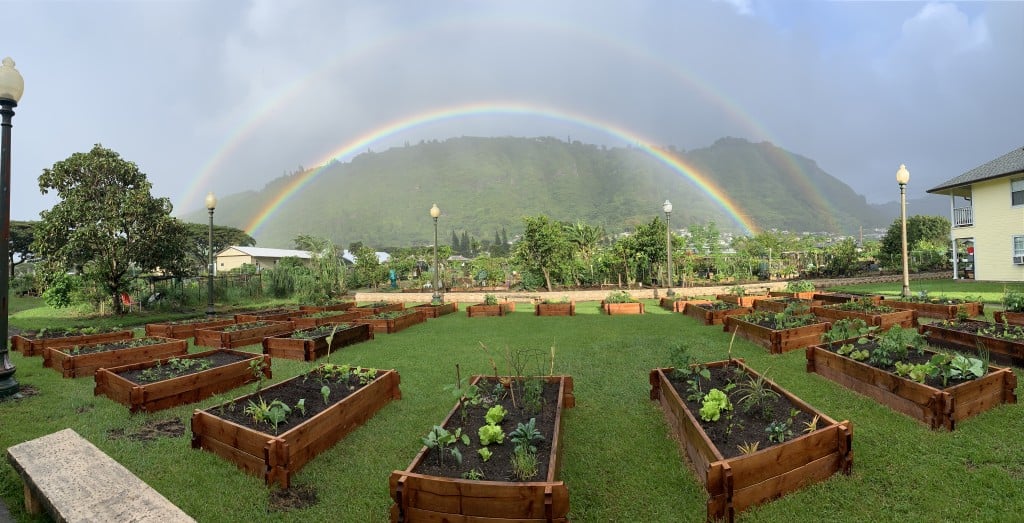 Diana Duff used to run a 3.5-acre commercial coffee farm on the Big Island, so gardening in a 32-square-foot shouldn't be that thrilling.
Oh, but it is.
Duff, a 77-year-old resident of Mānoa Gardens Elderly Housing, revels in her raised bed garden outside her apartment, flourishing with heads of butter lettuce, kale, eggplant, mint, parsley, chives, carrots and turnips.
"I love it," she says. "I'm a gardener, I love gardening and I love saving the world one garden at at time. That's my motto."
That's also the sentiment behind this project. In December 2020, the Honolulu Department of Community Services more than 160 garden beds and planted 20 fruit trees at seven city-owned, special-needs housing locations on Oʻahu. Funded by CARES Act Coronavirus Relief Funds and inspired by the city's popular community gardens program, this project serves more than 1,000 residents, from kūpuna (elders) to domestic violence survivors to low-income families.
The goal is to provide fresh, sustainable produce for those affected most by the COVID-19 pandemic while supporting the larger initiative of food security in Hawaiʻi.
"This pandemic has truly shone a light on the need for food security among our vulnerable communities," says Pamela Witty-Oakland, the city's director of the Department of Community Services. "Each of these project locations is a place that has offered safety and stability to 'ohana through housing. Now we get to work together to plant literal seeds for their future that will help to feed nearly 1,100 residents not just for weeks or months, but for years to come."
Raised grow beds were built at ALEA Bridge and Kahauiki Village, both of which serve formerly homeless families; Hale Maluhia, a domestic violence shelter; Vancouver House, which houses formerly homeless and at-risk families; and West Loch Elderly Village, D.E. Thompson Village and Mānoa Gardens, which provide affordable housing for seniors.
Duff, who sold her farm about two years ago and moved to Oʻahu to be closer to better healthcare, has, in just two months, seen the impact these gardens have had on her neighbors, many of whom who had never really gardened before. Her upstairs neighbors are already eating the lettuce they're growing in their garden plot. Another has been sharing recipes for Swiss chard and kale, two crops he's growing in his.
"It's not only dealing with food security, but it's getting older people like us outside. I've met people I've never seen before because of this garden. We exchange ideas about gardening, what to grow and how to grow it, and we munch on lettuce while we're talking. Socially, economically, there's a whole list of things this program serves."