Serve Delicious Seafood Lau Lau this Holiday Season, or Any Time of Year
Maui local Aris Aurelio, executive chef at Kō at the Fairmont Kea Lani, shares the recipe for the restaurant's popular dish.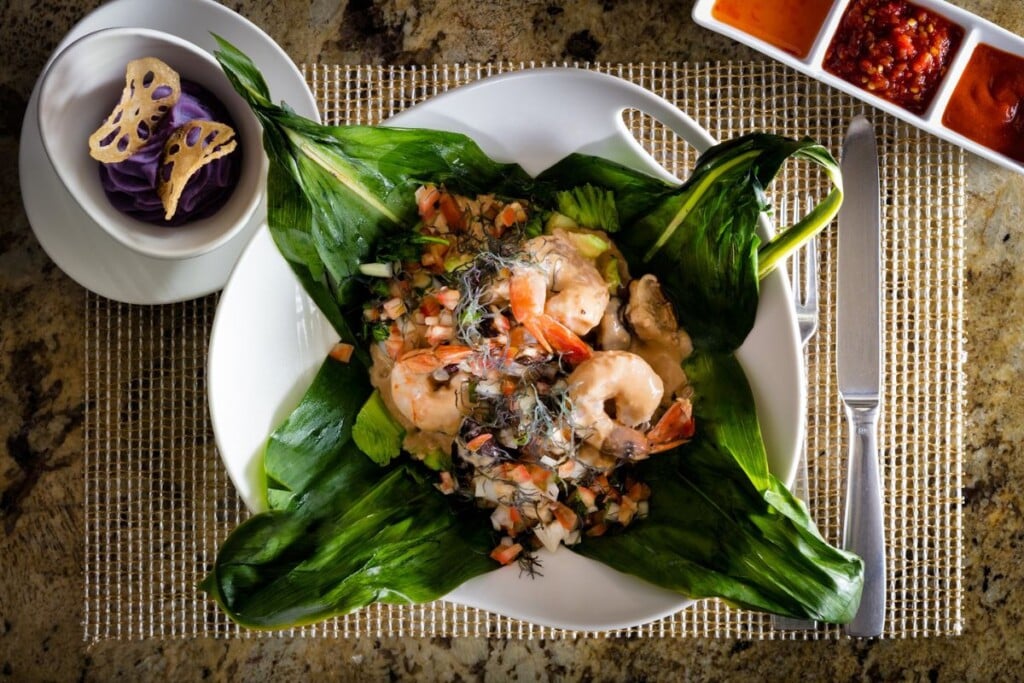 In Hawaiʻi, we celebrate the holidays and special occasions with feasts of delicious food. And it's certainly not a feast without lau lau. The entrée consists of a rich and flavorful filling of pork or fish wrapped in kalo (taro) and ti leaves, which has been steamed. It's a local favorite in the Islands and a best-seller at many eateries, from local hole-in-the-wall spots to upscale restaurants like Kō at Fairmont Kea Lani.
When diners at Kō unwrap the dish's steamed ti leaves, they find fresh scallops, Kauaʻi prawns, Maui spinach and shiitake mushrooms all steeped in a mouthwatering shoyu coconut sauce. At Kō, you'll find the menu showcases local cuisine and is reflective of the plethora of cultures in Hawaiʻi, often inspired by family traditions and local recipes.
Chef Aris Aurelio has recently taken the helm of the resort's beloved restaurant. The chef has worked in Fairmont Kea Lani's kitchens since 1994 but his passion for cooking began as a child in Cauayan Isabela, Philippines. He grew up appreciating the comforting foods prepared by his parents and when his family moved to Maui when he was 15, they brought along their culinary traditions. After high school, Chef Aris attended Maui Culinary Academy where he learned to balance the nuanced flavors of Hawaiian cuisine along with the foods from his childhood.
At Kō, Chef Aris continues to find inspiration from his upbringing along with family recipes from his staff. And the chef is sharing his recipe for seafood lau lau, a perfect dish to make for your family over the holidays.
Seafood Lau Lau
YIELD 1 PORTION
Ingredients:
3 oz. mahi mahi fillet cut in 1 oz. pieces

10 scallops

16-20 Black Tiger Prawns, peeled and deveined with tail on
2 oz. spinach leaves

2 oz. baby bok choy

2 oz. shiitake mushrooms

¼ tsp red alae salt

2 ti leaf for wrapping

3 oz. coconut, garlic-tamari sauce
2 tbs lomi lomi tomato ogo
Directions:
Place the two ti leaves down on a cutting board crossed over each other. This will be used to tie the ingredients together in a bundle for steaming. Next, place the spinach leaves and baby bok choy in a neat mound on the center of the two crossed ti leaves. Continue to layer and arrange the seafood and shiitake mushrooms on the greens and sprinkle with the red alae salt. To tie the bundle together, pull the end and stems of the ti leaves together and tie. This will secure the lau lau for steaming. Place the bundle in the steamer and steam for 8–10 minutes until the seafood and vegetables are cooked.
Coconut Garlic Tamari Sauce
YIELD 2 PORTIONS
Ingredients:
1 tsp

vegetable oil

½ tsp

garlic minced

2 oz.

tamari

1 cup

coconut milk
Directions:
Heat a small saucepan on moderate heat with the vegetable oil and gently sauté the garlic. Next, add the tamari and the coconut milk and slowly reduce the sauce by 1/4 volume. Keep the sauce warm and serve over the seafood lau lau.
Lomi Lomi Tomato Ogo
YIELD 4 PORTIONS
Ingredients:
½ cup tomato diced to 1/4"

¼ cup Maui onion diced to 1/8"

2 tbs green onion sliced fine

1 tb ogo (Hawaiian seaweed)

¼ tsp red alaea salt
Directions:
Prepare all ingredients and mix together. Serve over the seafood lau lau with the coconut garlic tamari sauce.