Shop With Aloha: Snack Addicted
This Honolulu shop specializes in crispy beef jerky in local flavors.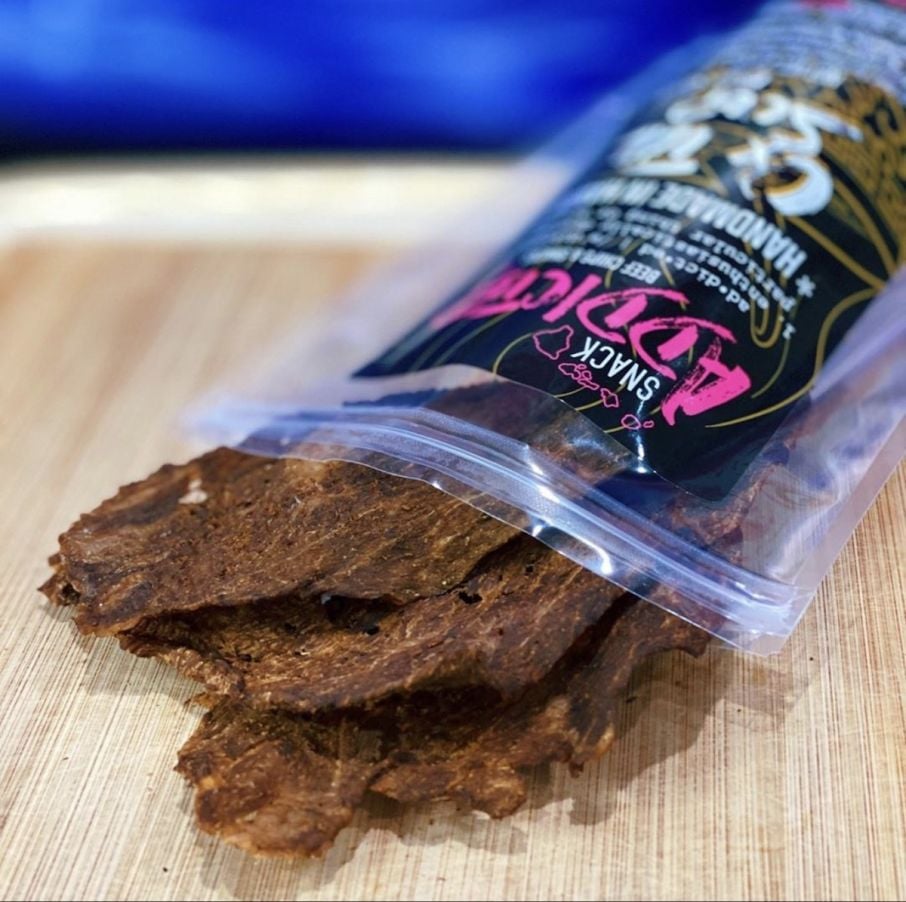 It's not the easiest shop to find. But once you do—and once you try Snack Addicted's chiplike beef jerky—you'll commit its location to memory.
Snack Addicted's retail space—before the spread of COVID-19 forced a statewide shutdown—is near Ala Moana Center in Honolulu, occupying a space on the second level of a warehouse with no street-facing storefront or visible sign directing you where to go.
Owner Davin Fukumoto created his brand of thin and crispy beef jerky as a thank-you gift to his massage therapist, who had helped him through a back injury. The therapist was preparing for a bodybuilding competition and craved chips, but his restrictive diet wouldn't allow them. Fukumoto made his first batch of beef jerky for him and, after a few adjustments (eliminating sugar, thinly slicing the beef), came up with a super thin, chiplike jerky that he started producing commercially.
On March 19, just before the state shutdown, Fukumoto decided to temporarily close his shop and move his retail business online. (He has two small daughters and his mom recently had severe pneumonia, so he didn't want to take any chances.) That day, though, right before he closed, local social media influencer Jelayne Shelton stopped by to get what she called "quarantine snacks" and did a review of Snack Addicted's products on her Instagram Stories.
"So many people saw it and our whole inventory sold out online in the next two days," Fukumoto says. "We really lucked out."
He realized the business could survive on online sales, which, pre-shutdown, made up a small percentage of his total sales.
The first week after he shut down his shop, Fukumoto churned out another batch of beef jerky and donated all of it to local hospitals because, as he put it, "it was the right thing to do." Then he started stocking his online store, adding at least one special flavor every week to his regular lineup of six. Past flavors include garlic chicken, Korean barbecue and char siu.
His jerky—$13 a bag—lives up to its name: super additive and flavorful. Our favorite is the oxtail soup, with a hint of ginger, anise and sweetened soy sauce. If you like spicy, try the Green Dragon, with a combo kick of Frank's RedHot, Tabasco and a hot sauce from Trader Joe's. But you can't go wrong with the original.
Buy a bag (or three) here.