Six sea turtles returned to the ocean off Maui, public asked to be on the lookout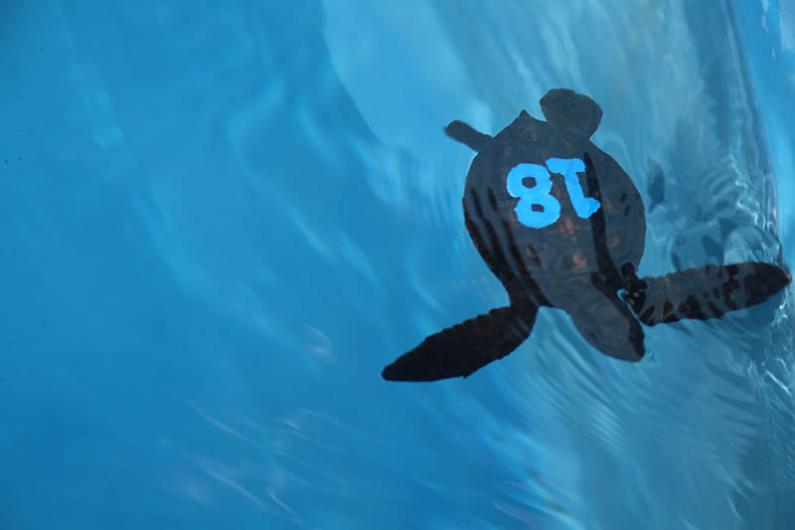 If you're swimming in the waters around Maui and happen to see a honu (Hawaiian green sea turtle) with a number on its shell, make sure you remember where you saw it.
Six two-year-old honu—marked with the numbers one through six—were released by the Maui Ocean Center last Thursday, August 27, in Puu Olai, south of Kihei. Public sightings of these marked honu will help to aid scientific research and buoy local knowledge of turtle migration and reintroductions.
More than 60 turtles have been released this way since the Maui Ocean Center opened in 1998. Previous releases have included satellite tags that showed researchers the turtles were able to successfully transition into their new environment, while writing on the shell generally wears off before honu leave the waters surrounding Maui.
Previous turtle releases have been open to the public, but last Thursday's event was a private one. An offshore boat released the turtles this year, with the belief that they will transition easier into their new environment when released into deeper waters.
All of the released turtles were born at Oahu's Sea Life Park and had been raised from hatchlings at the center since August 2013 under a cooperative project called the Hawaiian Green Sea Turtle Educational Loan Program.
Following the release of the turtles, the Maui Ocean Center announced the arrival of its newest cohort of six hatchlings. The two-month-old baby honu arrived by plane late last month and will be raised at the aquarium under the public eye until they are also two years old and ready for release. A kahu (or reverend) gave the tiny turtles their official blessing in a short ceremony near their lagoon on Monday, September 1.
Visitors to the Maui Ocean Center over the last two years may recognize the recently released numbered turtles by different names. In order of numbering they are: Eleu (energetic and lively), Wiki (quick and speedy), Maluhia (peaceful), Onipaa (determined, fierce, resolute), Kolohe (mischievous), Imi loa (explorer, distant traveler). The aquarium's new hatchlings will be awarded similar names via a public naming contest in the weeks ahead (check the Maui Ocean Center's Facebook page for updates).
The Hawaiian Green Sea Turtle Educational Loan Program, authorized by the U.S. Fish & Wildlife Service and with scientific counsel by National Oceanic and Atmospheric Administration Pacific Islands Fisheries Science Center, places turtles at area aquariums where they can be viewed by the public and used to share messages of conservation and ocean awareness.
If you spot a marked turtle in the waters around Maui, the center asks that you record the day, time and location and marking and report your sighting by calling (808) 270-7000 or via email at info@mauioceancenter.com.