SLIDESHOW: HAWAII Magazine's 13th Annual Photo Contest winners and finalists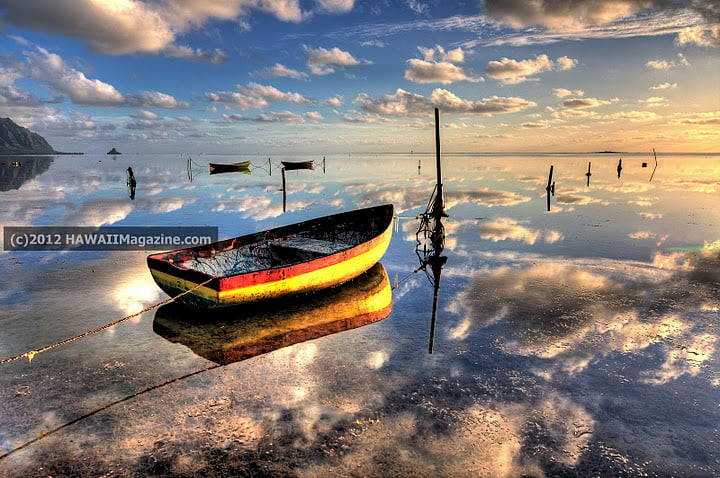 Like the photo above as much as we do?
It's the grand prize-winning entry of HAWAII Magazine's 13th Annual Photo Contest.
Last May, we asked HAWAII readers to send us their best photos of the Islands. We gave them four categories to enter their photos into: Oahu; Maui, Molokai and Lanai; Kauai and the Big Island. More than 2,500 entries later, our staff selected two winners for each category, and a grand-prize winner over three October afternoons of judging sessions in our downtown Honolulu offices.
There was no argument over which was the best of the bunch—reader Henry Aguilar's photo of a tranquil morning on Kaneohe Bay. In his story behind the photo, Aguilar wrote:
"Kaneohe Bay at sunrise. A low tide and calm morning made it possible to capture this beautiful scene. I only had a few hours of sleep before heading to this location. But it was well worth it."
Aguilar's reward for his winning photo? Airfare for two from Hawaiian Airlines between one of the carrier's Mainland gateway cities and Maui, a six-night stay at The Kapalua Villas Maui, and assorted prizes from Hula Daddy 100% Kona Coffee, Oils of Aloha and Hawaiian Body Products.
Our first-place prize winner in the Oahu category received a five-night stay at the Hilton Hawaiian Village Waikiki Beach Resort. All other first-place winners were awarded $100 and prizes from Oils of Aloha and Hawaiian Body Products. Our second-place prizewinners in each category received $75 and prizes from Oils of Aloha and Hawaiian Body Products.
Check out HAWAII Magazine's January/February 2012 issue for additional winners' stories of their photos.
A big mahalo from all of us at HAWAII Magazine to our very generous photo contest sponsors, and to the thousands of HAWAII readers and admirers of our Islands who entered this year's competition! The first call for entries for our 14th annual photo contest will be announced in the May/June 2012 issue of HAWAII.
Now, we invite you to sit back and enjoy the slideshow below of our 13th annual photo contest prize-winning photos and finalist entries. Here's hoping it inspires you to enter this year's contest.
(Click the slideshow frame to enlarge.)