So What's the Deal with Hawaiian Pizza?
Putting pineapple on a pie—or anything—does not make it Hawaiian. Period.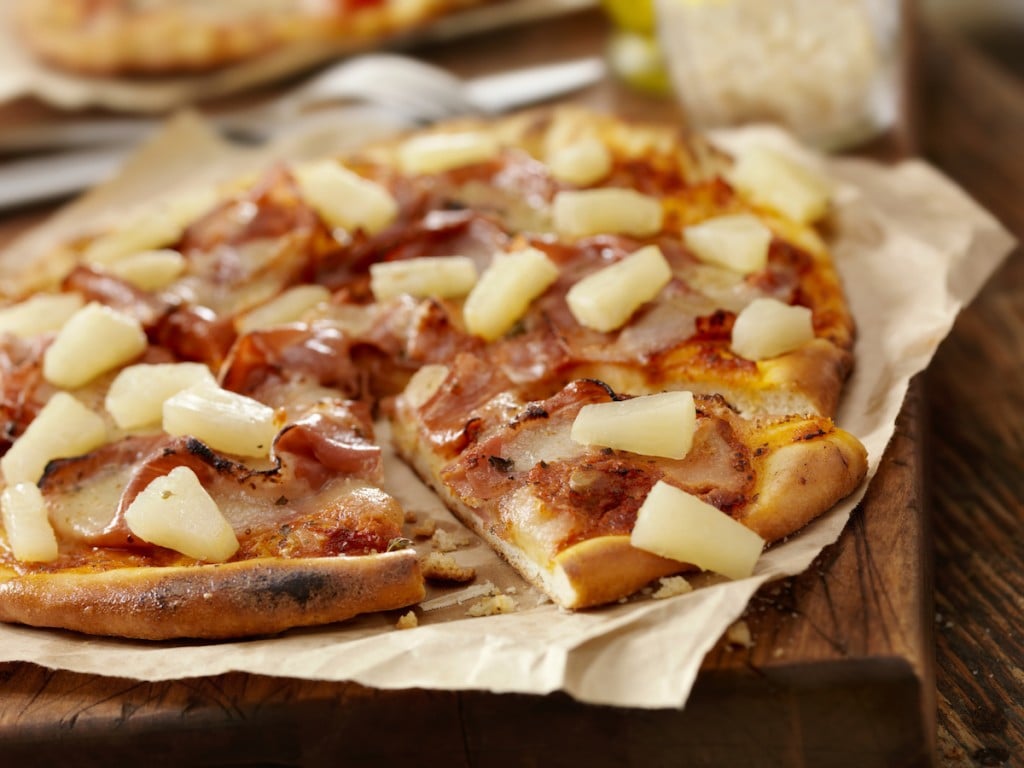 When Oʻahu-born chef Mark "Gooch" Noguchi attended the Culinary Institute of America in New York, he was horrified to find the bakery at this prestigious school served a pineapple-laden pizza and called it Hawaiian.
"I made a compelling enough argument in my first year there," Noguchi says. "They pulled it off the menu."
The Hawaiian pizza—it's still one of the biggest debates in food. How can you put pineapple—a tropical fruit indigenous to South America, not Hawaiʻi—on a pizza and call it Hawaiian?
And yet, you can find it everywhere—even in Hawaiʻi, though mostly on the menus of chain restaurants. Most local pizzerias don't serve it. You can order pineapple as a topping at J.Dolan's on Oʻahu, but there's no Hawaiian pizza on the menu. Lahaina Pizza Co. on Maui has a pie with ham and pineapple but calls it a Sweet Pig. You'd think Appetito Craft Pizza & Wine Bar in Waikīkī would have a Hawaiian pizza. The place has everything else, including pies with king crab and avocado, shrimp pesto and Korean-style grilled beef, but no Hawaiian pizza. Brick Fire Tavern on Oʻahu, which is certified by Italy's Associazione Verace Pizza Napoletana to serve traditional Neapolitan pizzas, has something called The Real Hawaiian. It comes with ingredients you'd see at a backyard lūʻau: papaya-puréed taro, locally raised kālua pork, lūʻau leaf and watercress lomi tomato salad. No pineapple.
"People all over the world don't really know what we eat in modern-day Hawaiʻi," says chef Alan Wong, a James Beard Award-winning chef and restaurateur from Oʻahu. "They think that we eat pineapples on pizza or burgers and they call it Hawaiian. Nothing can be more wrong."
First off, Wong continues, Hawaiians are an ethnic race on its own: "Just because you ate something in Hawaiʻi, it doesn't mean it's Hawaiian at all."
So how did pineapples on pizza become a Hawaiʻi thing?
It started with a man named Sam Panopoulos, a Greek-born Canadian cook who added canned pineapple on a pizza at Satellite Restaurant in Chatham, Ontario in 1962. (Panopoulos died in 2017 at the age of 83; his pizza is still on the menu.) It was likely called a Hawaiian pizza because, at the time, Hawaiʻi was home to some of the largest canneries in the world and was considered a global leader in pineapple production. That didn't fade until the 1980s.
The novelty pizza stuck.
Which, according to Wong, is too bad.
"We really don't eat pineapples like that," he says. "Hawaiʻi is so much more than that, with a great food history." He says he hopes to one day see "this great misconception" about Hawai'i cuisine replaced with "a more in-depth and enlightening story of how we truly eat and love food in Hawaiʻi."