Step into Awa and Olena, a Kaimuki, Oahu lifestyle boutique full of beautiful things
The little store reflects what's important to owner Amanda Watkins: Art, self-care, beauty and health.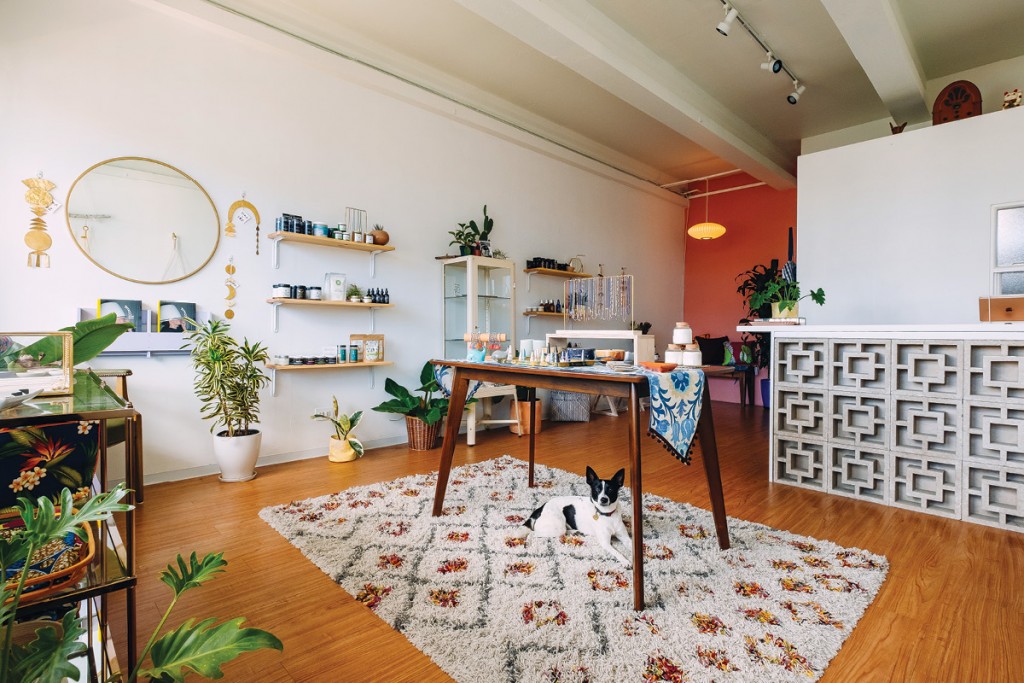 The doorbell chime at Awa and Olena jingles merrily into the early Kaimuki air. From a shaggy carpet, Rika, a little rescue pup, is adding his own cheery canine song to welcome me.
"Oh stop," says Amanda Watkins to the excited pup, grinning from behind a counter of geometric cinder blocks and clean, bright wood. She waves to a couple as they leave, and Rika barks his own goodbyes before settling cozily into a spot on the carpet. He's right in his element.
As is Watkins. The mind behind prolific local jewelry brand, A.Wattz Dezigns, Watkins has made a name for herself in the Honolulu boutique scene (and beyond) with her festive, colorful adornments. In her line, she marries elements of beachy chic and urban spunk with contemporary sleek and delicate minimalism for a duality and eclecticism that is uniquely A.Wattz. Think bracelets with thoughtfully placed cowries among neon tassels on one hand, and graceful y-necklaces with sleek gold details on the other. In her work, Watkins has always been unapologetically multifaceted, discontent with sticking to just one single style or defining niche.
And that extends to the rest of her life as well. The feel-good Awa and Olena boutique is quintessentially hers, a reflection of the passions and interests she's been pursuing for years, including art, self-care, beauty and health. It's a collection that makes her feel better, more wholesome, healthier. On one hand, that means giving your body the physical things it needs, the protection it requires from the elements, and the sustenance it craves in order to flourish. On the other hand, that means, explains Watkins, surrounding yourself with beautiful things or, she says with a laugh, "treating yourself." Self-care isn't only about fuel, it's about inspiration. As an artist, she knows that better than most.
And her shop is oh-so-filled with beautiful things. Sun pours in through the wide windows, with their cheery teal frames, onto a glass case of elegantly placed strands of necklaces. Pillows in vibrant, brightly colored prints beam up at you from a corner bench. Sculptural metal wall hangings move ever so slightly in the cool air-conditioned breeze, framing a round brass mirror in one especially eye-catching windowside nook. The shop, though selectively curated—Watkins says she didn't want it to be too overwhelming—is full of such little, pleasing corners.
"These are kind of the things you put on your body." We're at a section of wall holding the prettiest array of glass bottles and tubes, spray perfumes and psychedelic-looking toners inspired by the moon or crystals. Watkins selects items ideal for Hawaii's sunny environment, and has a special love for brands and makers with a message. Pohala Hawaiian Medicinals, for example, uses traditional methods to produce intoxicating scents from a multitude of hand-gathered Hawaiian plants.
"While these," we move to a new nook, "you put in it." She gestures to a set of neatly styled shelves packed with supplements, herbs and additives. There are plant butters from local brand Laka, matcha and ashwagandha powder. Watkins' personal journey has led her to explore all kinds of adaptogens, powders and oils that can help pump up the immune system, manage stress and more. She thought: Why not share it with the world? In fact, she so loves the purpose (not to mention beautiful packaging) behind these finds, that she uses them herself regularly. They're a huge part of her daily life.
As is art. Walk into the shop on any given day and you're likely to find her hard at work in the little studio space in the back, where she crafts the jewelry you'll find on display, as well as the ones at her many wholesale locations. A former nutrition major, Watkins' omnipresent jewelry brand actually began as a college side gig, a way to make some money while studying. It blew up into a fully functioning business, putting nutrition on the back burner—though Watkins has continued to explore the meaning and power behind what people put into their bodies, herself. With Awa and Olena, her two passions can finally come together in one peaceful little space.
And, among her handmade jewelry, her favorite all-natural beauty products, and the supplements she can't live without, you'll find pieces close to her heart because of the friends and fellow makers that created them. That includes exclusive items from designers with which Watkins has strong relationships, such as organic plant-hangings and cloth plant sacks dyed a dreamy yellow from Olena, or turmeric. There are pillows from Virginia Paresa, candles from Lux and Alder, ceramics from Dee Olivia. Even Watkins' sister-in-law has a stack of tropical pouches brightening up a shelf. They're all part of the community in which A.Wattz—and Watkins—has carved out space to call her own, and put down roots.
"Awa and Olena," she points out, "are both roots." Despite being introduced plants, they've become indelibly linked to this place, a part of Hawaii's story. That resonates with Watkins, a New Jersey native, who knows a thing or two about what it means to uproot, replant oneself, and learn, again, to grow. And, grow she has: first, a flourishing jewelry brand, and now a boutique. Watkins' story, like Awa and Olena, is now inextricable from that of Hawaii. And, where (or how high) will it grow next? Only time will tell.
Awa and Olena
1152 Koko Head Ave. Ste. 202
Kaimuki, Oahu
awaandolena.com