Swim with the Fishes at These Hawaii Saltwater Pools
Get a firsthand look at Hawaii's unique marine life with these cool saltwater pools, designed for snorkeling and swimming.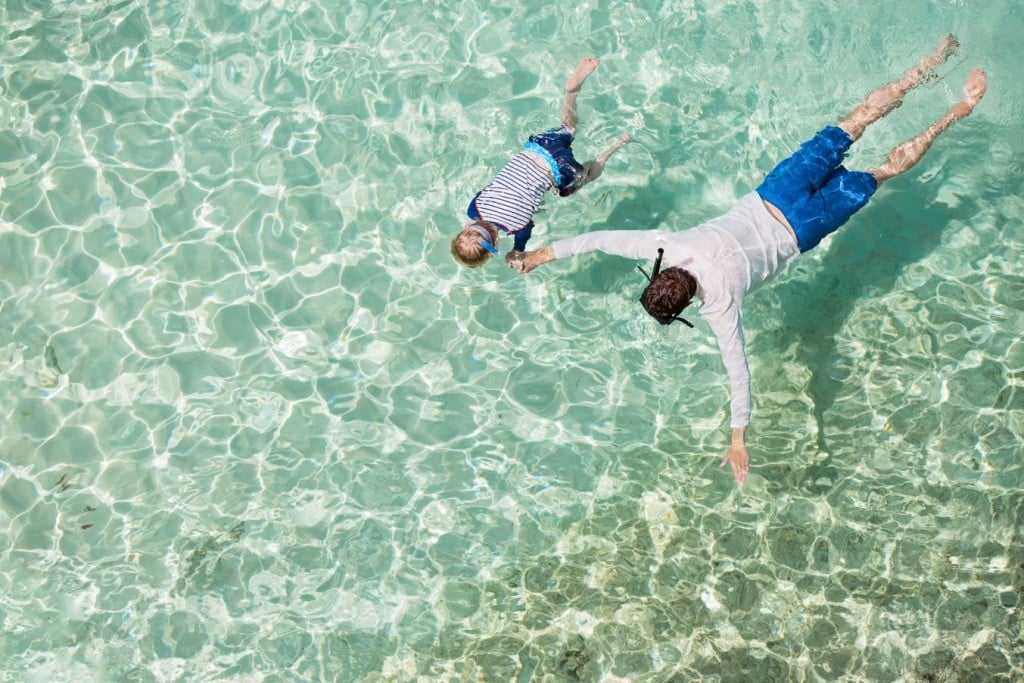 Pools in Hawaii serve as a great alternative to the beach, nobody can deny that. However, one of the only downsides is that you can't interact with the countless species of marine life that inhabit the waters around our Islands. Fortunately, a few cool pools in the state of Hawaii actually allow guests to swim with the fishes in special saltwater pools, and you can check them out below.
King's Pond, Four Seasons Resort Hualalai, Hawaii Island
Along the rugged northern coast of Hawaii Island, King's Pond is an enclosed saltwater pool where guests can observe more than 70 species of fish, including a rare hihimanu (spotted eagle ray) named Kainalu and giant porcupine pufferfish, without the worries of strong ocean currents or troublesome waves. The 1.8 million-gallon pond carved out of lava rock is perfect for beginner snorkelers—lessons with marine biologists are available—or even veteran enthusiasts, as the pool provides the chance to see some of the Islands' most elusive fish. If you're looking for something new, try out snuba, a cross between snorkeling and scuba diving in which participants use a regulator but don't require diving certification. You can also relax poolside or sign up for the pool's daily (Monday through Friday) eagle ray feedings and touch tanks talks, or even get a behind-the-scenes look at fish training.
72-100 Kaupulehu Drive, Kailua-Kona, (808) 325-8000
Rainbow Reef, Aulani, a Disney Resort & Spa, Oahu
This man-made private lagoon is the only one of its kind on Oahu, and provides guests with a snorkeling experience minus any of the stresses of the open water. For a fee, you can swim among thousands of tropical fish in this 3,800-square-foot pool—or watch your friends and family do it from one of the underwater viewing windows. You can also take advantage of the lagoon's supplied-air snorkeling program. Perfect for new snorkelers, a guide gives you a one-on-one tour of the pool while using a regulator—no more accidentally swallowing water in your snorkel! Keep an eye out for the reef's flame angelfish, yellow tangs, Potter's angelfish and Hawaiian cleaner wrasses. Rainbow Reef is one of four pools at the Disney-themed resort, which also features a lazy river, waterslides, whirlpool spas and aquatic play areas for children. (Note: The reef will be closed for upgrades from Oct. 14 to Dec. 17, 2019.)
92-1185 Aliinui Drive, Kapolei, (866) 443-4763