Take the Road Less Traveled to this Secluded Hawaiian Fishpond and Bay
Kaloko Fishpond, which is a part of the Kaloko-Honokōhau National Park, is beset with traditional Hawaiian artifacts and sites.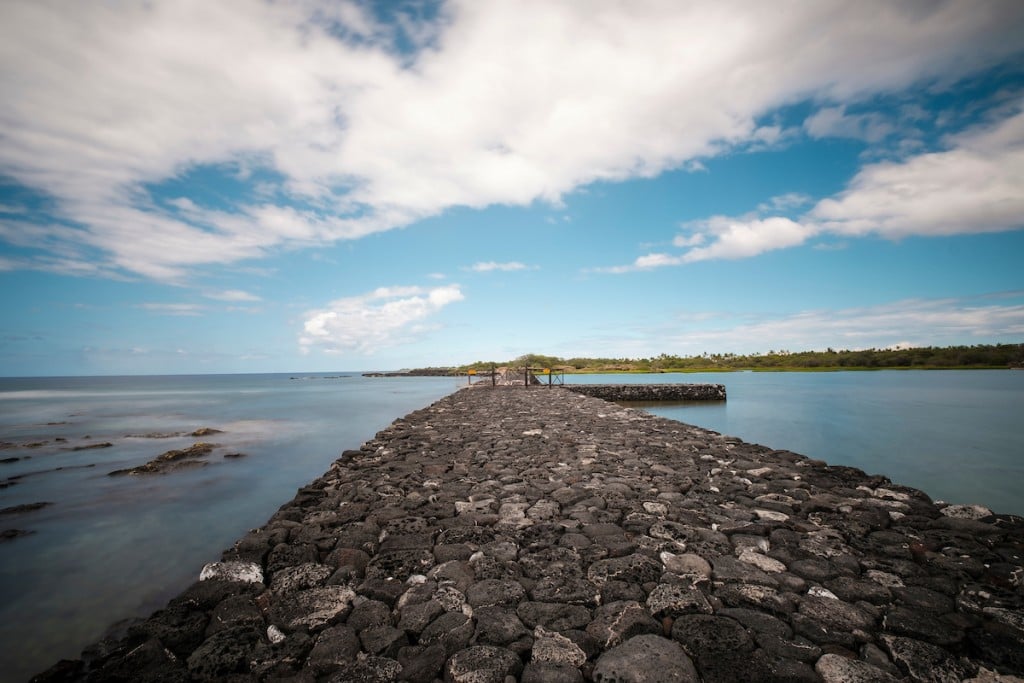 More often than not, the journey to a truly hidden gem starts on a small, bumpy dirt road. That applies to the bay that borders Kaloko Fishpond in Hawai'i Island's Kailua-Kona district. The area has many small, glassy little tide pools and a few picnic tables, often unoccupied. Located at the end of the Ala Nui Kaloko, an unpaved dirt road that, in 'ōlelo Hawai'i, translates to "path to Kaloko," the hideaway bay is a perfect place to enjoy the ocean's natural soundtrack, undisturbed.
This slice of paradise is actually a part of the Kaloko-Honokōhau National Historical Park, a cultural hot spot that includes Honokōhau Beach and Kaloko Fishpond, as well as a section of the Ala Kahakai National Historic Trail, a 175-mile-long coastal trail used by ancient Hawaiians to transport food, produce and building materials that were too heavy to be carried by canoe. The Kaloko Fishpond's stone wall, located next to the parking lot at the end of the Ala Nui Kaloko, is the only section of the fishpond open to the public. As far as fishponds go, the wall itself is thicker and taller than most others in the state, and it's important to note that every rock used to build the wall was fitted by hand.
Only a few segments of the Ala Kahakai National Historic Trail are on public land, and this 1-mile long portion can be found just past the picnic tables. Walking this ancient travel route, the same path used by Hawaiians hundreds of years ago, will take you past 'Aimakapā Fishpond all the way to Honokōhau Beach. White sand and black lava rock converge here, and a heiau (religious site) sits on the edge of the glistening little bay.
Those with curious minds and a willingness to learn about Hawaiian culture will find endless enjoyment seeing each of Kaloko-Honokōhau National Historical Park's many artifacts and sites. The visitor center just up the road from Honokōhau Beach will provide additional information on any of the areas in the park, and pamphlets include maps marked with self-guided tour routes. And nature-loving solitude seekers will find comfort.
To reach Kaloko Fishpond, turn onto Ala Nui Kaloko off Queen Ka'ahumanu Highway, across the street from the Kailua-Kona Costco. For more information, visit nps.gov/kaho/index.htm