Tales from Oʻahu's Community Gardens
Plants—and community—grow in Oʻahu's community gardens.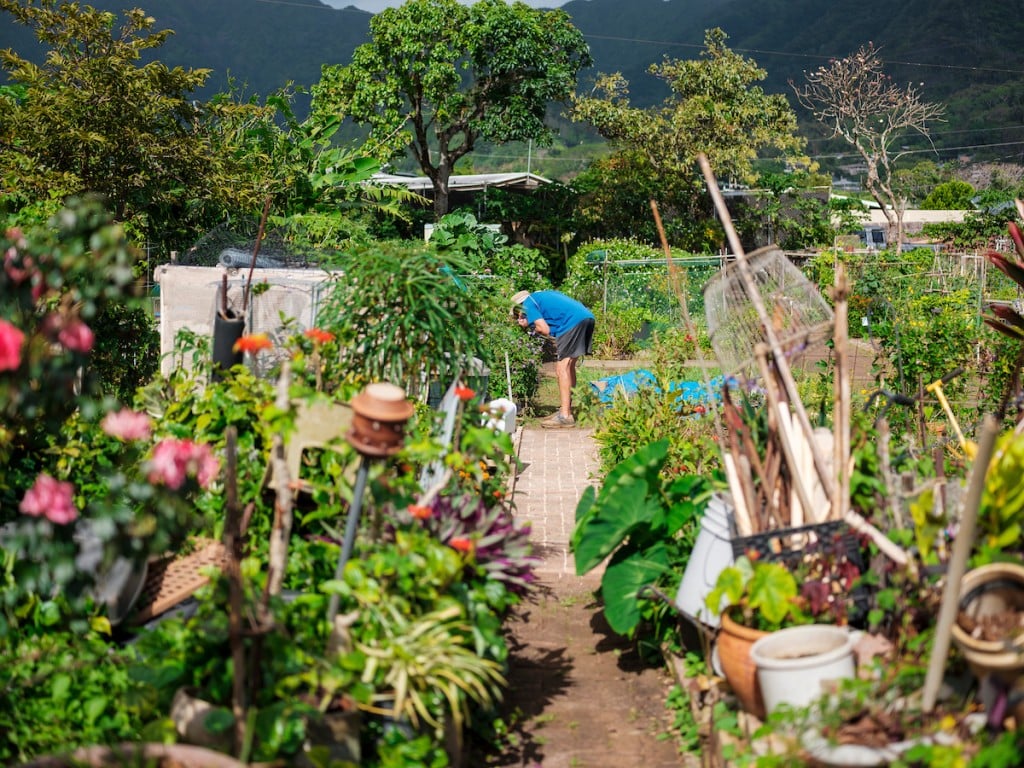 Gardening is an unforgiving, but rewarding, pursuit. Plants are fickle, their lives fragile. One missed day of watering, too much sunlight, not enough weeding. There are endless ways to lose months of effort.
So why do we garden? To grow produce to feed ourselves and loved ones? To learn a new skill? Maybe to clear your mind and soul? Or maybe you just like playing in the dirt.
The answer, like everything in life, is personal.
And at Oʻahu's 10 community gardens—Ala Wai, Dole, Foster, Hawaiʻi Kai, Kāneʻohe, Makiki, Mānoa, Mōʻiliʻili, Diamond Head and Waimea—island residents find that answer for themselves, and it all starts with a barren plot of land.
The roots of community gardens in Hawaiʻi can be traced to former Mayor Frank F. Fasi, who left a legacy of establishing many public work projects in the state, including TheBus and Oʻahu's Summer Fun Program. In the fall of 1975, Fasi opened the first community garden to give those living in the dense, urban districts of Honolulu a chance to grow and cultivate their own produce. Starting with one garden, a quaint lot of 160 10-by-10 plots on the corner of Wilder Avenue and Makiki Street, the program has expanded to 10 different sites, each with their own unique personalities, characters, troubles and perks.
Of course, just because the city started the program, does not mean that it governs each individual garden. While the City and County of Honolulu does oversee, at a broad level, what is happening at its community gardens, much of the actual management comes from the gardeners themselves. Garden-specific rules, volunteer officers, communal projects, everything is decided in a purely democratic fashion, with gardeners voting among themselves at monthly meetings. Attending communitywide workdays is also mandatory for those with plots, and activities can involve weeding the common areas within the garden, helping to build fences or structures—like tool sheds—or even clearing out recently vacated plots so their new owners won't be overwhelmed.
Understanding what a community garden is, and how it works, is one thing. But it's the diverse cast of gardeners—a host of personalities ranging from Japanese grandmas who don't speak much English to transplanted Mainlanders to enthusiastic college kids—that makes a community garden such a unique place. Mirroring that diversity, the reasons why island residents come to the gardens are just as varied. For some, it's as simple as having another mouth to feed. For others, it's to find community. Some just love to garden. It's all up to the individual.
Vince Costello, Plot A15, Mānoa Community Garden
For a quarter century, Vince Costello has been growing greens at the Mānoa Community Garden, one of the prettiest gardens on the island. Located in the district of Mānoa, the 92 10-by-20 garden plots that make up the Mānoa Community Garden are surrounded by lush mountains that separate Oʻahu's southern districts from the Windward Side. But Costello, who has previously served as the garden's volunteer president, didn't start gardening for the view—although it does help. Instead, it was the birth of his son that got him going. "When he was born, I told my wife, 'Oh, another mouth to feed; I better go get a plot at the community garden,'" says Costello.
After becoming a member of the community, however, his purpose for staying began to change. At the garden, his green-thumbed neighbors had become family, which is clear to see by looking at his own little plot. The purple long beans in one corner were gifted to him by Margaret, Dee provided the pepper plants in the D-row—garden plots are labeled A, B, C and D, followed by a number—and those newly sprouting eggplants? Shawn had extra seeds. Finally, after two decades at the garden, Costello decided to take up the mantle as volunteer president of the Mānoa Community Garden. It was his way of giving back to the garden that had given him so much. "Raising my son was my excuse for about 20 years, but then I couldn't use that anymore—so I thought—I'd been in the garden for 20 years, it's time to give back," Costello says. "I'd run out of excuses."
Letty Geschwind, Plot A18, Mānoa Community Garden
Letty Geschwind, a soft-spoken but spirited senior, had been gardening long before the Mānoa Community Garden came to be in 1975. In fact, she was asked to be one of the community garden's first occupants after making a name for herself at the University of Hawaiʻi at Mānoa East-West Center community garden, which predates the state-run public community garden program. What brought Geschwind to the community gardens, initially, was the constant exchange of information between gardeners. "It's fun to work together with other people who have different experiences that I can get from them," says Geschwind, who, at 82, visits her well-manicured plot often, "and I like to give mine to them as well."
But everyone can use a little assistance sometimes, and these days, Geschwind has some helping hands: Her son, Leon, and his two daughters—ages 6 and 2—also spend time with her in the garden. "My mom set aside an area in her garden where my kids can decide what they want to plant," says Leon, "and the gardening techniques they see here in the garden, they've been translating and trying to figure out how they can grow things in our condo too."
Neal Garret, Plot D37, Ala Wai Community Garden
"We killed a bunch of stuff," says Neal Garret, sitting down at his plot, which sports a waterfront view of Honolulu's Ala Wai Canal. Now, a variety of flora populate his garden, a flourishing field of rosemary, thyme, basil, squash, okra, green onions, vincas and zinnias. He and his wife were born and raised in Texas and the two of them spent over 40 years in the dentistry business before retiring to Oʻahu. They now own a condo in Honolulu and, after waiting for a year and three months, were awarded a plot at the Ala Wai Community Garden in October 2019. Garrret says the wait these days has only gotten longer.
Given a 15-by-15 plot of land, gardeners are free to do what they want with their spaces, as long as they abide by the rules, like keeping their trees below a certain height and not building any tall structures. "We came and sat in our garden and started drawing," says Garret. "We sketched out dimensions, what we wanted to have, our dream garden. Of course, that was the fun phase, and then the reality set in." After weeks and weeks of backbreaking work, the duo had a space that looked close to what they had initially dreamed up, and decided to start planting—which came with its own set of problems. From flowers that wouldn't bloom to a yellow squash that Garrett describes as a "beautiful plant, and an amazing failure," there were growing pains. However, the community was there for the Garretts and they were soon set on the right path. After attempting to grow flowering plants, a "little lady down the way" named June gave them some advice on what flowers grew best in Hawaiʻi, like vincas, and other gardeners offered suggestions as well, along with plants and seeds.
The couple spent the first few years of their retirement keeping to themselves, and found the garden a place where they could socialize at their own pace. "For us, it's having a quiet place that we can go to and feel like we're working in the dirt, something we've done our entire lives," says Garrett. "As a social outlet, it provides as much as you want to take advantage of. I can come down here almost any day and find somebody to talk to, if I want to talk to someone different and new."
Josh Winters, Plot A2, Makiki Community Garden
Within the community gardens there are five volunteer positions: president, vice president, treasurer, secretary and applications officer. Each fulfills a vital role in keeping their own community garden running smoothly—but as volunteer president of the Makiki Community Garden, Josh Winters, explains, finding people to fill those roles isn't always easy. "I ran unopposed, there was no debate." Still, Winters, who was born in Hawaiʻi and raised in the Garden State of New Jersey, loves his job at the garden.
Surrounded by Makiki's high-rises and apartment complexes, this community garden borders the district's park, where you'll often find keiki (kids) playing sports and local families enjoying potlucks. Needless to say, the park and garden provide some much-needed breathing space for the community. "We live in boxes in the sky, so we need somewhere we can come down and get dirty," says Winters, who has been president of the community garden for the past three years after his wife, the applications officer at the time, convinced him to get involved. During his tenure, Winters has led multiple gardenwide projects, from clearing out disease-infested shrubbery along the side of the garden and working with garden members to build a new fence from recycled wood—which even the community outside of the garden came to appreciate—to smaller works like starting a Makiki Community Garden website.
And if growing your own garden isn't hard enough, managing the 160 plots within the Makiki Community Garden comes with its own set of challenges. "We have Koreans, Japanese, Thai, so there are a lot of language barriers," says Winters. "It's nice though. I've got a Korean spokesperson who I can ask to tell the other Korean gardeners this and that. I've got an Okinawan gardener who helps me out, too, [but] it's still tough to spread the word." And when it comes to gardeners breaking rules or letting their plots become overgrown, Winters steps in, gently. "Usually it's a conversation. We all have issues, there are gardeners who have to leave for a while or have some difficulties in their own lives," he says. "Community comes before the garden; the community is the most important part."
For Winters, the perks of being a part of the garden outweigh the negatives. "Even on days I don't garden, I walk around. People come down here and have cool stories, and everybody has advice on how to garden, and there's always an auntie with a recipe for what you're growing," says Winters. "I think that's the best part about my job, just trying to encourage people to get along and come down to this space and get dirty. I just try to have fun with it."