Taste Exotic Fruit You Didn't Know Existed on this Tropical Farm Tour
Maui Dragon Fruit Farm grows much more than just dragon fruit.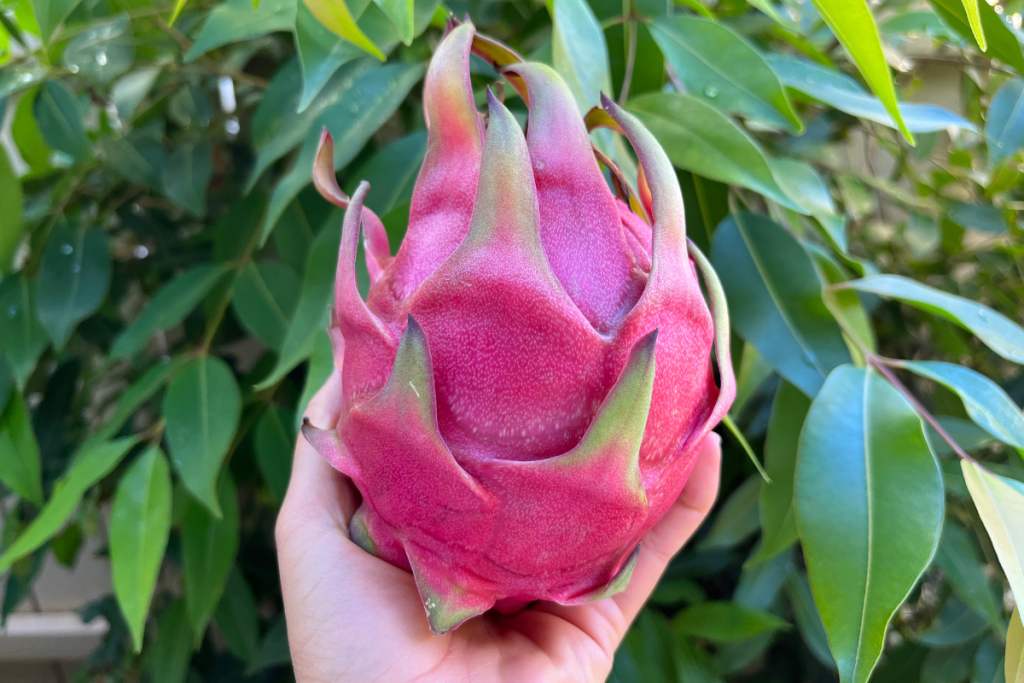 We made it just in time. White petals are blooming on the arm of a dragon fruit cactus. These flowers bloom only once in their short lifespan. They open late in the evening and close as day breaks. While I'm astonished that we caught the remaining moments of the flower blooming this late in the morning, I'm even more amazed that a spiky, fuchsia fruit will form from this delicate white flower.
It's a clear, summer day in Lahaina and I'm standing among dozens of rows of cacti where flowers have recently bloomed, and buds of young dragon fruit are growing. From June through September, dragon fruit will be readily available at farmers markets and farms stands throughout Hawaiʻi. Alongside mango and lychee, dragon fruit is a member of the class of highly prized summer fruits here in the Islands.
Also called pitaya, dragon fruit originates from Central and South America but is popular in Southeast Asia and Hawaiʻi. The fruit is aptly named for its bright, scale-like exterior. But don't be intimidated by the name because the skin of the fruit is rather soft. Speckled with seeds like a kiwi fruit, the flesh differs from white to a vibrant pink depending on the variety. And the juicy flesh has a slight crunchy texture from the tiny seeds with a subtle and refreshing sweetness.
At the Maui Dragon Fruit Farm, 16 varieties of pitaya are grown—but that's just one of the many tropical fruits cultivated on the property.
Located five minutes from Lahaina's bustling Front Street, the Maui Dragon Fruit Farm can be found in the Punakea Loop, where its neighbors include Punakea Palms and the recently relocated Maui Bee Tour. Here, the organic dragon fruit farm sits on 27 acres, where bananas, pineapple, melon, papaya, cacao and more grow alongside the hundreds of dragon fruit cacti. All are welcome to explore the grounds on a short tropical fruit tasting and walking tour. The more adventurous can also opt to soar over the property on a ziplining tour.
On a bright day in June, my tour guide Vanessa Lane tells my group, "Lahaina means land of the unforgiving sun," and I already begin to understand the origins of the name. As the tour embarks, she reassures us there will be plenty of shady rest stops equipped with water coolers and jugs of sunscreen along the route.
From fragrant plumeria trees and red ginger plants to octopus agave and aloe, we walk past dozens of interesting plants as Lane shares surprising stories of how these species were brought to the Islands. We even stop at colossal traveler's palm where Lane tells us the palms are considered good luck. Of course, the entire group pauses to make a wish. But one of the most breathtaking spots is the infinity lawn where we take in the panoramic view of Maui's west side and the islands of Lānaʻi and Kahoʻolawe. It's a picture-perfect view, and in fact, it is. Dozens of weddings and events are held on this exact spot because of these unobstructed views.
However, an equally impressive site are the four dragon fruit plots. The farm employs a Vietnamese-technique of growing dragon fruit, guiding the vine-like cacti along vertical cement polls. It's here where we spot a rare cacti flower. The dragon fruit flowers typically begin to bloom in June. Lane and the other farmers help hand-pollinate the flowers at night, gently dusting pollen on the flowers with small paint and makeup brushes. Once the fruit begins to bud, it's quickly covered with a mesh bag to protect it from pests and birds. After flowering and pollination, it takes about six weeks for the fruit to mature. Lane explains the process is unlike any farm work she has done before and admits, "I know which fruit I pollinated, so I feel a special connection to it."
Lane is a "WWOOF-er," a member of the Worldwide Opportunities on Organic Farms and has been in the program for five years. Since entering the program, she has lived and worked on nine farms across the U.S. and Canada. Along with Lane, 16 other friendly WWOOF-ers live and work on the dragon fruit farm.
The local farm was once the largest organic dragon fruit farm in the U.S. and distributed to businesses and grocers across the state, including Wholefoods. Unfortunately, a devastating wildfire in 2018 ravaged 80% of the crops. As the farm is still recovering from the destructive fire, its current focus is on tours, tastings and selling fruit directly from the property.
As the grueling sun beats down on us, we stop to rest among a patch of pineapples. There is a whoosh-sound and I look up as zipliners zoom overhead. Everyone in the group immediately wants to know, "Can we do that?" The answer is yes, just sign up for the dragon ziplining tour.
Lane recaptures our attention with more tropical fruits and unique plants. We walk past a tree with fruit coined Buddha's hand. The skin of the citrus fruit can be used as zest in recipes and the leaves can be steeped in tea. We move along a path lined with ice cream banana trees on one side and banana apples on the opposite. We also spot cacao plants growing besides towering papaya shoots. Pointing out the cacao pods, Lane says, "I grew up thinking chocolate had to be made in a factory." She's not alone. Many people are unaware of the origins of some of the most common foods, including chocolate and coffee, both of which are grown in Hawaiʻi. The tour at the Maui Dragon Fruit Farm offers an exciting introduction on how these valuable crops grow.
As the tour concludes, I'm eagerly waiting to sample a bounty of local fruit. Truthfully, I was most excited about the exotic fruit tasting when I booked this tour. Now, after an hour under the Lahaina sun, I'm sitting in the shade and soaking in the unparalleled views at the farm. Lane hands me a box containing a dozen different fruits that have either been harvested on the property or on farms in Haʻikū. From papaya and mango to soursop and sapodilla, I'm biting into some of my favorite fruits and trying a handful for the first time. A man sitting to my right tells me, "I've never heard of some of these fruits." The fresh fruits are paired with pitaya lemonade made daily by Crystal Schmitt, the owner of the dragon fruit farm and coconut water straight from a coconut.
Schmitt tells me the idea of a dragon fruit farm originated with her mother. "She's always had a green thumb," Schmitt says. But it went deeper than a passion for gardening. Schmitt was researching how to help her mother control diabetes and found dragon fruit is often used in alternative medicine. Dragon fruit was the seed that grew into this abundant farm.
Together, the guided tour and exotic fruit tasting not only spotlights the various ways different crops can be grown but also shows what can grow from one idea.
For more information and to book a farm tour, visit mauidragonfruit.com.