Taste Mocktails that Pack a Punch With a Purpose at this Wahiawā Shop
Hawaiian Vinegar Co. produces small-batch vinegars and shrubs from rescued fruits and vegetables. The business recently opened a small shop, which gives folks another good reason to visit Wahiawā.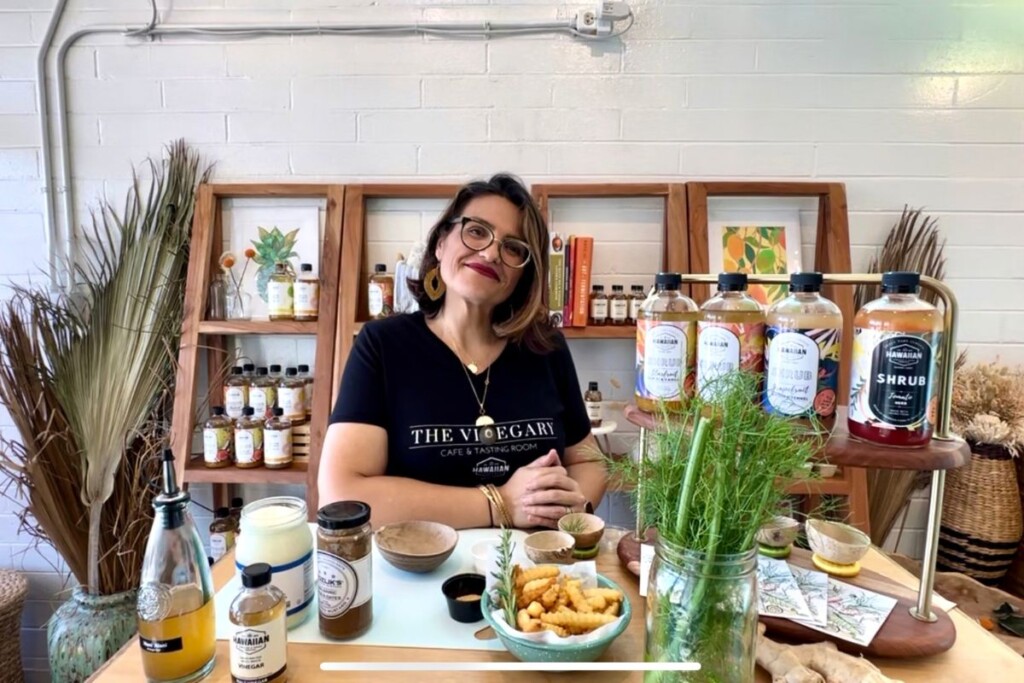 From white wine and apple cider to rice and sherry, diligent shoppers are probably familiar with the regular lineup of vinegars on grocery store shelves.
But at Hawaiian Vinegar Co. the tart liquid is different, more nuanced. It's bright, flavorful and just acidic enough to make your lips pucker, and each batch of the company's handcrafted vinegar supports local farmers. And with a new tasting room in Wahiawā, founders Poni and Brandon Askew hope to draw more interest to the quiet Central O'ahu town.
About four years ago the husband-wife duo started experimenting with locally grown ingredients to craft vinegars and shrubs. At the time, the Askews were hosting festivals and markets through Street Grindz, bringing together Oʻahu food trucks and other small businesses. With the onset of the Covid-19 pandemic, the events were dismantled. But the hiatus allowed them to commit to crafting artisanal vinegar—which is now their sole focus. And the Askews' dedication to supporting fellow entrepreneurs remains.
"The whole goal is to help Hawaiʻi's food system," says Poni Askew. According to her, when crops don't meet grocery store standards, they're either tilled back into the soil or thrown to waste. "There's nothing wrong with them, they're just not cute," she says. All jokes aside, she says, supermarket customers expect near perfection when it comes to fruits and vegetables. If a crop doesn't look right, whether it's a strange looking grapefruit or an elongated pepper, farmers can't sell it. But the Askews can find a purpose for it.
Some of the unwanted leftovers packing tangy flavors in their vinegars and shrubs are star fruit from Kualoa Ranch, herbs from Waialua Growers, citrus from Loko ʻEa Farms and honey from Mānoa Honey and Meadery. Brandon Askew even rescued 15 gallons of malt from Lanikai Brewing Co., which he then brewed and fermented into vinegar.
In December, Hawaiian Vinegar Co. unveiled its new shop on Kilani Avenue next door to Barrio Café. Here at the boutique, the adventurous can shoot back tiny shots of pungent vinegars and sample fruity elixirs. Epicureans can schedule more intimate experiences with two-person mocktail tastings. During each round, different shrubs are mixed with either bubbly soda or nonalcoholic beer and gin to create beverages that are tangy yet refreshing. Sour notes of grapefruit are balanced with mild fennel in the paloma, and the bloody mary has just enough heat with a dash of gochugaru, says Askew, who adds that she's not a seasoned mixologist. But her beverages say otherwise.
Made from nutrient-rich fruits and herbs, Askew describes her shrubs as versatile elixirs: great as healthy additives to beverages or ready to enjoy on their own. And adding a splash of vinegar to a dressing or sauce sharpens the flavors and elevates a dish. Askew recommends drizzling her vinegars or shrubs over a scoop of ice cream to brighten the rich treat.
Askew, born and raised in Wahiawā, says her new space was once a barber shop and that her father used to get his haircuts at. Today, Askew welcomes anyone headed to the North Shore to stop by the boutique café along the way to taste the company's pungent vinegars and flavorful shrubs. But she also encourages travelers to take the time to explore Wahiawā.
"We want to capture people on the way to Haleʻiwa," she says. The Askews say they're committed to helping the local business community, and hope to shine more light on the companies that are breathing energy into Wahiawā. With cozy nooks like Surfers Coffee and Black Sheep Creamery and old-school eateries like Shige's Saimin Stand and the quaint Wahiawā Botanical Garden, the town just might become a favorite destination rather than just a pit stop on the way to the North Shore.
Find Hawaiian Vinegar Co. at 627 Kilani Ave., Wahiawā, hawaiianvinegarco.com.