Taste the Islands' Fresh Flavors with Pono Potions
Elevate your coffee routine or home-made happy hour with flavoring grown in Hawaiʻi. Or, visit this Chinatown café.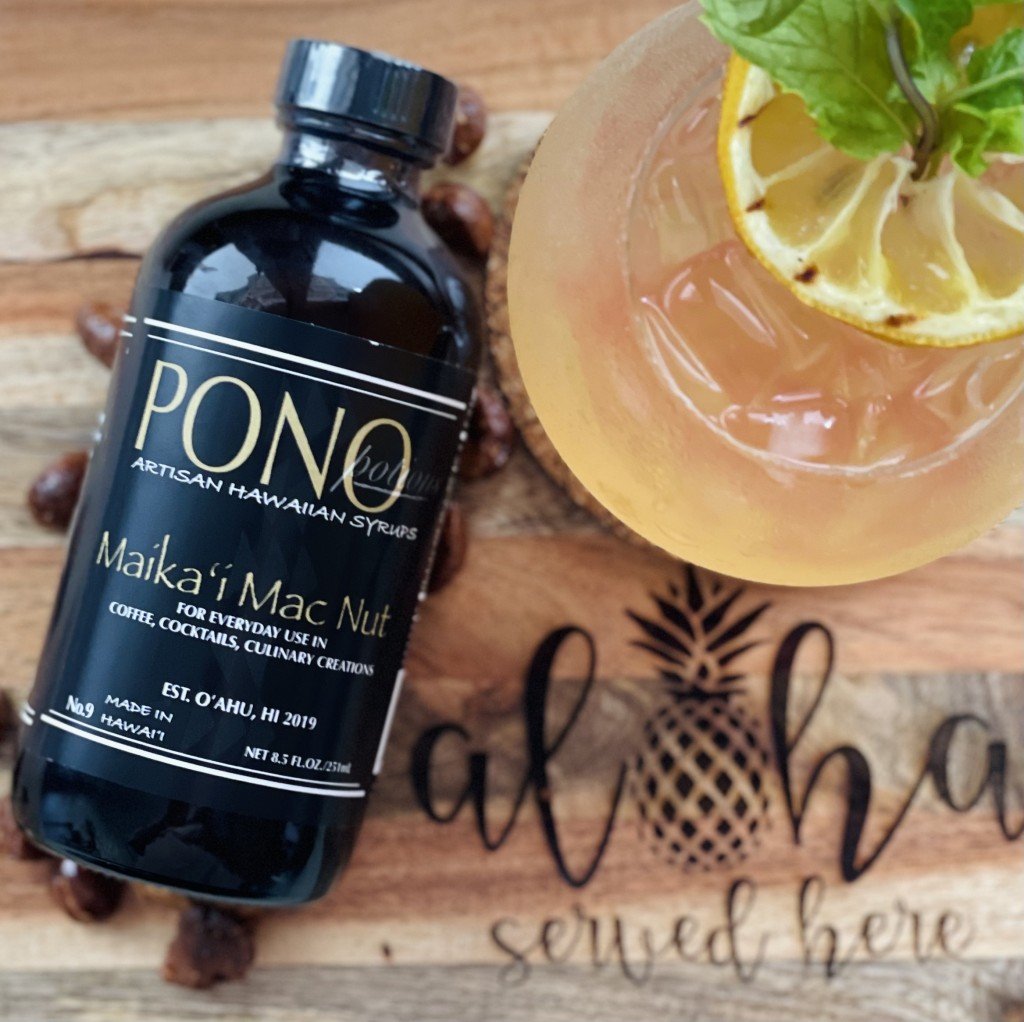 With the onset of the Covid-pandemic, Peter Hessler pivoted his young business from selling wholesale products to customers directly. He decided to open a booth at the Lokahi Kailua Market on Oʻahu to share Pono Potions, his all natural beverage syrups.
Now, the coffee-curious and cocktail-connoisseurs can drive down Smith Street in Chinatown almost any day of the week—except Mondays—to taste Hessler's creative concoctions at Pōʻai. The new storefront has an espresso bar and beverage counter with drinks featuring Pono Potions. Growing from Hessler's original booth, Pōʻai also shines a spotlight on local entrepreneurs and fellow farmer's market vendors.
In his coffee and cocktail syrups, Hessler incorporates fresh ingredients grown right in the Islands. The results are unique beverage mixes that vary in flavoring, from aromatic and earthy, to herbal and floral. And artificial flavoring or preservatives are completely absent. While Hessler's mixes include well-known tastes associated with the Islands, such as macadamia nuts and coconut, he also utilizes other local flora that are often overlooked. ʻŌlena (Hawaiian turmeric) and Maui-grown lavender are featured ingredients that lead to resourceful and refreshing combinations difficult to find in similar types of beverage mixes.
"Hawaiʻi has access to incredible ingredients and agriculture that's unlike anywhere else in the world," Hessler says. "Hawaiʻi is famous for macadamia nuts and coffee—but there's so many cooler, herbal and seasonal flavors that I want to highlight and establish relationships with those local farms."
By including local yet less typical ingredients, Hessler is also helping to revive the use of herbs and flora that were once culturally significant in the Islands. Being considered a Polynesian canoe plant, ʻōlena was brought to Hawaiʻi and served many purposes in Hawaiian culture, ranging from medicinal to being made into dyes for kapa (bark cloth). "I want to highlight more obscure ingredients that have greater health benefits and cultural benefits, like ōlena and ginger," Hessler explains. "Also, I use hibiscus in a different way because a lot of people don't know what hibiscus tastes like, but it's a symbol of the Islands." Hessler also points out that incorporating lavender may not have historical ties, but farms on Maui have garnered great attention for growing it in recent decades.
And Hessler strives to support the local agricultural community and economy in Hawaiʻi. From harvesting honey on Oʻahu, to Molokaʻi hibiscus and Maui lavender, he sources all his flavoring ingredients from farms throughout the Islands.
Having grown up in a family that managed a large-scale catering and events company, Hessler knew he wanted to create his own business. With a passion for cooking and culinary mixology, he was a professional chef in Portland for nearly five years before moving to Oʻahu. Being Native Hawaiian, he decided to move to Hawaiʻi with the idea of starting his business in the Islands.
"When I moved here, I was one of the opening bartenders at Moku Kitchen in Kakaʻako," Hessler recalls. "That was really cool because they make everything by hand—their bar syrups and mixes." Hessler worked behind the bar for three years crafting cocktail syrups at Moku Kitchen. It was during this time that he realized there were no syrups that sourced their flavoring from Hawaiʻi that could be found in retail stores or cafés. Walking into local coffee shops, Hessler says, "I would just see all the name-brand national syrups."
View this post on Instagram
With the goal of creating artisanal coffee and cocktail syrups, Hessler dove right in and began working with local farms. He produced his syrups at the Pacific Gateway Center, which is a nonprofit in Kalihi that rents out commercial kitchen space. "That made getting a commercial kitchen reasonable and feasible," Hessler says. In August 2019, Hessler started distributing to Kai Coffee, which is what he considers the official launch of Pono Potions. "Kai Coffee was my first big client. They actually are still my biggest client" Hessler says. "They really believed in me and what I was doing." Hessler credits Sam Suiter, the owner of Kai Coffee, for helping him during the beginning phases of his business. "I had zero clients and he took me under his wing and gave me that initial support."
In addition to Kai Coffee, Pono Potions flavors drinks at cafés on Oʻahu including Bean About Town, Surf Jack Coffee Bar and the Country Eatery. Pono Potions can also be found at retail stores such as Namea Hawaiʻi as well as multiple Foodland Farms locations. And of course, a lavender latte or ginger honey lemonade by Pono Potions can be sipped on at Pōʻai. The storefront opened in Chinatown in June 2021. "We really wanted to use this space for the public to try our products," Hessler says. "A lot of people ask about recipes, and this is a space where they can try them in all the drinks on the menu."
View this post on Instagram
Half of Pōʻai is also dedicated for local entrepreneurs to display their products. "This formed from our farmer's market friends," Hessler explains. "Rather than just being about Pono Potions and syrups, we wanted to showcase some other amazing businesses that were making cool things we were inspired by." ʻUlu and Kalo Bakery provide gluten-free and vegan baked goods that incorporate traditional canoe plants such as ʻulu (breadfruit) and kalo (taro). Prints by Aloha De Mele and stationary made by the Kakou Collective can also be found at Pōʻai.
The importance of community and a sincere one-on-one customer experience at Pōʻai stems from the original farmer's market booth at the Lokahi Kailua Market. "We started selling our products at the farmers market in the middle of the pandemic because we wanted to reach out to the local community and individual people who wanted to make drinks at home," Hessler says.
Pono Potions immediately transforms bland coffee into a cup bursting with flavor. In the morning, Hessler's go-to is a simple stir of vanilla. "It sounds super boring," he admits. "But we get vanilla beans from Laʻie on the North Shore, so it's really fresh and really fragrant." As for cocktails, Hessler opts for the honey ginger potion but also recommends adding Molokaʻi hibiscus to champagne for floral and fruity mimosas.
Visit Pōʻai at 1119 Smith St., Honolulu.
Recipe for Waialua Mule:
1/2 oz Wailua Honey Ginger syrup
Juice of 1/2 lime
1.5 oz vodka or whiskey
Top with soda water and lime