The 5 Best Historic Landmarks in Hawaiʻi
From 'Iolani Palace to Kealakekua Bay State Historical Park, Hawai'i is well populated with gorgeous historical landmarks, and here are the best of the best, according to our 2020 Readers' Choice Awards.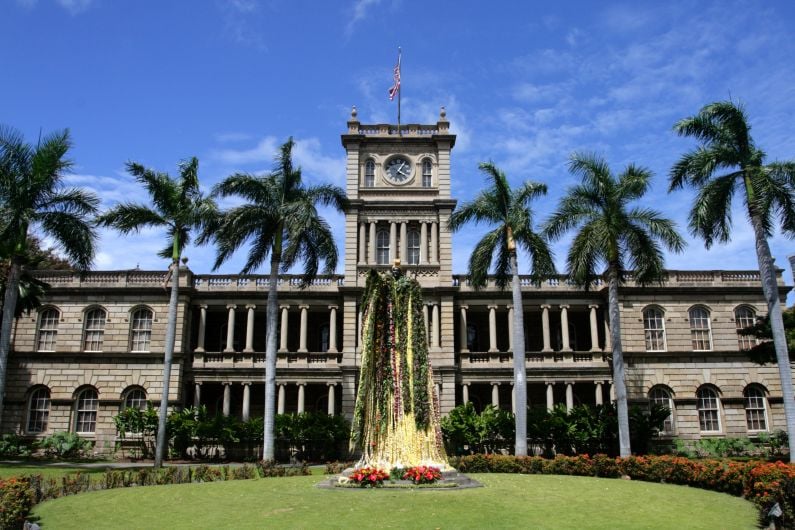 Hawaiʻi's not all pretty beaches and tropical weather. OK, it's a lot of that, but scattered throughout the Islands are historic relics and sites, in all shapes and sizes. It helps that so many significant events have occurred in Hawaiʻi, from the arrival of Captain James Cook in 1778 to the unification of the islands under King Kamehameha the Great in 1810. With so many storied locations to choose from, we asked our readers to pick their five favorite historic landmarks, and here's what they decided.
1. Pearl Harbor National Memorial (including the USS Arizona Memorial), Oʻahu
For many, a trip to Hawaiʻi isn't complete without visiting Pearl Harbor. The U.S. naval base was attacked on Dec. 7, 1941, launching the United States into World War II. Now, nearly 79 years later, the site is home to relics of the last world war, and includes the Pearl Harbor Aviation Museum, Battleship Missouri Memorial and the USS Bowfin Submarine Museum and Park.
The USS Arizona Memorial is also there; operated by the National Park Service, it sees 4,000 to 5,000 visitors daily. Built to honor those who perished aboard the USS Arizona during the bombing of Pearl Harbor, the memorial was constructed above the sunken battleship, and the remnants of its hulking rusted exterior can be seen just below the water's surface.
Admission to the Pearl Harbor Visitor Center is free. General admission to the USS Arizona Memorial is free; however, tickets are limited. Check with the visitor center for ticket availability, or make an online reservation. For more information, visit nps.gov/valr.
READ MORE: YOUR COMPLETE GUIDE TO VISITING PEARL HARBOR
2. ʻIolani Palace, Oʻahu
One of the best preserved sites tied to Hawaiian culture and royalty, ʻIolani Palace represents a complex time in Hawaiʻi's tumultuous history. Built in 1882, the palace was ahead of its time: It had electric lights, indoor plumbing and a telephone system. And it was here that the last sovereign monarch of Hawaiʻi, Queen Liliʻuokalani, was kept under house arrest as her kingdom was being overthrown.
The palace is open to visitors Monday through Saturday from 9 a.m. to 3:30 p.m., with self-led audio tours ($20 for adults, $6 for kids) and guided tours ($27 for adults, $6 for kids) available. Find more information at iolanipalace.org.
READ MORE: VISIT ʻIOLANI PALACE FROM YOUR HOME
3. King Kamehameha Statue, Oʻahu
The Hawaiian leader who united the major Hawaiian Islands, King Kamehameha the Great stands tall (literally, the man is believed to have been over 7 feet tall) outside Aliʻiolani Hale, which is across the street from ʻIolani Palace. The figure is adorned with lei every Lei Day, and it's a sight to see. There are several other statues of King Kamehameha, including one on Hawaiʻi Island, one on Maui and one in the U.S. Capitol in Washington, D.C. 447 S. King St., Honolulu.
READ MORE: 5 FASCINATING FACTS ABOUT THE KING KAMEHAMEHA STATUE
4. Kealakekua Bay State Historical Park, Hawaiʻi Island
The only landmark on this list not on Oʻahu, Kealakekua Bay State Historical Park on Hawaiʻi Island is 12 miles south of Kailua-Kona. It marks the site where the first westerner—Captain James Cook—established contact with ancient Hawaiians. It was also here that Cook was killed, after attempting engaging in a quarrel with the kanaka maoli (native Hawaiians). While its past may be stained with bloodshed, Kealakekua Bay also serves as an ideal spot to grab a snorkel, some fins, and even a kayak, as the location's crystal-clear waters and thriving reefs are begging to be explored.
Kealakekua Bay State Historical Park is at the end of Nāpōʻopoʻo Road (Highway 160).
5. National Memorial Cemetery of the Pacific, Oʻahu
Located in Punchbowl Crater, this national cemetery functions as a memorial to honor the men and women who served in the U.S. armed forces. Here, you can stroll along the site's memorial walk—a path lined with memorial markers from various organizations—or you can wander the green fields and pay your respects to some of America's bravest. Some notable interments include Wah Kau Kong, the first Chinese American fighter pilot; Norman Keith Collins, a prominent tattoo artist more commonly referred to as "Sailor Jerry"; and Hawaiʻi astronaut and engineer Ellison Onizuka. 2177 Puowaina Drive, Honolulu, cem.va.gov/cems/nchp/nmcp.asp.