The 5 Best Hotel or Resort Pools on Oʻahu in 2021
Finally, the Readers' Choice category at the top of everyone's mind. Find out which hotel or resort on Oʻahu has the best pool!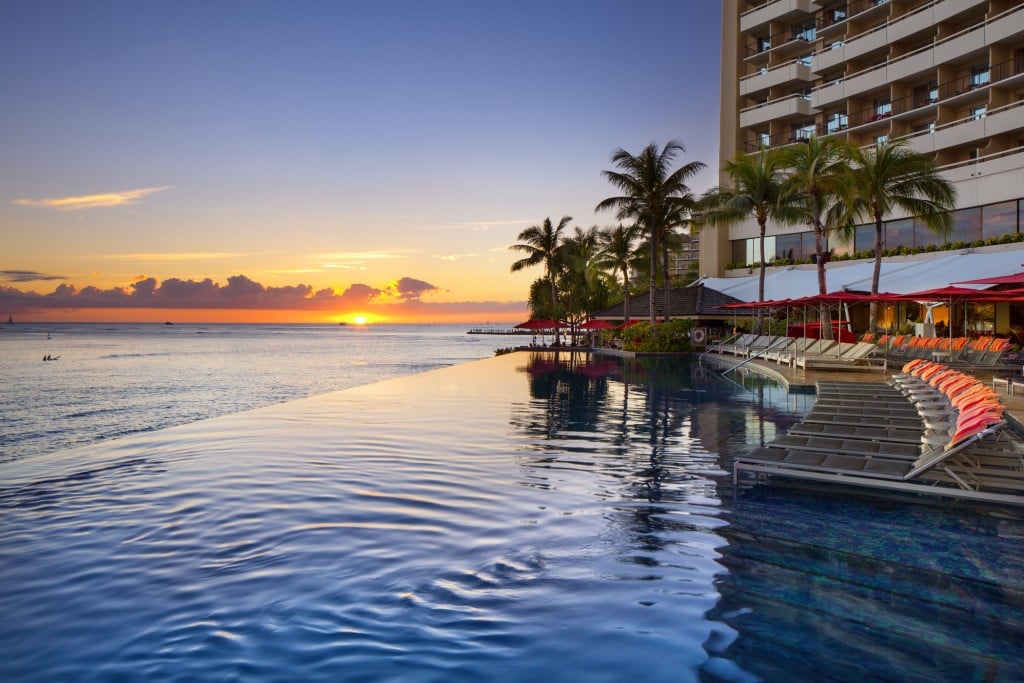 When deciding what hotel or resort to stay at on your Hawaiʻi vacation, or even a staycation for locals, the bougie-ness of the pool is a factor of the utmost importance. Because, as we all know, lounging poolside is a necessary activity when on vacation. Deciding which pool on Oʻahu is the best, however, is a truly arduous task. How can you pit those beautiful bodies of water against one another? Fortunately, our readers did that for us by voting in HAWAIʻI Magazine's 2021 Readers' Choice Awards, giving us a list of the five best pools on Oʻahu.
1. Aulani, A Disney Resort & Spa
At Aulani, A Disney Resort & Spa, you don't have to decide between quantity and quality, it has both. From the colorful Rainbow Reef, a 3,800 square foot swimmable aquarium, to the 8,200 square foot Waikolohe Pool, packed with slides and rides both keiki (kids) and parents can enjoy, you could literally spend an entire day at the Aulani, A Disney Resort & Spa's numerous pools and rivers. For parents or adults looking for some rest and relaxation, poolside cabanas, relaxing whirlpools and an infinity pool will surely do the job.
2. Hilton Hawaiian Village Waikīkī Beach Resort
Two words. Super Pool. That's what the folks at the Hilton Hawaiian Village Waikīkī Beach Resort call their 10,000 square foot beachfront pool located between the Rainbow Tower and The Aliʻi. It is without a doubt one of the largest pools on Oʻahu, and right below it lies the Keiki Pool, a shallow swimming pool where kiddos can go to splash and shout. The property also sports four—four!—other pools, all as luxurious and lounge-worthy as the next.
3. Sheraton Waikīkī Hotel
Picture this. It's sunset, you have a mai tai in hand. As the sun colors the sky a glowing orange, you wade into the Edge Infinity Pool at the Sheraton Waikīkī Hotel. But it's not just any infinity pool, it's North America's longest oceanfront infinity pool. To your left, Leʻahi (aka Diamond Head) soaks in the last glowing embers of the day's end. In front of you, the sea, as far as your eyes can see. Moments like this, as well as the family-friendly Helumoa Playground Pool, which features two freshwater swimming pools, a 15-foot high and 70-foot long water slide, is what has earned the Sheraton Waikīkī Hotel the No. 3 spot on the list.
4. Four Seasons O'ahu Resort at Ko 'Olina
At the Four Seasons Oʻahu Resort at Ko ʻOlina, guests get to pick the pool that fits them best. From the family-friendly ʻOhana Pool, to the adults-only Adult Infinity Pool—which has one of the best sunset views on the property—and the Keiki Pool, which encourages splashing and double-dipping at the nearby lagoon beach, there really is a pool for every guest at this West Oʻahu resort.
5. Turtle Bay Resort
Last, but definitely—definitely—not least is the Turtle Bay Resort's fabulous pool deck, well equipped with a bar and lounge area. And if our readers loved the Turtle Bay Resort's pool now, just wait until the North Shore resort has finished its major renovations project, which will include a brand new terraced pool deck with a new adults-only pool, redesigned family-friendly pool and front-row views of the crashing waves and surfers just beyond. The adults-only pool will serve as a tranquil respite perfect for sipping mai tais or getting lost in a novel while the main pool will offer expansive space for family-friendly frolicking.