The 5 Best Mai Tais in Hawaii
Our readers ranked where to find their favorite boozy, tropical mai tais in our 2019 Readers' Choice.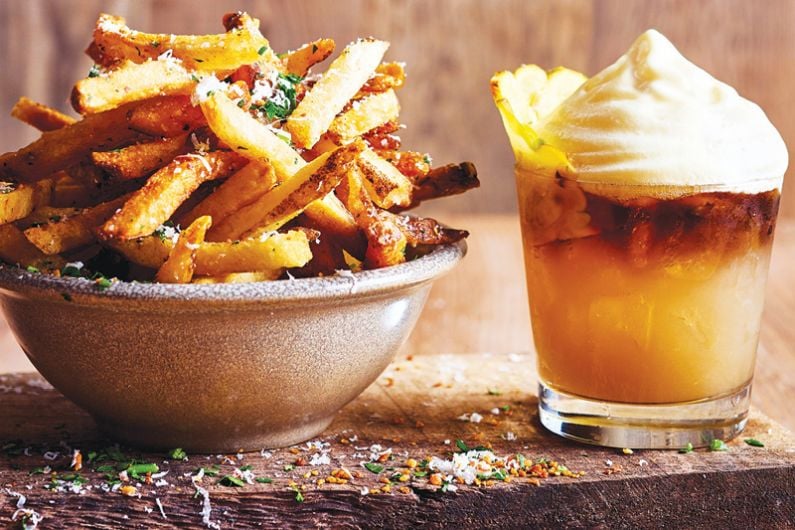 It's not every drink that has a bar named after it or captures the magical essence of island life so well as the mai tai. And while the most iconic cocktail of tiki culture has many recipes and variations, these are the ones you voted "best" in Hawaii in our 2019 Readers' Choice Awards.
1. Monkeypod Kitchen by Merriman (Oahu, Maui)
In this veritable land of the tiki cocktail, picking a favorite from the crowd of top-tier contenders is no small task. Until you consider Monkeypod Kitchen. One of the toughest parts of tackling this iconic drink is setting it apart, while keeping its classic charm (and flavor) intact. The Monkeypod Mai Tai does this with flying colors. You'll still find the head-swimmingly-good duet of light and dark rums—keeping it local with rums from Maui's Old Lahaina distillery—punched up with lime and orange curacao. It's sweetened with a house-made orgeat made from perfectly on-theme macadamia nuts instead of the typical almond, then topped off with a show-stopping honey-lilikoi (passion fruit) foam that's sweet, tangy and just as delightful as it sounds. Locations in Wailea and Kaanapali on Maui, and Ko Olina on Oahu, monkeypodkitchen.com.
2. Mai Tai Bar at the Royal Hawaiian (Oahu)
The Royal Hawaiian's classic bar, named after the drink in question, is dedicated to the famous mai tai, with a menu featuring seven variations made with different types of rum, including one that claims to be as close to the classic 1940s Trader Vic's recipe as you can get. For the most hardcore aficionados, there's the Alii Mai Tai, $35 worth of only the finest aged rums topped with the bar's signature "coco loco" foam and bitters. The Royal Hawaiian Hotel, 2259 Kalakaua Ave., Waikiki, Oahu. (808) 923-7311, royal-hawaiian.com/dining/maitaibar.
3. Duke's (Kauai, Maui, Oahu)
This popular oceanfront bar is a mainstay in Waikiki, with due credit given to its famous mai tai, made with fresh PPOG (pineapple, passion orange, guava) juice, along with light Hawaiian rum and Old Lahaina dark rum. Just don't mistake this mai tai for a fruity, easygoing drink; Duke's version is delicious but potent. Outrigger Waikiki Beach Resort, 2335 Kalakaua Ave., Waikiki, Oahu, (808) 922-2268, dukeswaikiki.com.
4. Tiki Bar at the Kaanapali Beach Hotel (Maui)
Talk about a perfect setting for a mai tai. The outdoor poolside bar, just steps away from the golden sands of Kaanapali, is a great spot to enjoy the bar's crowd-pleasing mai tai, made with quality ingredients the classic way. 2525 Kaanapali Parkway, Lahaina, Maui, (808) 667-0111, kbhmaui.com/dining/tiki-bar.
5. Mama's Fish House (Maui)
In addition to making some of your favorite food on Maui, Mama's wowed plenty of you with its strong, well-balanced mai tai, a throwback to the classic 1940s recipe served in a glass tiki mug. 799 Poho Place, Paia, Maui, (808) 579-8488, mamasfishhouse.com.