The 5 Best Places To Go Camping on Oahu
These Hawaii recreation areas are great places to pitch your tent.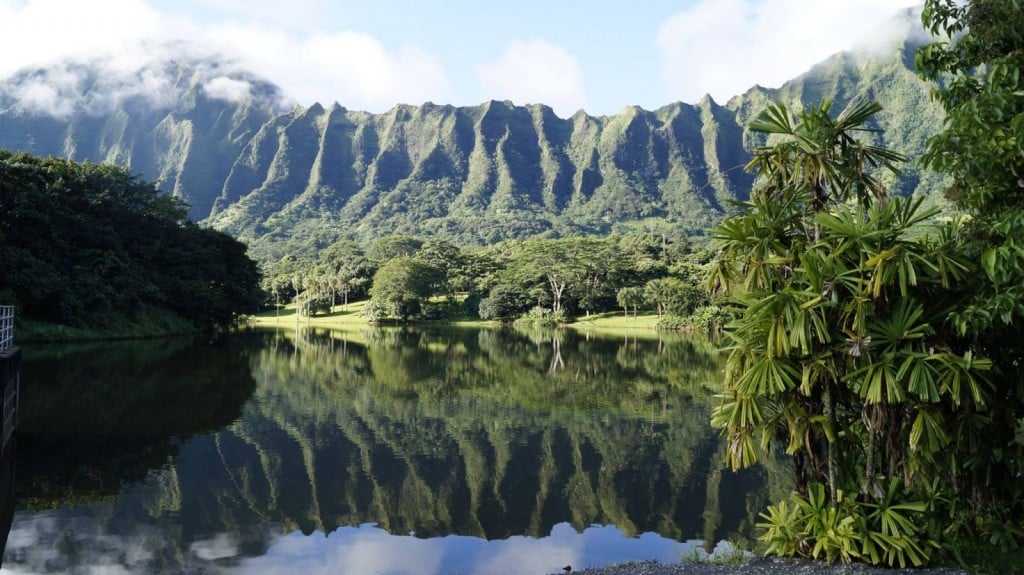 Sure, luxury resort rooms in Hawaii are nice. But if the idea of waking up to the sound of crashing waves on a white-sand beach only a few feet away from you, or opening your eyes to a picturesque botanical garden is appealing, we encourage you to bring or rent a tent and check in to any of these top-rated campgrounds. Keep in mind, camping in Hawaii isn't like camping in Yosemite, or Yellowstone. We don't have bears or snakes (often, the largest pests are mosquitos), and you won't freeze, even in the middle of January.
While Oahu, the most populated island, is a little more restrictive on camping than the other Hawaiian Islands, there are plenty of great, picturesque spots to pitch a tent.
Malaekahana Beach Campground & State Recreation Area
One of the most popular and safest campgrounds on Oahu, with lots of convenient amenities, this privately managed state-owned property on the North Shore has staff on-site 24 hours a day and a gated entrance that is secured at night. Amenities include outdoor showers, fire pits at each camp site, a food truck Thursday through Monday, and a camp store if you forget things like batteries, lighter fluid or essentials. The water is calm enough to swim, paddleboard or snorkel during the summer months, and there are kayak, surfboard and body board rentals available on-site. Hang out with honu (sea turtles) and spot whales offshore or endangered seabirds from the nearby sanctuary at this beautiful spot.
56-335 Kamehameha Highway, Kahuku, (808) 674-7715. For reservations, visit malaekahana.net. $9.41 per night, per person for tent or vehicle camping; $58.82 per night for a small, basic plantation-style hut that sleeps up to four people; $117.65 per night for a plantation suite (sleeps up to four) with electricity, beds and larger interior space.
Hoomaluhia Botanical Garden
This lush, 400-acre rainforest park, backed by the majestic Koolau mountains, is aptly named "a peaceful refuge." The only city-run campsite on Oahu that isn't on the beach, the garden was designed and built in the early 1980s by the U.S. Army Corps of Engineers to provide flood protection for Kaneohe. The site has 20 weekend campsites with restrooms, outdoor showers and picnic areas, where you can hike, fish and feed ducks at the lake. One good thing about Hoomaluhia is that you may still be able to find a last-minute spot here, even on a busy weekend. Don't forget to print out a permit, bring your mosquito repellent and be prepared for rain and sometimes muddy conditions.
45-680 Luluku Road, Kaneohe, (808) 233-7323. Reserve a campsite and print your permit at camping.honolulu.gov. Camping open from 9 a.m. Friday through 4 p.m. Monday. Free catch-and-release fishing on Saturdays and Sundays, 10 a.m. to 2 p.m. $32 for a 3-day camping permit, available two weeks before camping date.
Bellows Field Beach Park
This gorgeous white-sand beach park with 50 campsites has two sections: One that requires a military ID and one run by the City and County of Honolulu that's open to anyone. Both have incredible beachside camping options with perfect, powdery-soft white sand, ironwood trees along the shore for shade, clear blue water and stunning sunrise photo ops. Bellows Air Force Base does offer some additional amenities: Basic beach cabins sans electricity, plus group and RV campsites, equipment rentals, more restrooms and showers, a mini mart and fast-food restaurants. Great for sunbathing and relaxing by the beach, but if you're swimming, do keep an eye out for posted jellyfish warning signs.
220 Tinker Rd. (Bellows Air Force Base) or 41-043 Kalanianaole Highway (public), Waimanalo. Open to the public on weekends and holidays only. Campgrounds not available before noon on Friday. Closed between 8 p.m. and 6 a.m. $32 for a 3-day camping permit (Friday through Monday). For more information, a permit and reservations, visit camping.honolulu.gov/parks.
Ahupuaa O Kahana State Park
This popular campground with 10 sites on Oahu's windward side is one of just a few publicly-owned ahupuaa (a traditional Hawaiian land division that connects the mountain to the ocean). The relatively untouched valley presents hiking trails, a bodysurfing beach and archaeological sites to view, including remnants of a Native Hawaiian heiau (temple), house sites, fishing shrines and a prehistoric fishpond. It's one of the wettest valleys on the island, so bring your mosquito repellent.
55-222 Kamehameha Highway, Kaaawa, (808) 237-7766. Open 7 a.m. to 7:45 p.m. daily. $18 per night for nonresidents (up to six people, $3 per night for each additional person), children ages 2 and under free. Permit is free. For more information, a permit and reservations, visit dlnr.hawaii.gov/dsp/parks/oahu/ahupuaa-o-kahana-state-park.
Kualoa Regional Park and Campground
Two campgrounds occupy this 150-acre peninsula on Kualoa Bay: Campground A and Campground B. The smaller, more shaded Campground A is closed during the summer after Memorial Day Weekend for a children's camp and reopens on Labor Day Weekend. Campground B has 14 campsites with bathrooms and outdoor showers, and a breathtaking view of the iconic Oahu islet known as Chinaman's Hat. While in the area, you may also want to check out the Heeia fishpond and Kualoa Ranch nearby, where "Jurassic Park" was filmed.
49-479 Kamehameha Highway, Kaneohe Oahu. Gates closed from 8 p.m. to 7 a.m. $32 for a 3-day camping permit (Friday through Monday), $52 for a five-day permit (Friday through Wednesday). For more information, a permit and reservations, visit camping.honolulu.gov/parks.
---
Tips: If you're planning to camp in a state park, they are closed Wednesday and Thursday nights, and some parks are only open to camping on weekends. Also know that campfires and bonfires are illegal on all public beaches and parks in Hawaii. For cooking, use above-ground barbecue grills at least 12 inches off the ground. If you are planning to camp during a holiday weekend, it is a good idea to make your reservation early.