The 5 Best Shave Ice Stores and Stands on O'ahu
Our readers ranked where to find their favorite shave ice on Oʻahu in our 2020 Readers' Choice Awards.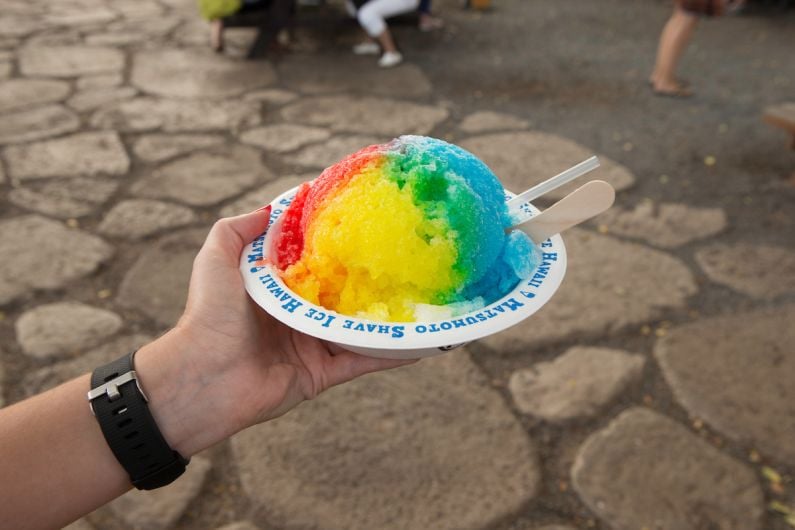 Refreshing, portable and oh-so-customizable, shave ice is one of the most refreshing treats to enjoy while basking in the hot Hawaiian sun. And with so many good spots to choose from all around the island of O'ahu, what's stopping you from trying them all?
1. Matsumoto Shave Ice
One of the most iconic spots on O'ahu, this shave ice store has become synonymous with shave ice in Hawai'i. Established as a grocery store in 1951, Matsumoto Shave Ice has grown into an iconic business, serving over 1,000 shave ice a day. Whether you're in the mood for a classic flavor like vanilla, strawberry and banana or feeling adventurous and wanting to try coconut cream or li hing mui, Matsumoto Shave Ice is sure to satisfy your sweet tooth.
9 a.m. to 6:30 p.m. daily, 66-111 Kamehameha Highway, Suite 605, Haleʻiwa, (808) 637-4827, matsumotoshaveice.com
2. Waiola Shave Ice
View this post on Instagram
Rain or shine, there's always a line out the door at Waiola Shave Ice (no matter which of the two locations you visit). Known for its soft, pillowy ice and a list of flavors and toppings that span five menu boards, Waiola Shave Ice is a favorite among locals and visitors alike. The combinations are seemingly endless at Waiola, but if it's hard to choose, don't worry! Waiola Shave Ice also has pre-made combinations that are sure to delight your taste buds. Cash only.
Noon to 6 p.m. daily, 2135 Waiola St., Honolulu, (808) 949-2269; 11 a.m. to 5:30 p.m. Monday through Thursday and 11 a.m. to 6 p.m. Friday through Sunday, 3113 Mokihana St., Honolulu, (808) 735-8886; waiolashaveice.com
3. Uncle Clay's House of Pure Aloha
View this post on Instagram
Real fresh fruit and locally made ice cream are always on the menu at Uncle Clay's House of Pure Aloha. Extremely photogenic and, of course, made with aloha, Uncle Clay's shave ice is a treat that's hard to pass up. Prices start at $2.25 for the smallest shave ice and go up to $11 for The Ultimate is a large combination shave ice piled high with toppings and big enough to share with friends. Located in ʻĀina Haina Shopping Center, Uncle Clay's House of Pure Aloha is a quick 20-minute drive from Downtown Honolulu.
Noon to 6 p.m., daily, ʻĀina Haina Shopping Center, 820 W. Hind Dr., Suite 116, Honolulu, (808) 373-5111, houseofpurealoha.com
4. Island Vintage Shave Ice
View this post on Instagram
If you're looking to enjoy fresh fruits with your shave ice, Island Vintage Shave Ice has you covered. Known for its fresh fruit toppings and syrups, Island Vintage offers must-try combinations like Heavenly Lilikoʻi (featuring passion fruit), Coconut Island (with coconut and mango) and Green Island (matcha and yuzu). Its shave ice is smooth and fluffy, and prices range from $5.95 for smaller offerings to $8.95 for larger combinations. (Island Vintage Shave Ice's physical location is currently closed due to COVID-19, but they are still open for take out orders.)
10 a.m. to 11 p.m. daily, 2201 Kalākaua Ave. Kiosk B-1, Honolulu, (808) 926-5662, islandvintagecoffee.com
5. Shimazu Shave Ice
View this post on Instagram
Tucked away next to another Hawai'i favorite, Rainbow Drive-In, Shimazu Shave Ice is a place you'll definitely want to check out the next time you're on Oʻahu. Peaches 'n' creme, green milk tea royale and durian are just some of the unique shave ice flavors this shop offers. A small shave ice comes with your choice of up to three flavors—and it's huge, so be sure to bring an empty stomach to enjoy this delicious local treat. Cash only.
10 a.m. to 7 p.m. daily, 3111 Castle St., Honolulu