The 5 Best Snorkeling Spots on Oʻahu in 2023
Snorkeling is a fave pastime among locals and visitors alike—and here are some of the best snorkeling spots on Oʻahu, according to our readers.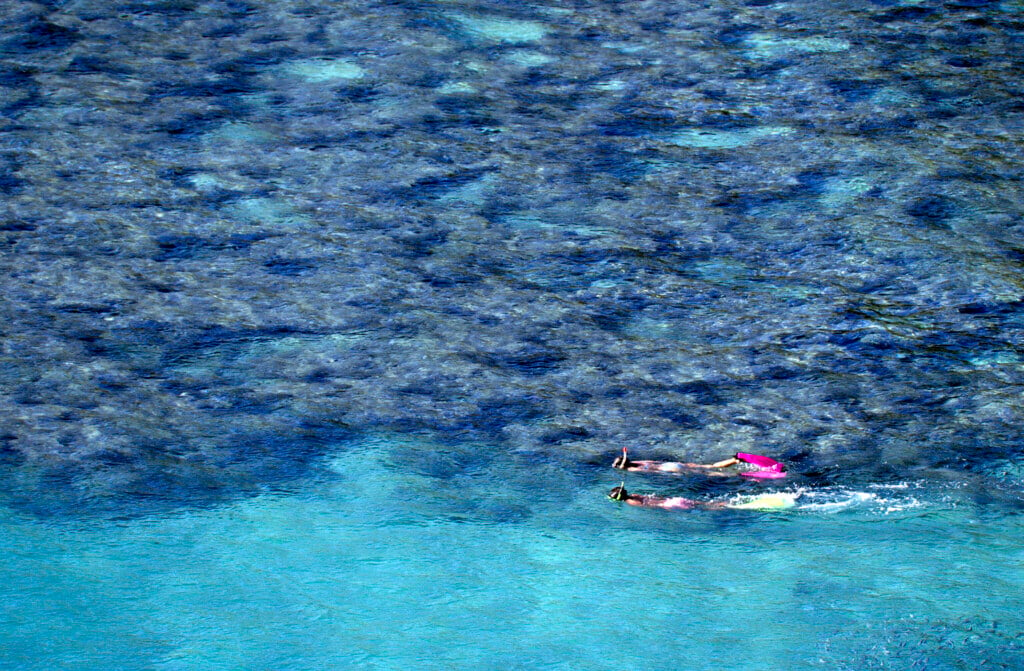 Under the sea, under the sea—you know how it goes. Everything's better under the sea. It's quiet, fish mosey along with their days and with a snorkeling mask, you can see it all with a clear view. It's no wonder snorkeling is such an adored past time here in Hawaiʻi, where the ocean and the water that surrounds the islands play such a vital role in the day-to-day life of residents and visitors. And due to Hawaiʻi's tropical weather, warm waters and vibrant sea-life, there are more than enough opportunities for snorkelers to take a dip and see the sea's aquatic denizens. If you're on Oʻahu, or are planning to visit soon, be sure to the best snorkeling spots on Oʻahu, according to our readers.
1. Hanauma Bay Nature Preserve
Racing ahead of the competition in our Readers' Choice Awards 2023 "Best Snorkeling Spots on Oʻahu" category, Hanauma Bay Nature Preserve has been a standout for decades—and is a favorite snorkeling location among locals and visitors. Fun for the whole family, Hanauma Bay is perfect for keiki and parents looking to snorkel without having to worry about rip currents or deep sea dropoffs. With a colorful collection of sealife all calling the shallow reefs of Hanauma Bay home, it's easy for everyone to have a good time snorkeling here. Just be sure to make a reservation ahead of time, or you could be turned away at the gate and have some very cranky kiddos on the drive back to your hotel or home.
2. Shark's Cove
Offering shallow tide pool snorkeling great for kids and non-swimmers, as well as deep sea excursions through underwater tunnels and around massive reefs, Shark's Cove is perfect for a variety of snorkelers of all skill levels. Located on Oʻahu's North Shore, Shark's Cove features a large, sand-bottom tide pool area protected from big surf by a massive lava rock barrier, making it a wonderful place to hang out when other spots on the North Shore are too dangerous to snorkel due to large waves. If ocean conditions are calm, the main bay area is home to a truly staggering number of fish, from colorful parrot fish to schools of angel fish—and more.
WATCH: DIVE INTO AN UNDERWATER PARADISE AT SHARK'S COVE, OʻAHU
3. Kahe Point Beach Park (Electric Beach)
Kahe Point Beach Park, known by locals as Electric Beach, is about a 40-minute drive west of Waikīkī. It may not look like much—a small section of sand is about all the "beach" you'll get here—but it's not what's on the surface that matters. The real action awaits, under the sea. It's called Electric Beach because of the nearby power plant—and that plant is one of the main reasons why the area is so great for snorkeling. Clean warm water emitted from the power plant attracts a variety of sea life—angelfish, butterflyfish, sea turtles, pods of spinner dolphins—, and the water here is crystal clear. The snorkeling area is not as protected as Hanauma Bay and there is no lifeguard tower, so make sure you're comfortable swimming in the open ocean before grabbing your mask and fins.
4. Waimea Bay
We know what you're thinking—you can't snorkel at Waimea Bay? You absolutely can. While the main bay's underwater landscape may be lacking in reef and sea-life, you will be treated to unforgettable views of idyllic plains of white sand. A common activity that locals like to do in the bay is to grab a heavy rock and see how far you can run with it underwater—which is definitely a new way to enjoy snorkeling. On the bay's western edge—towards Haleʻiwa and past the "jump rock"—there are more reefs and rock formation to see around the area, however be sure to keep an eye on how far you're drifting out and to avoid rip currents.
5. Ko 'Olina Lagoons
Considered one of the best snorkeling spots on Oʻahu just for how idyllic it is, Ko ʻOlina Lagoons is what visitors would consider a "snorkeler's paradise" due to its calm and protected conditions and its location next to some of Hawaiʻi's best resorts. There are four lagoons for visitor to choose from, each just as perfect as the next, and there's more than enough space at each lagoon for visitors to find a spot in the sand to relax after a long day of snorkeling.