The 5 Best Towns in Hawaiʻi in 2021
Here's a ranked list of the best towns to visit, according to our 2021 Readers' Choice Awards.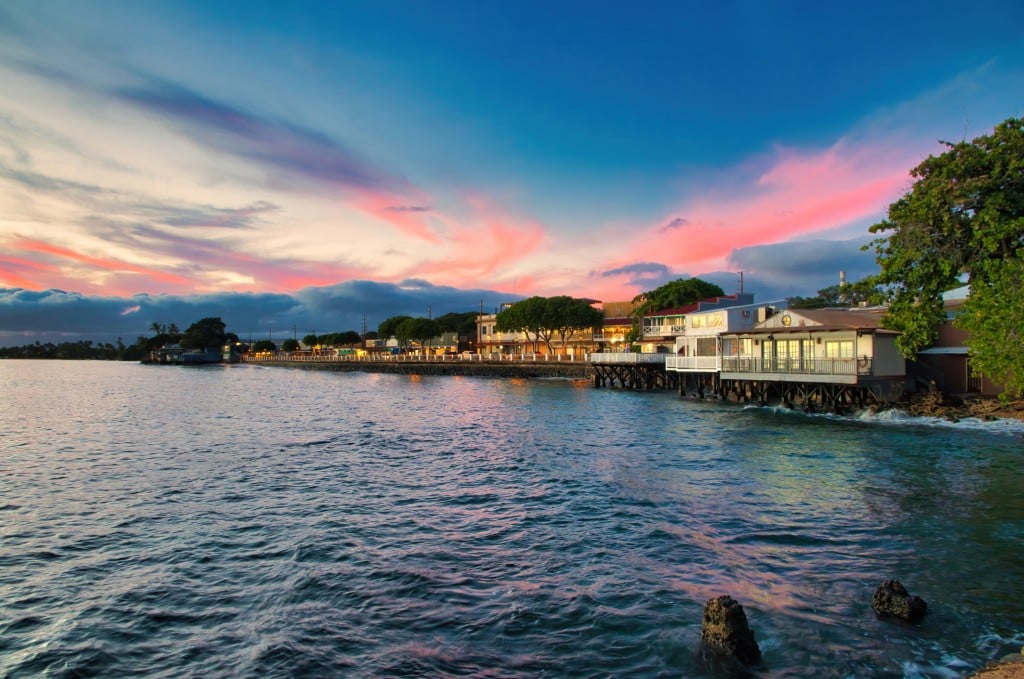 Sure, the beaches and hikes and landscapes of Hawaiʻi get most of the attention from visitors, but when it comes to what gives Hawaiʻi that aloha spirit, you have to take into account the Islands' towns. That is, after all, where the people are. From businesses to tours, shops and boutiques, it's the positive attitudes and good vibes found in towns across the state, from Kula to Hilo, that helps make Hawaiʻi special. Here are the top five towns, voted on by HAWAIʻI Magazine readers, that help define the Islands.
1. Lahaina, Maui
It comes as no surprise that West Maui's most popping district, Lahaina, has once again taken first place on our list. Home to Front Street, where you can spend an entire day shopping your heart out, the seaside town is also known as the go-to destination for those looking to whale watch, as the waters surrounding Lahaina are frequented by Pacific humpback whales during Hawaiʻi's winter season. Coconut fans will go coco-nuts at Punakea Palms, Hawaiʻi's only coconut farm, which offers educational tours of the property and is located on the outskirts of Lahaina.
Quite possibly the most popping borough on Maui, Lahaina's got an entire city's worth of shops, restaurants, bars and galleries all on its bustling Front Street thoroughfare. While the assumption is that you'll have to shell out a fair share of cash to enjoy your time in Lahaina, there's plenty to do and see for free. You can visit the largest banyan tree in the nation at Banyan Court Park or check out the Old Lahaina Prison, where rowdy sailors and whalers got locked up during the 1850s.
2. Hanalei, Kauaʻi
The jewel of Kauaʻi's north shore, Hanalei's sand-dusted streets, salty ocean air and charming small businesses make it one of the Islands' most popular towns. The community has made a full recovery from the torrential rainfall and flooding it experienced in April 2018, and the many tightly packed stores and businesses in the Ching Young Village shopping center are once again welcoming visitors. And dreamy Hanalei Bay, which serves as the attention-stealing centerpiece of the small community, is as inviting as ever.
3. Poʻipū, Kauaʻi
Compared to Hanalei, Poʻipū couldn't be more different. There are resorts—big ones—and shopping centers filled with high-end shops like Tommy Bahama and Sunglass Hut. However, one thing it does have in common with Hanalei: dreamy beaches. Poʻipū Beach is one of the best places on the island if you want to catch the sunset, and Shipwreck Beach, on the eastern edge of Poʻipū, is a great place to escape to.
4. Honolulu, Oʻahu
Hawaiʻi's capital city, Honolulu, often referred to as "town" by island residents, is as urban as it gets in the Aloha State. There are Hawaiian skyscrapers—buildings that are tall but not that tall—in Honolulu's artsy downtown district, cat cafés along Kapahulu and sugarcane juice bars next to Ala Moana Center. But best of all, the city is surrounded by nature's finest. If you want to hike into a tropical rainforest to find a 150-foot waterfall, Mānoa Falls Trail is just minutes away. Looking makai (toward the ocean) you can find Ala Moana Beach Park and Diamond Head Beach Park, both of which can provide enough sand and sea to make you forget you're in the middle of "town."
5. Kapaʻa, Kauaʻi
The third (wow!) Kauaʻi town on the list, Kapaʻa has successfully shifted from being an unassuming plantation town to an eclectic borough with colorful storefronts, visitor-friendly activities and really, really good food. Case in point: The Local Kauaʻi serves colorful cocktails and tapas made with ingredients sourced almost exclusively from the Islands, and it might change your definition of what "bar food" should taste like. Visiting Wailua River, Kauaʻi's only navigable river (by anything larger than a kayak) is also a must-see when in Kapaʻa—and it's up to you whether you traverse it via kayak, stand-up paddleboard, riverboat or even water skis.