The 7 Biggest Things to Happen in Hawaiʻi in 2022
From Mauna Loa erupting to the end of domestic travel restrictions and more, here are some of the biggest headlines of the year.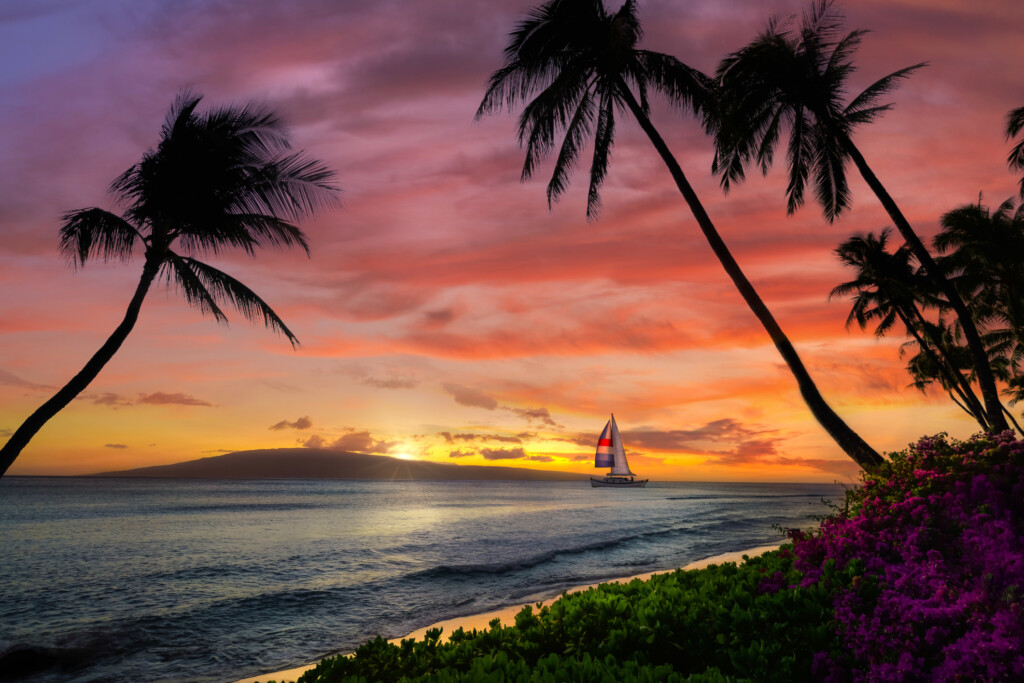 There's no doubt that 2022 was a big year for Hawaiʻi, from having a rare moment of double volcanic eruptions on Hawaiʻi Island to the reopening and restarting of festivals and events in the Islands. In case you missed some of these major happenings, we've compiled a list of the seven heaviest-hitting headlines in the news and around Hawaiʻi, with many of these events defining the year as a whole for locals and visitors alike.
1. Mauna Loa Erupted for the First Time in 38 Years
In November of 2022, Mauna Loa erupted for the first time in over three decades. It was truly a monumental happening, and thousands flocked to Hawaiʻi Island to see the lava flow and glow in the night sky. And, since Mauna Kea was also still in the middle of its eruption, visitors and locals were treated to the rare occurrence of being able to experience two simultaneous eruptions on the Big Island. Although the eruption was short-lived, for many it was truly a once-in-a-lifetime event, one that won't be soon forgotten.
2. Hawaiʻi Lifts COVID-19 Restrictions on Domestic and Travel
On March 26, 2022, Hawaiʻi governor at the time, David Ige, announced the Safe Travels Program will no longer be in effect. The announcement came exactly two years after the state's first travel mandate. Ige had enacted a 14-day quarantine for travel to the Islands among the rapid rise of global Covid cases in March 2022. Now, passengers arriving from any domestic destination are no longer required to create a Safe Travels account to upload vaccination or negative test documentation or go through pre arrival screening. However, travelers arriving to the Islands from an international airport still need to comply with the U.S. federal requirements.
3. Festivals and Events Make a Grand Return
From the weekly firework shows in Waikīkī to fairs, festivals, farmers markets and more, annual events that were sorely missed during the COVID-19 pandemic made a wonderful return in 2022. Such festivities include the Duke's Oceanfest to Kawaii Kon, Lei Day celebrations and more, and it was so nice to see the streets and convention centers once again filled with event-going residents and visitors.
4. Reservations are Now Required to Enter Diamond Head State Monument
Lē'ahi, also known as Diamond Head, is among Oʻahu's most prominent landmarks. Prior to the pandemic, more than 3,000 hikers came to the park every day to climb the 1-mile trail to the summit of the volcanic cone. But starting on May 12, 2022, the state park began requiring advanced reservations for out-of-state visitors. Residents of Hawaiʻi can continue to access the park without reservations, but entry will be dependent on parking availability.
5. Maui County Prohibited the Sale of Nonmineral Sunscreen
Continuing to fight the good fight against reef-harming sunscreens and chemicals, Maui County—that's Maui, Lānaʻi and Molokaʻi—banned the sale of nonmineral sunscreens on Oct. 1, 2022. Aside from simply purchasing mineral-based sunscreens that are better for our environment, the county recommends that beachgoers who want to avoid excessive sun damage to their skin should avoid being in the sun from 10 a.m. to 2 p.m., seek shade when possible and wear protective clothing, such as rashguards, hats and sunglasses.
6. Abigail Kawānanakoa Passed at Age 96
Philanthropist and noted Hawaiian royalty Abigail Kawānakoa passed away in her Nuʻuanu home on Dec. 11, 2022. She helped to fund various Native Hawaiian causes and movements throughout her life, with the help of the vast fortune she inherited from her great-grandfather, James Campbell—much of her money also went to help restore and maintain Iolani Palace.
7. HAWAIʻI Magazine Returned to Print
HAWAIʻI Magazine is back in print and marked its return with our 2022 Readers' Choice Awards issue. After nearly a year of being exclusively digital—we do recommend you read our digital issues if you haven't, where there is a wealth of great HAWAIʻI Magazine content—our staff worked tirelessly to redesign and modernize the magazine. That means bigger pictures, a new look but all of the same great stories and articles you can come to expect from HAWAIʻI Magazine.