The Ala Moana Hotel Celebrates its 50th Anniversary with Stunning Renovations
A new lobby experience, modernized pool deck and an upgraded banquet floor are just a few of the hotel's recent upgrades in this multimillion-dollar face-lift.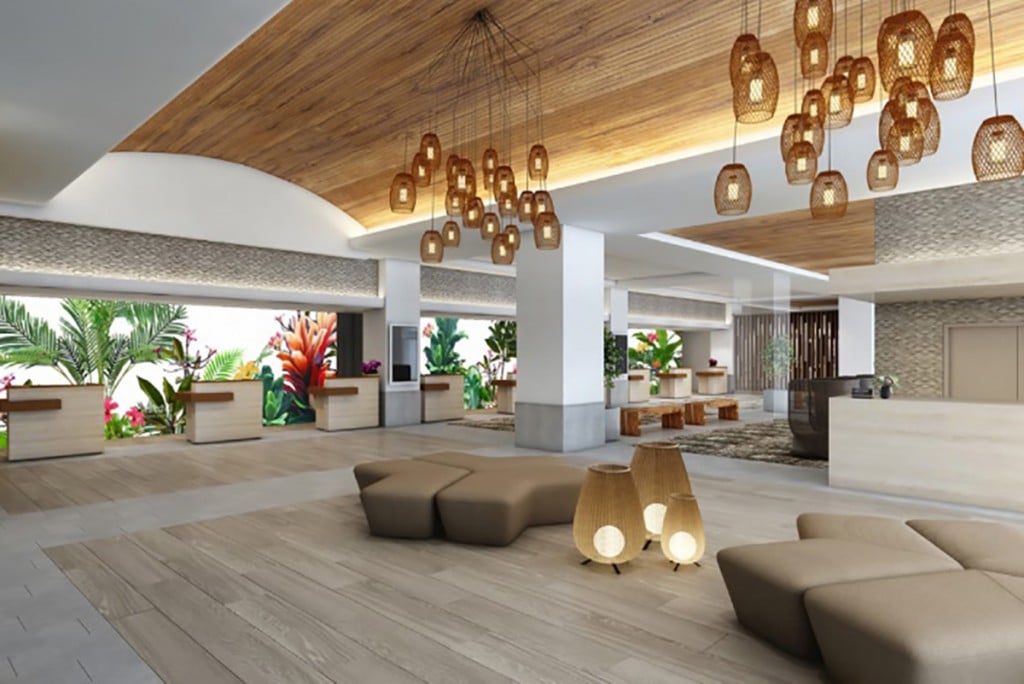 Early in the COVID-19 pandemic, many hotels in Hawaiʻi decided to temporarily close their doors, either for financial reasons or to renovate their properties. The Ala Moana Hotel, on the other hand, stayed open and completed a $16 million renovation, which began during the pre-lockdown era back in February. The property now features a myriad exciting new features and modernizations for those looking to once again enjoy the Islands.
First and foremost is the hotel's arrival experience, which has incorporated the iconic Hawaiian designs many visitors think of when dreaming about their Hawaiʻi arrival. Working with local design firm InForm Design, guests can now walk into a modern, contemporary lobby featuring hardwood surfaces, new LED lighting and soft Hawaiian tunes in the background. Hawaiʻi-artist Kamea Hadar has even graced the lobby with three interconnected floor-to-ceiling murals, adding an eye-catching statement piece to the already enhanced lobby.
To make the check-in process even more warm and inviting, Ala Moana Hotel has reconfigured its desks and furniture, opting for a more inclusive pod-based check-in layout. This will allow hotel staff to easily interact with visitors and help them along the check-in process, as well as answer any question or inquiries they may have. While the Ala Moana Hotel does want its guests to feel at home in their newly thought-out lobby, the hotel has also been a stalwart in COVID-19 safety. Precautions include temperature checks for both guests and staff, social distancing measures, leaving rooms vacant for at least 24 hours before allowing cleaning staff access, plexiglass barriers, contactless payment and compulsory declaration forms to be filled out by guests. 
Work was also done on the hotel's pool deck. The pool area looking out toward Ala Moana Beach park has always been spacious, but the kamaʻāina (local) favorite now features a sophisticated resort vibe. From a raised timber deck with fire pits to cabanalike sections (no reservation necessary), the newly renovated space is now equipped with a wide variety of furniture and areas perfectly tailored to the needs of almost any visitor. 
Along with the new pool deck and lobby, Ala Moana Hotel is introducing a few local businesses into its property, notably Pint + Jigger. The watering hole and bistro, a  favorite among locals, permanently closed its Honolulu location earlier this year due to COVID-19—and is reopening at the hotel in 2021. Dada Spa is already open and operating within the hotel and features 35 hair stations, a group massage room, manicure and pedicure stations, as well as on-call nurses who can conduct basic cosmetic surgeries like botox and fillers.
The hotel's banquet rooms have also been upgraded, and features entirely new restrooms, furniture and fittings. Really, the only thing that hasn't been touched during the renovation process is the Ala Moana Hotel's rooms, which were renewed back in 2014. The hotel is offering special rates right—keep your eye out for a very competitive Black Friday offering—through 2021 to allow everyone a chance to once again visit Hawaiʻi at an affordable price. 
For more information on the Ala Moana Hotel, call (800) 367-6025 or visit its website.