The Best Cheap Eats on Oʻahu
Stick to your budget while still satisfying your taste buds with these cheap eats on Oʻahu from our 2023 Readers' Choice Awards.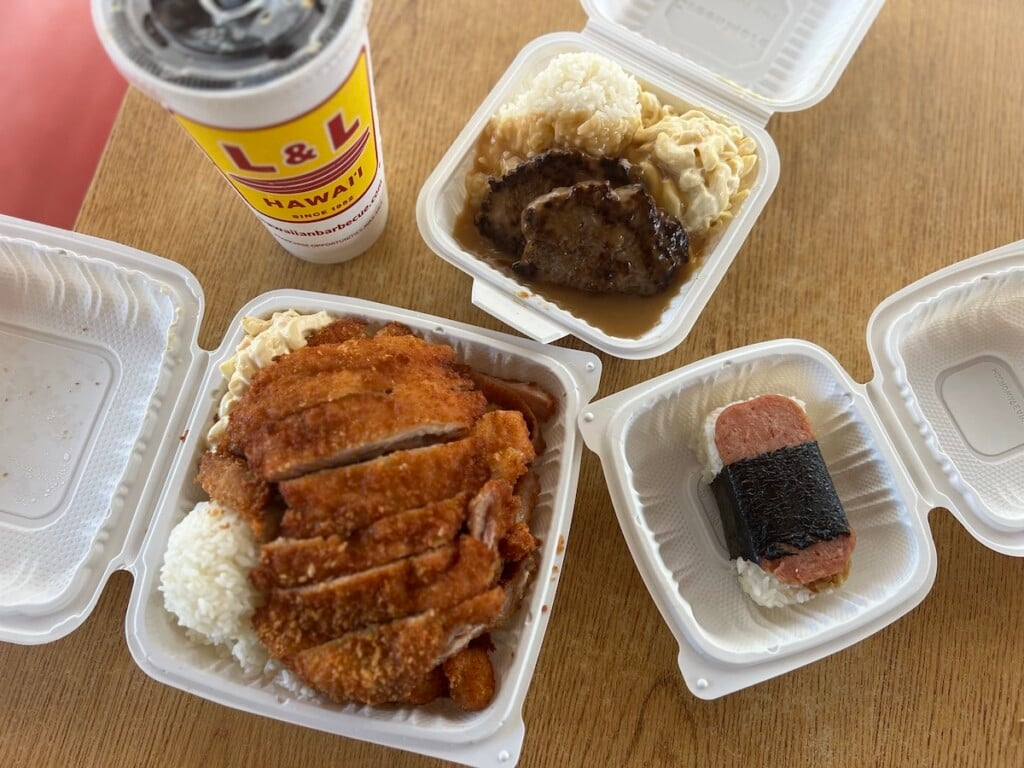 Hungry, but don't want to make a dent in your wallet? There are many delicious spots around O'ahu that offer meals that get you the most bang for your buck. Here are our readers' Top 5 favorite places to eat that won't break your budget—but doesn't skimp on flavor, either.
L&L Hawaiian Barbecue
Home to the famous local plate lunch, L&L Hawaiian Barbecue is the perfect place to whet your appetite after a surf sesh or hike. The menu has many options under $10. Try the barbecue chicken plate—the mini version is only $8.75 with one scoop of rice, one scoop of macaroni or tossed salad. Grab and go a hamburger or Spam musubi, both only $3.10. Or try saimin in a delightfully fishy broth, with teri beef for $6.35 or the chicken katsu saimin at $6.35.
Various locations, hawaiianbarbecue.com, @llhawaiianbbq
Zippy's Restaurants
Comfort foods abound at this diner-style franchise restaurant with 22 locations on Oʻahu, Maui, Hawaiʻi Island and, soon, Las Vegas. Open since 1966, Zippy's dishes are under $20, like the chili bowl ($10.25), Portuguese bean soup ($4.30) or the saimin ($7.35). Locals love the fried chicken plate ($16.75) or the hamburger steak plates ($15.75), served with rice, mashed potatoes and mac salad, tossed greens or corn. So 'ono.
Various locations, zippys.com, @zippys
Nico's Pier 38
Located on the pier next to the fish market, Nico's Pier 38 prides itself on serving fresh local produce and locally caught fish hand-selected that morning. While dinner prices are pricier, lunch and breakfast are mostly under $20. The fishermen's stew ($9.25) is a filling white chowder of fish and clams served in a sourdough bread bowl. The fish and chips ($15.25) is another popular choice, serving fresh fish, beer-battered and served with thick cut fries. The accompanying ginger garlic cilantro dip is addictive. The Pier 38 fish burger ($15.25) was so good, it made it on Diners, Drive-Ins, and Dives—the patty is made out of fresh ground fish, topped with citrus, dill and basil aioli.
1129 N. Nimitz Highway, Honolulu, (808) 540-1377, nicospier38.com, @nicospier38
Helena's Hawaiian Food
For a taste of authentic Hawaiian food, you have to stop by Helena's and try any of its deluxe plates. While some of the menu choices run $30 or more, there are options like the kālua pig and lomi salmon plate ($17.25), which come with sweet haupia, onions and salt. Also, you have to order the beef stew ($6.75), long rice chicken ($6.75) and the short ribs pipi kaula style ($14.50). Don't forget to request Hawaiian chili pepper water for additional flavor on the side.
1240 N. School St., Honolulu, (808) 845-8044, helenashawaiianfood.com, @helenashawaiianfoood
Marugame Udon
You'll often find a long line of hungry customers outside Marugame Udon, a Japanese restaurant that opened in Hawaiʻi back in 2011, serving handmade udon noodles and an assortment of tempura and musubi. It's fun to watch the staff making udon noodles in the kitchen as you choose your food. We recommend the nikutama—a warm bowl of udon noodles topped with marinated beef and an onsen egg steeped in flavorful, rich broth. The menu is à la carte with vegan and vegetarian options.
Various locations, marugameudon.com, @marugame_udon
See all of the winners of our 2023 Readers' Choice Awards in our latest issue, which you can buy here. Better yet, subscribe and get HAWAIʻI Magazine delivered to right to your mailbox.