The best place to view Kilauea volcano's lava flow right now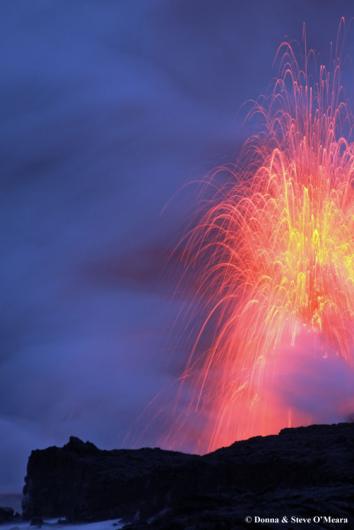 With all of the recent showy eruptive activity at Kilauea volcano on Hawaii's Big Island, we've been asked by more than a few of you where the best place is to view the current lava flow.
The view from a helicopter or airplane tour flight over remote Pu'u O'o vent—the only vent on Kilauea's slopes now producing active lava flows—is best if you want to see the breadth of the eruption. These tours generally fly passengers over the Pu'u O'o vent, down slope past its underground and above ground lava flows, and eventually to Waikupanaha on the Puna coastline where those flows are entering the sea.
It's a worthwhile option, but it costs anywhere between $150 and $600 per adult passenger, per flight.
The other option? Heading down the Big Island's Highway 130 to the county-approved viewing area set up along the coastline at Waikupanaha. You won't see the entirety of the Pu'u O'o flow here. But you will see and hear the newest land in the world being created as lava from the vent meets ocean—often with explosive results.
To get there, you need only a car with a full tank of gas. Entry and parking are free. Click here for directions and more information.
The roped-off public viewing area (right, click on photo for larger view) is where our friends, volcano watchers Donna and Steve O'Meara, have taken ALL of the fantastic photos of Pu'u O'o magma entering the sea they've recently shared with us.
Like the night photo above? You could capture a similar one at the oceanside viewing area post-sunset—it's open from 2 p.m. to 8 p.m. daily.
That said, we'd seriously advise you not to skip a trip to the summit of Kilauea volcano and Hawaii Volcanoes National Park. There, a full day of activities —including a stop at the Hawaii Volcano Observatory to see the Halemaumau crater steam and ash plume—awaits.
Been to the park or the eruption site? Send your favorite Kilauea photos—taken by you anywhere on the mountain or within Hawaii Volcanoes National Park—to photo@hawaiimagazine.com. We'll share the best ones with other readers here.