The Best Traditional Hawaiian Restaurants on Oahu
Here are the places from our 2019 Readers' Choice Awards that our readers go to get poi, laulau, kalua pig, poke and haupia.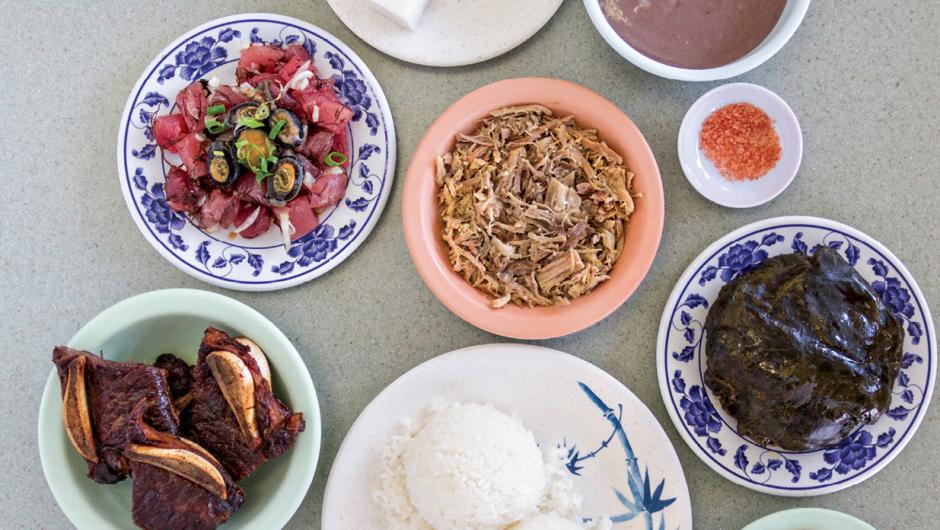 There's a difference between local food (loco moco, chicken katsu, saimin) and actual Hawaiian food. If you're craving the more traditional stuff, stop at these reader-endorsed restaurants to get your poi, laulau, kalua pig, poke, squid luau, pipi kaula and haupia fix.
1.  Helena's Hawaiian Food
The James Beard Award-winning Helena's is one of those mainstays you just can't pass up—and our readers from around the world who love Hawaiian food agree. So do celebrities like Bill Murray, who has a table in the back just for him. Known for its short-rib version of the salt-rubbed' dried beef delicacy known as pipi kaula, plus savory beef stew, squid luau, chicken long rice and more, the little 73-year-old restaurant in Kalihi is on the radar of every Hawaiian food devotee, and a legend in its own right. 1240 N. School St., Kalihi, (808) 845-8044, helenashawaiianfood.com
2. Highway Inn
Highway Inn's original Waipahu location, opened in 1947, has been winning awards for quite a while. Now, with two Oahu locations (three if you count the café in Bishop Museum that's run by the restaurant) where you can find its time-tested Hawaiian food favorites, Highway Inn is a winner for both the classics including its hand-wrapped laulau and twists on traditional favorites like the smoked meat loco moco. Multiple locations on Oahu, myhighwayinn.com
3. Waiahole Poi Factory
The freshly pounded poi at this Windward favorite is hard to beat. And if you've never tried the purple Hawaiian starch made from kalo (taro) root— a traditional staple food in Hawaii's native cuisine—this is one of the best places for an introduction. The menu also features generous combination plates piled with beef laulau, kalua pig and squid luau. 48-140 Kamehameha Highway, Waiahole, (808) 239-2222, waiaholepoifactory.com
4. Haili's Hawaiian Food
[video:https://www.instagram.com/p/Bd3AhffFUAX/?utm_source=ig_web_copy_link]

For those new to Hawaiian food, Da Big Kahuna plate is a must-try and includes a little bit of everything: kalua pig, laulau, chicken long rice, lomi salmon, poke, haupia (coconut pudding), poi, purple sweet potato and pineapple. Everything is made using recipes that have been passed down from generation to generation since the classic restaurant opened in 1958. Finish off your meal with some of Haili's famous kulolo, a traditional sweet Hawaiian pudding made from steamed or baked taro, coconut milk and sugar, mashed into a texture similar to tapioca. 760 Palani Ave., Kapahulu, (808) 735-8019, hailishawaiianfood.com
Editor's Note: Hale Kealoha in Kailua made the 2019 winner's list but has recently closed.