The Boardroom is Kailua's Newest Tapa and Cocktail Lounge
With an emphasis on promoting local produce and culture, The Boardroom is making a statement with its delectable dishes and drinks.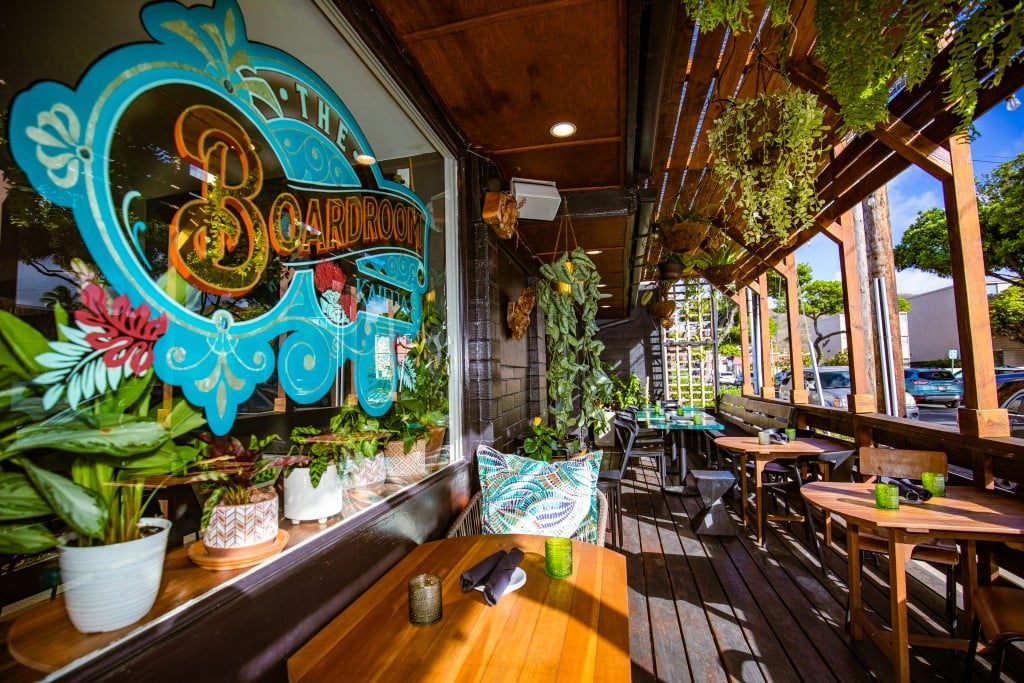 "We're totally committed," says Keno Knieriem, a graduate of Punahou School and owner of The Boardroom, a new farm-to-glass libation and tapas lounge in Kailua on Oʻahu. "We are doing our best to celebrate Hawaiʻi and make it as local as possible with The Boardroom."
Once working as a salvage engineer and operations manager for the Navy, Knieriem has always had an interest in the service industry, especially how it relates to genuine Hawaiian hospitality. A local to the area, Knieriem has since opened multiple businesses in his home community of Kailua, such as the nearby coworking space Treehouse Coworking and a coffee bar called the Solar Shack—and The Boardroom is his latest endeavor.
Fitting the Kailua aesthetic to a T, The Boardroom sports a modern, artistic and beachy vibe, with a long surfboard-shaped bench for patrons to sit on and a hollow wooden wave to lean back in. The interior rides a fine line of roomy and intimate, having just enough seats and tables to fill the space without it ever feeling crowded. An outdoor seating area is also available for customers who couldn't reserve a table inside—yes, reservations are required—or for those in seek of some fresh Kailua air.
Knieriem tells me that almost all of the seating arrangements, plants and furnishings are made from locally sourced materials, a major impetus for the restaurant's creation. "I thought if we're going to get into food and beverage, what's the impact we want to see?" Says Knieriem, "We have so many local farmers and producers, as well as a craft distillery industry that's now taking off, and there are real people doing great things in Hawaiʻi. So how can we celebrate that?" Well, Knieriem and his staff decided to celebrate everything the Islands have to offer with an eccentric and delectable menu of specialty cocktails and pūpū (appetizers).
From fresh ʻahi tuna tartare, made with locally caught ʻahi, a house avo mash, local ʻalaea salt and housemade Sriracha, to a roasted heirloom tomato bruschetta featuring—as you might have guessed—an assortment of fresh produce and ingredients straight from one of the 27 local farms The Boardroom works with, there's more than enough food options for diners to choose from. But it's the cocktails that shine. Oddball pairings make for truly ʻono (delicious) mixed drinks, like the Root Remedy—which features Banzhez Ensemble Mezcal, John Barr Scotch, fresh carrot juice, lemon juice and agave. There's something about the sweetness and distinct flavor of the carrot juice that makes the scotch and mezcal go down so smooth, while the lemon juice and agave add light hints of flavor to an already tasty drink.
All of the fascinating drink concepts, like the Caffeine and Cashews—which mixes Hapa Vodka with locally made cold brew, Lāʻie vanilla, maple and cashew cream—come straight from the minds of the bartenders and front-of-house staff. From ways to further improve the presentation of drinks to new mixtures of flavor, the staff is always riffing off of one another for an ever-changing, ever-creative menu.
And for Knieriem, menu items also present an opportunity for The Boardroom to tell stories and educate visitors and locals about the Islands. "We have a cocktail all about Rapid ʻŌhia Death," says Knieriem, "which is one of the most important environmental issues facing our state, and we want to raise awareness of that issue and other issues through our cocktails." With this eco-conscious mission in mind, The Boardroom is truly a unique place to dine, drink, learn and laugh in Kailua.
For hours of operation and a menu, visit The Boardroom's website here.